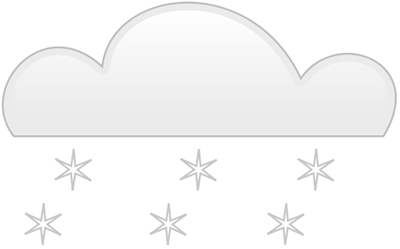 And so it begins....
Yes, last night we saw it. The first flakes of the season. And while y'all know my feelings about the "S" word, last night I was just too tired to even care. It was only supposed to rain unless you lived in the northern & western suburbs. And this is a question I have: when they say "Northern & Western suburbs", does that mean only places that are BOTH north AND west of the city?? Or does that mean north of the city AND west of the city?? Because we are technically Southwest of the city. So I feel we shouldn't have to partake in the North and West weather (because we're SOUTH and west!). Yes, THESE are the burning questions I need answered!
FORTUNATELY, it was so very little that you could only distinguish it because it did stick to things like the top of the birdfeeder. Also, Casee gave me "the face" when I sent her outside before bed (she is, after all, MY dog!).
MORE FORTUNATELY, I was busy stitching on my "Things Unseen" sampler, so I was very focused on NOT looking outside.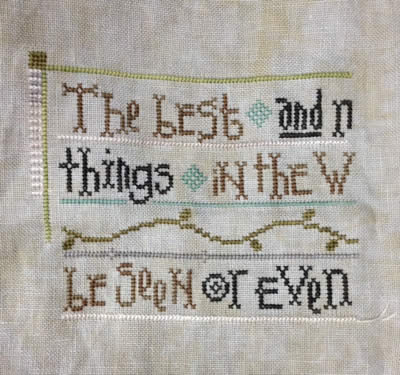 Here's what it's looking like so far! I know, I know, several of y'all are already DONE with part 1, but I am not electric fingers! It's coming along though! Also, if you are working on it, be sure to stop by the Lizzie Kate blog as she has a couple of corrections ~ NOTHING EARTH- SHATTERING, so don't panic! Her blog can be found at www.lizziekateblog.blogspot.com.
So in the spirit of snowflakes, I present to you.....
NEW GOODIES!
Each one is special, each one unique!
(too much?)

Needleminder: Snowflake - from Kelmscott. This is beautiful!! This is possibly my favorite! I know, you're scared, but hey! This is a snowflake that doesn't cause trouble OR make me cold! And if you really belong to my "I hate snow" camp ~ it also looks a bit like a ship's wheel or a mariner's compass quilt block! This is the first round one Paula has done & the navy background is beautiful too. Get yours before they melt away!
And just a little note here: on December 1st, Kelmscott will be celebrating 10 years in this crazy cross stitch industry! WOW! She has brought us these gorgeous needleminders that are different from anything we'd seen before ~ different enough that when I first saw them I thought, "Really? What the heck do I need that for?" And as many of you are aware, if that's my initial response, that almost ALWAYS means it's gonna be a winner!!!! If Mary Anne & I both think that, it's gonna be a BLOCKBUSTER!! Paula has brought us more & more wonderful things these last 10 years & we are so excited to congratulate her on her FIRST 10 years!! So if you're so inclined, drop her an email & tell her you appreciate her work ~ it's always nice to hear that someone likes what you've created.
Winter Fun~Ski - from Lindsay Lane. I like this ~ it has a real "Nordic" feel to it! Hmmm, do you see a grouping in the future? Maybe: skating, sledding, hockey, snowball fights....shivering, sleeping, flying to the Caribbean...
Freddie & his Flakes - from Designs by Lisa. This guy is a real cutie! I like the swirly fringe at the bottom of his scarf!
Calendar Girl: December - from Little House. She is a lovely ending to this fun series! And she ushers in the new set of Sampler Ornaments, which is next year's ornament series from Little House!
Needleminder: Pere Noel - from Kelmscott. Wow! The detail that goes into carving these is stunning! Look at all of this! The perfect gift for the stitcher you love ~ particularly if that's YOURSELF!
Cardinal Christmas - from X's & Oh's. Cardinals & birch trees ~ aren't they lovely?
My Lady at Christmas - from Little House. This pretty little lady is holding a little picture frame locket, but I think she would be equally sweet without it ~ I love the pattern in her underskirt!
Winter Sleigh Rides - from Primitive Hare. It sure looks like Santa's sleigh is ready for a long night of partying!!
Dear Santa - from Primitive Hare. Yes, please Santa, define "good". These are cute little postcard-sized designs!
Feather Tree Wooden Necklace or Ornament - from Kelmscott. I love feather trees & this one is just dear! Fun to wear as a necklace!
Angels we have heard on High - from Kelmscott. Isn't this cool how she finished this ~ with the angel threadwinder hanging on the opposite side of the twine? See the angels below.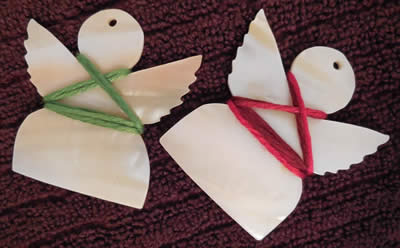 Mother of Pearl Angel Thread Winders - from Kelmscott. These are fabulous for using as threadwinders (shown here) or as a little ornament. Or a necklace!
Lantern Lane - from Little House. What a pretty sampler! I really like the topiary tree by the lantern & the holly border is so pretty ~ I could see using that border to decorate something little like a tie around a fat candle.
Toy Shoppe - from Dimensions. Isn't this what Christmas is all about? I know, it's not really & it's certainly not supposed to be, but my FAVORITE part of Christmas when I was little was when the Sears Wishbook arrived!! I could "read" it for weeks!! And this toy store?? With a BOOK STORE next door??? Can you imagine?? Heaven (even in the snow!).
JOY Ornaments - from Dimensions. This kit includes everything you need to make these 9 pretty ornaments! I love the cookie ones & i really like the music notes in the background of the "J". They're stitched on 14ct perforated plastic, which is easy to trim down.
Debbie Mumm Santa hanger - from Dimensions. OMG!! This is so cute!!! The kit includes the 14ct black fabric, all the floss & the hanger for this fun banner!
Christmas Trio - from Tiny Modernist. I love the reindeer & presents on the pin pillow!
Don't Stop Believing - from Pickle Barrel. Let this be a warning to you!!! (of course, new underwear might be nice....that's how sad my life has become....)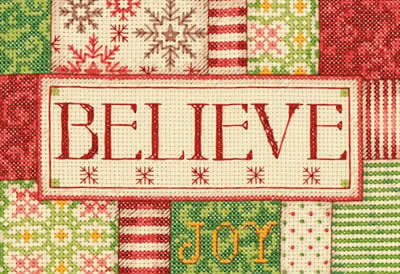 Believe - from Dimensions. So pretty ~ it looks like rolls of Christmas wrapping paper!
Here Comes Santa - from Designs by Lisa. Oh he's so cute! A darling ornament or pillow!
Jingle Bells Ornaments - from Dimensions. These ornaments are adorable! I love the way they've done the little jingly bells on each ornament. I think the tree is my favorite. The kit comes with everything for stitching & finishing these ornaments!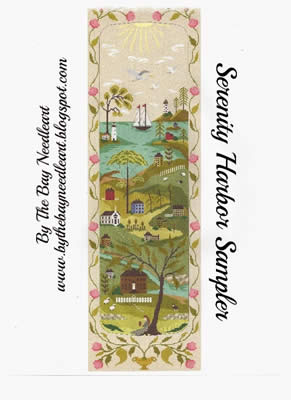 Serenity Cove Block of the Month - from By The Bay. This is going to be amazing! Donna has created this gorgeous design as a "Block of the Month" project. Each month another section will arrive, starting the beginning of January. We've done a couple of her horizontal designs, but I LOVE this one! Sign up & stitch along with us! If you sign up for the entire year in advance, Donna is also doing a personalized Needlebook for each stitcher! How fun!
Bayside Cottage - from Dimensions. Seriously? I could move right in right now. Love all the detail ~ flowers, sailboats, the welcome mat...
Tribal Anchor - from White Willow Stitching. I get the first one!! I love finding all the motifs hidden in these: the sailboat, the ship's wheel, the pelicans....what do you see?
Peacock Butterflies - from Dimensions. This is stunning! I love, love, love the colors.
Regal Amethyst - from Wendy KC Designs. What a gorgeous stitching box! It's like a treasure chest of beauties from the ruler sleeve to the needle roll to the scissor fob! And yes, she gives good directions for finishing!!
Mini Acorn Snips - from Kelmscott. WOW! Look at the detail in these little scissors! From the oak leaves to the acorns ~ it's amazing! The blades are tiny & quite shart ~ perfect for stitchers! Choose from:
Bronze (my favorite) ~ Primitive ~ Silver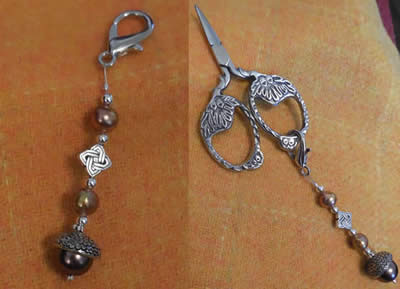 Chocolate Acorn Scissor Fob - from Kelmscott. Move quickly because these won't last forever! Everything is warm & rich on these fobs: the chocolaty beads, the celtic knot treasure & the acorn cap! How beautiful!
Sail Away Baby Sampler - from Designworks. This is just delightful! What nursery wouldn't be even sweeter with this picture? Thie kit comes with everything you need for stitching this darling design!
Baby Footprints announcement - from Dimensions. Quick to stitch & wonderful to announce the arrival of the newest little one! This kit includes threads for stitching for a girl or a boy!
Faith Stith Wits - from Dimensions. Wow, do I need this. But then again, don't we all? This kit includes everything you need to stitch this perfect reminder.
Love is Patient - from Dimensions. This is certainly an automatic for a wonderful wedding gift, but it does not have to be restricted to that. Everyone needs love, married or not.
Love is a Four-Legged Word - from Dimensions. You better believe it. Only your dog loves you unconditionally. Only. Your. Dog.
Lab Love - from Designs by Lisa. So true (only my girlie is chocolate!). Of course, you also have hair shedding, "babies" (aka, toys) everywhere, & more treats than food in your house. But it's all worth it ~ why? See previous picture!
Tribal Football Helmet - from White Willow Stitching. Another cool design ~ AND something you can stitch for that male football fan that he might actually LIKE! Again, fun to see how many football related motifs you can find!
Cheers - from Designs by Lisa. And really. Can you decorate the man-cave/sports room without beer & pretzels??
My Biggest Fear - from Stoney Creek. See? You're not alone! And finally someone has put your biggest fear in cross stitch!
Life Needs More - from Dimensions. HA HA HA!!! I love these "just for fun" bits of wisdom!
Around the shop!
We've had another fun week! Seeing new stuff coming in is always a treat & of course, we're seeing lots of framing & finishing projects at the moment! Talk about being inspired. Every time I write up a framing order I think, "ooooohh, I should stitch/finish stitching that!".
So I framed my "Baked Alaska" that I finished AGES ago, but I just couldn't find "the right frame" for it. Know what I mean?? So one day, Mary Anne & Phyllis had had enough! And they took it, picked a frame & that was that!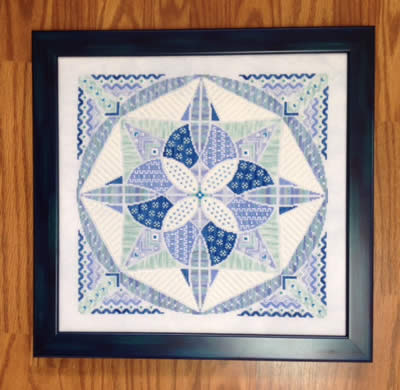 When the frame came in, it was EVEN BETTER than I thought it would be! The teal highlights in the frame totally accent the piece. It looks a little washed out here (& this is my 3rd time photoing it ~ believe me it's the best I can do), but it is very vibrant and GORGEOUS! The moral of the story? A) Stitch what you love. And B) Ask someone else if you're stuck for "the right" frame ~ you're probably too close.
What else is going on? Well, on Thursday, Linda Lautenschlager from Chessie & Me stopped by. She is in town to teach at the Delaware Sampler Guild meeting! It was great fun to see her here ~ usually we see her only twice a year at the markets (where I routinely embarrass myself drooling over her lovely designs ~ and saying, "ooooohh I NEED to stitch/finish stitching that"). Coincidentally, Ruthie has just stitched 2 of Linda's pieces lately ~ one of which we just finished.
1776 Harbor kit - from Chessie & Me. This one has been in the shop for a while now, so some of you have already seen it finished. After Mom stitched it, she attached it to a piece of wool & then put it on the front of a little basket. So pretty!
Berry House Stitch Book - from Chessie & Me. How pretty is this? It was originally designed as part of a set that decorates tne inside & outside of a box (which is a very pretty way to display it), but we like it attached to 2 pieces of wool & made into a little hanger.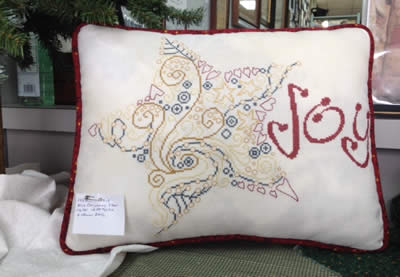 A Nice Star - from AAN. We love this pillow! I'm such a fan of AAN, I really love the free-form, modern feel & this is really sweet. Perfect for Christmas decorating.
LED foldup light. Molly & I saw this at the market this summer & I just never got it in the newsletter! It is small ~ you can see it sits in the palm of my hand. When you unfold it, it's flexible & adjustable. Not only that, it's a 3-way light! Dim~Medium~Bright...just hit the button for what you want! It runs on 4 AA batteries or you can hook it up to a usb connector. This is FABULOUS for stitching & ESPECIALLY if you are travelling (like Over the River & thru the Woods this season). And for $15.5o you cannot beat it.
That's it for now! It's been a real UP & real down week around here. What stinks is that the down is at the end of the week. sigh. And when it starts getting colder & darker outside, I turn into "The Hibernator" anyway.
I just saw a post on Facebook about Robin Williams & it said something to the effect of 'all it takes is a pasted on smile to make people think everything's just fine'. Those weren't the exact words, but the gist of it was that people who are diagnosed with depression are seriously good at hiding their bad days, mainly because those who don't deal with it always say things like, "Cheer up!" or "What do you have to be depressed about? You're rich/famous/popular!" Believe me when I say it is NOT that simple. My way of "dealing" is to crawl under the covers & stay there as long as possible (thus, the "Hibernator" tag!). I'm hoping to "snap out of it", as they say, so that the weekend isn't a waste.
ENOUGH BOOHOO TALK!!!
I'm wrapping this up so it will be in your inbox sometime before 2 AM this week! Woohoo!
Take care & stay warm. And if you live in the one spot that's still in the 90's, send some our way~
Hugs & stitches ~
Beth & all the falling flakes at TSS