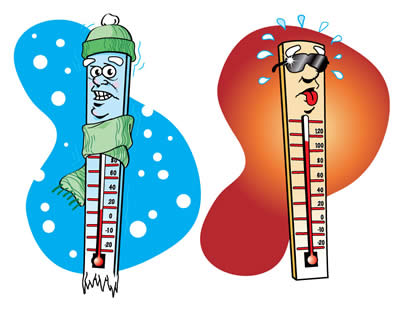 Yep! This is how it has gone here! Last weekend, 40 degrees, rain, dreary.....Memorial Day weekend: 90 degrees & SUN, SUN, SUN! Just in time for the unofficial (for me, OFFICIAL) start of summer! So you won't hear me lament the weather anymore (until it gets cold again....).
Of course, lots of folks are wondering, "What happened to spring?". Take up your arguments with the winter committee, as they're the ones who overstayed their allotted time! Hopefully y'all found a few dry days to get your flowers in your gardens (my Mamaw always taught me you never put your plants in until after Mothers Day...).
I'm so excited because our larkspur are out in full force. I had serious doubts about it coming back this year. I love my larkspur, but it's gone thru a rough patch, having been basically eviscerated by the lawn guys one year, and therefore only having a straggly few spots the last few years. And then, over Christmas (when it was a BEAUTIFUL 72 degrees!!!), I was outside & noticed all these little wild-carrot-looking greens (that's what larkspur greens look like) ALL OVER the flower bed! Part of me was so excited that it was BACK...until I realized it had popped out too soon & would no doubt get frozen out at some point. But it survived & it's just about to flower!!!
Holy crap! Did I just yipyap FOREVER about larkspur?? Good grief!
ANYWAY! On to the real world!
So sorry I didn't get this out over the weekend...when you reach the end, you'll see why I was slightly tied up!!
NEW STUFF! HOORAY!!
Fragments in Time - from Summer House Stitche Workes.
I love the borders on these ~ they're meant to reflect old woolen hooked rugs & I think Beth has done a great job of that. And she has such a great flair!! The first 2 in this series were Tortoise & Hare. These 2 are Dog & Butterfly. Now tortoise & hare I totally get ~ we've all heard the fables growing up. I don't know if there's a story/proverb/fable behind dog & butterfly, but I do know the album from Fleetwood Mac (& if you don't know who that is, you're entirely too young!). So, while they're fun on their own, I love her little twists & tweaks!! Makes me think, makes me smile!
Stop & Smell the Roses - from Country Cottage. Oh my goodness! So, so sweet! I wanna just move into this house! Oh, Reda, this one's calling your name....
Earth Laughs in Flowers - from Erica Michaels. LOVE LOVE LOVE this! Linda does the prettiest things! This one comes with silk gauze (TRY IT ~ it's fun!). If you're not a fan of the gauze, you can stitch it on any fabric you like.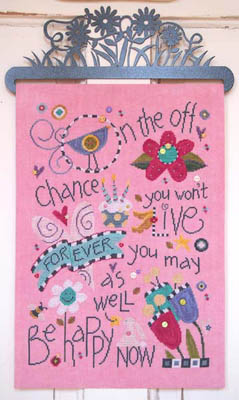 Happy Life - from SamSarah. The 3rd & final installment of this darling design is now available. If you haven't seen it all together yet, here it is! We LOVE this!
Home is Where the Heart Is - from The Pink Needle. Love the houses in this design! And I love the hearts scattered throughout the "neighborhood".
Crazy Quilt: June - from CM Designs. Molly's favorite so far! Happy Summer!!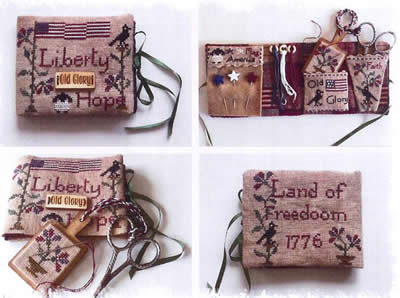 Americana Sewing Set - from Mani di Donna. What a beautiful design for a sewing set! The chartpak includes the "Old Glory" tag! Simona noted that on the outside she spelled Freedom with 2 oo's, as she had seen an antique schoolgirl sampler with it spelled this way & thought it was charming!
Spring Pin Pillow - from Abbey Rose. So pretty. Love the house ~ but that flower could be problematic..
Summer Pin Pillow - from Abbey Rose. Love these flowers in this one.
Cardinal - from TechScribes. This is beautiful! So realistic.
Harvest Mouse - from TechScribes. Aaaawww! So sweet!!
A Needle's Work - from Erica Michaels. What a lovely little pinkeep! This comes with silk gauze, but remember, you can always stitch it on whatever you like!
Nancy's Sewing Necessaries - from Erica Michaels. This is a companion chartpak to the Nancy Alden Sampler. All the motifs are taken from that sampler. Molly LOVES the bird on the threadkeep!
Lili au Jardin (Lili in the Garden) - from Jardin Prive. Isn't she sweet? Love her little lambie!
La Notte di San Lorenzo - from Cuore e Batticoure. OMG! This might be one of the sweetest designs EVER! I love all the stars & the cute little ladder up to their rooftop "terrace"!
Hetty Child Reproduction Sampler - from Sampler Company. So many things on this sampler that I love ~ the border is lovely, I love the basket part of the center design & the squirrels are too cute!
Plant Wisdom - from Sampler Company. Another lovely sampler from Brenda Keyes! As always, the houses caught my eye right away, but the medallion above them is really different as well!
These 2 aren't new designs, but one of our customers (Hey Nancy!) ordered Red House & we loved it too, so we got some for the shop!
Red House Sampler - from Sampler Company. A great border, lots of critters & a house...but I think my favorites are the 2 potted topiaries in front of the house.
Heaven Doth Ask - from Sampler Company. Love the verse in this: "Weak though we are ~ to love is no hard task ~ And love for love is all ~ that heaven doth ask".
Fancy: Trick or Treat - from Heart in Hand. So many cute motifs in this one!! I think the bat with the flat wings is my favorite!
Wee One: Magic - from Heart in Hand. He looks like a scaredy cat!!
It's finally reached 90 degrees, so it must be time for Winter stitching!!
RIGHT???
Well, Mill Hill released their Christmas/Winter kits just in time! If they weren't so cute, I'd be happy to squeal about it being the wrong time of year....
Beaded Ornament Kits
all kits include chart, 14ct perf paper, floss, beads & treasures.
Ye Old Santa - Chalkboard Christmas
Invisible Snowman - Snowy Owlet
Reindeer Games - Jingle Bell Wreath
Button & Bead kits
each kit includes chart, 14ct perf paper, floss, buttons & beads.
You can also get a 6"x6" frame for it!
North Pole - Winter Stag
Town Hardware - Festive Pine
Holiday Sampler - Crystal Snowflake
Renaissance Santas
3 Italian Santas from the Renaissance ~ each kit includes chart, 14ct perf paper, floss beads & embellishments.
Florence - Venice - Genoa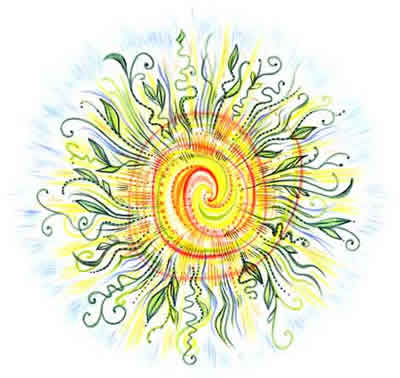 So it seems that EVERYONE has been stitching around here! Okay, well not everyone.... But anyway, I've taken a bunch of pictures to share!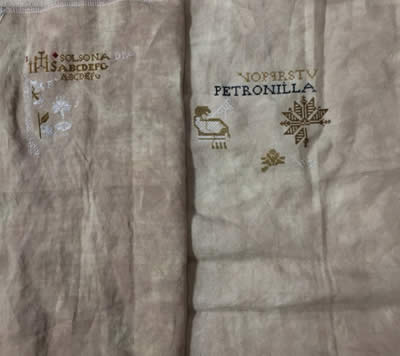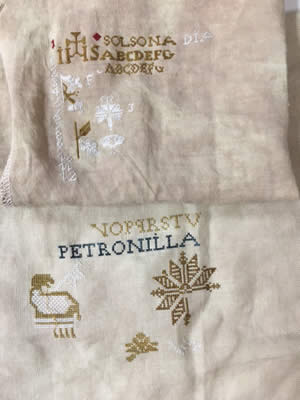 Molly & Barbara are both stitching Petronilla, and both of them brought their work in today! Molly's is on the left side on the left hand photo, and on the top of the right hand photo. Molly is stitching hers on 52ct linen (!), & Barbara's is on 36ct. The end of the alphabet on Barbara's is equivalent to the bottom row of the alphabet on Molly's! Amazing what a difference the fabric makes!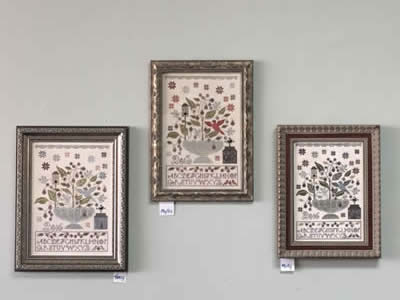 Speaking of differences, I showed y'all these 3 pieces ~ Blackberry House from Plum Street - a couple weeks ago, and now all 3 are framed! From left to right: Tracy's, Phyllis' & Molly's. They all used the same color fabric ~ Porcelain from Lakeside Linens ~ but Molly used 40ct, Tracy & Phyllis used 36ct, and in this photo Phyllis' is under glass. Each of them changed colors a bit and the frames they picked are perfect for their pieces alone (Molly was the last to finish & she tried Phyllis' choice & Tracy's choice ~ blech!). It was very interesting what a difference the color changes made as far as choosing the right frame. If you're in the area, stop in & see them all stitched!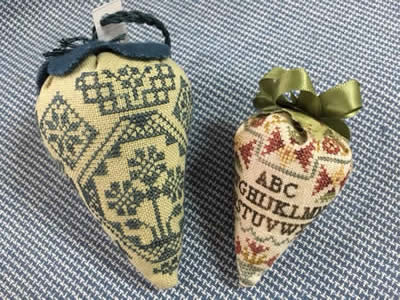 Ruthie & Tracy each stitched one of the new berries from Erica Michaels. On the left is Quaker Berry, stitched on 3 Pear from Lakeside (Ruthie's), on the right is Sampler Berry on 36ct Toasted Almond from Stephy's Fabrics (Tracy's). Again, what a difference the fabric makes! See them separately below, held in my hand for scale.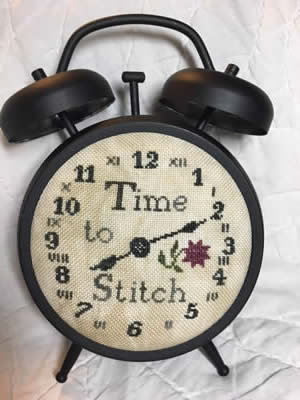 Time to Stitch - from Needlework Press. Okay, first of all, we SHAMELESSLY STOLE this idea from Carol M! She posted a picture of her completed clock on Facebook & it went viral!! So we tracked down the "clock" & when they came in, Tracy took the chart & stitched this over the weekend! It's stitched on 28ct Legacy over 1 thread to get it to fit. Tracy also changed the colors (the design has it stitched in all one color, but Tracy added a little color to hers!). She also decided she didn't like the clock in shiny silver, so she bought a can of Rustoleum Matte Black spray paint, took the clock completely apart (it's NOT a real clock) & spray painted it black.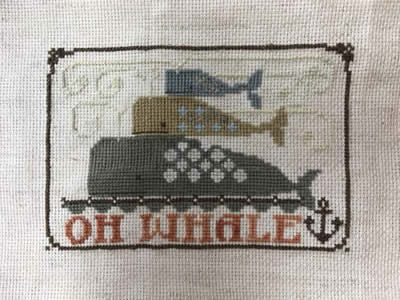 Oh Whale is Katerina's (aka, Nina) first piece of cross stitch!!! What ever happened to starting with a little 10 stitch ugly turtle (like I did!)? Not our Nina! She chose this chart, changed some colors, added some stitches...made it her own! So proud of our girl! She is currently busy framing it herself as well (OVERACHIEVER!!)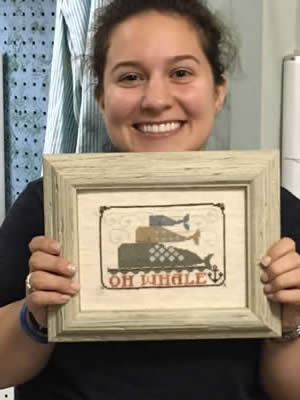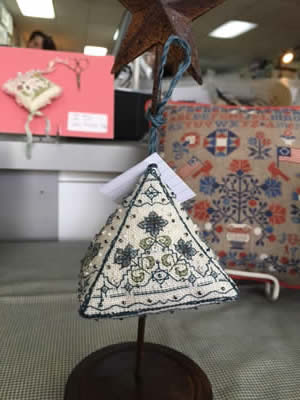 Ruthie finished stitching & assembling this pyramid from Sweetheart Tree! It's so interesting & each detail is just right (a fact that Ruthie admitted AFTER complaining about having to put all the beads on it!). Good finishing directions as well (which is always a great advantage!).
Ruthie finished stitching A Little Bird Sampler from Drawn Thread. Mary Anne finished it with a branch for a bellpull hanger.
Cindy and Tracy have each finished pieces from a couple of our favorite books from Blackbird! On the left is Salute to Abigail from Sweet Land of Liberty. On the right is Tracy's little pillow from Agnes Platt's Strawberry Sampler ~ I LOVE the beads around the border of the design!
And lest you think I never stitch (which, you'd mostly be correct...), this is what I've been working on. It's Not Quite Whitework from Northern Expressions. I love the way it's turning out. I love doing all the different specialty stitches, however, it's on 36ct using silks, which I feel are too thick to use on 36ct. If I were to start over (WHICH I'M NOT), I would put it on 32ct instead, so that the stitches weren't so cramped. But I adore the colors (& she actually gives choices for other, seasonal colors ~ this one is the original & is Spring).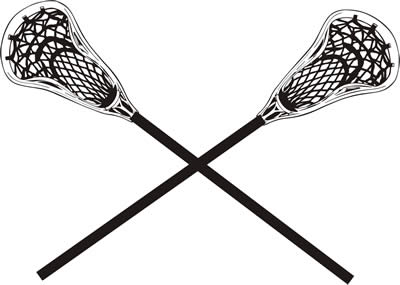 So, I hope y'all enjoyed your Memorial Day weekend. Hope you were able to find time to reflect & pay respect to all those who have given their lives for our country. Without their sacrifices, AND those of their families, we would not be enjoying the freedoms that everyone should be able to enjoy.
I spent 2 of the 3 days at the "Linc" (aka, Lincoln Financial Field, home of the Eagles). Why, you may ask? Well because the NCAA Lacrosse Championships were going on! So, what does that have to do with me, you're wondering? Evidently, Jimmy has developed a fondness for lacrosse (because baseball bats aren't enough for flinging balls thru the air....). And he's thinking he might like to play lacrosse next year.... I didn't hesitate to point out to him that, from the little bit I knew about lacrosse there seems to be A LOT of running involved ~ and running is NOT in his wheelhouse! He then proceeded to launch into a long story of, "If you play attacker, you generally stay on offense....blah, blah, blah" ....he lost me. Here's what I know: A) Lacrosse is one of the oldest sports, played by Native Americans LONG before any of our ancestors illegally crossed the borders; and B) it seems like it's a cross between hockey & soccer ~ thus the running observation. But anyway, back to my weekend. We got tix & went to the Semi-finals on Saturday & the Finals on Monday.
OMG!!! I am a TOTAL fan!! It was so fun to watch (& truly, I realized there's even more that I DON'T know). And the BEST part: UNC won!! In fact, their women's team won the Championship on Sunday & then the men's team won theirs on Monday! Double woohoo!!! So, I'm a new fangirl!
Next week: RUGBY!!!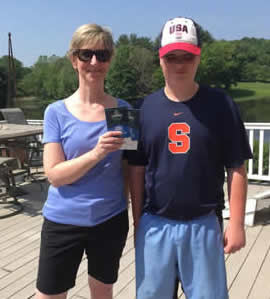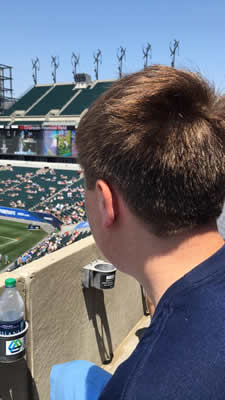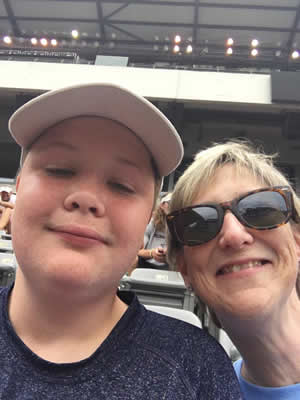 Heading out on Saturday ~ he is now OFFICIALLY taller than me (& I DON'T like it). In the center is what I call, "STOP TAKING MY PICTURE!" (he has so many cowlicks, it's like the whole herd licked his head!). On the right is Sunday ("Please at least LOOK like you're happy to be here").
Tune in later this week ~ we've got a little something brewing!!!
Hugs & stitches ~
Beth & all the grateful Americans at TSS