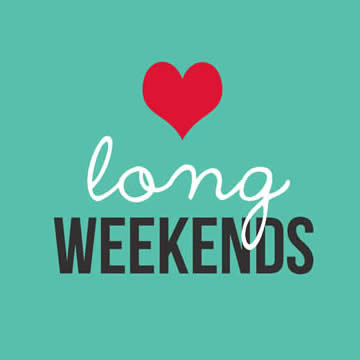 Is everyone looking forward to a long weekend?? Let me just say, I've heard nothing else for the last 2 days from the boys! "So psyched we have Monday off!" or "We should have gotten Friday off too, so it would be a REAL weekend." This, after getting out early on Tuesday AND WEDNESDAY! I mean, really, you basically had another whole day off this week, it was just spread out! And never have I seen a school where they have more half days, days off, inservice days, Saint days.... I thought it was bad before, but this school takes it to another level! Seriously, they had off the Monday after Super Bowl...because it was the day after the Super Bowl! You can't make this stuff up, folks. I myself will be surgically attached to my laptop ~ all the Nashville stuff is starting to appear & I am going to be working day & night to get it all posted (see our Nashville shopping page) & continue to update our yipyap page too!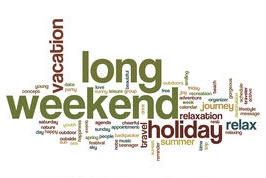 But for today, we're doing our everyday Friday newsletter, complete with nonsense about nephews & perhaps a gratuitous puppy pic, in addition to the new goodies on their way (that will be here BEFORE Nashville!). So you can spend at least a part of your long weekend surfing new stitching ideas!
Prayer of Sir Francis Drake - from My Big Toe Designs. First of all, I'm gonna just admit that I didn't realize Sir Francis Drake had a specific prayer. When I initially glanced thru the email, I read it as "Prayer of Saint Francis" ~ that's what you get for skimming & not reading! Second of all, I LOVE THIS!!!! I'm not gonna type it all out here, but if you click on the picture, it will take you to our order page & you can read it all there. The gist of it is, don't let us get so comfortable with our life that we neglect others or ignore God.
Hope and a Future - from My Big Toe Designs. This is the verse from Jeremiah 29:11 & is "MY" verse. "For I KNOW the plans I have for you," DECLARES the Lord, "plans to prosper you and not to harm you; plans to give you hope & future." (My emphasis). This is my touchstone. So excited to have it to stitch!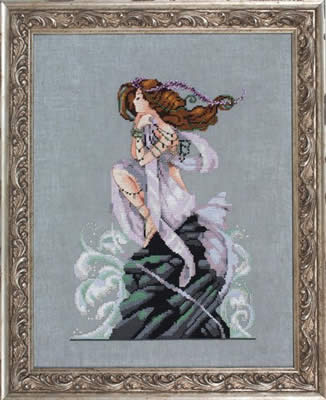 Andromeda - from Mirabilia. Another lady from Greek mythology, Andromeda, the daughter of Casseiopeia, ends up chained to a rock as punishment, but saved by Perseus (who uses the equivalent of a Harry Potter's invisibility cloak!). I love Greek mythology!!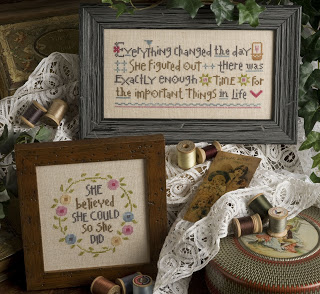 She Believed She Could - from Lizzie Kate. Love this verse too. It's hard to believe, that in the 21st century, we STILL have to battle to be considered men's equals. If you question that, just get online & watch how the incredibly disrespectful treatment by an OLD, MALE senator towards his female colleague. He basically told her to sit down & shut up. And the next day, when the MALE senators stood up to read the same letter, no one shushed them. So yes, we ARE still fighting the same battles our grandmothers thought they took care of. And before you fire off an email at me to stay out of the political smacktalk, I'll tell you right now, if that same occurrence had taken place in a boardroom or a stadium or a grocery store (& was broadcast on TV), I would still be righteously upset. It's not about politics, it's about courtesy. So, SHE BELIEVED SHE COULD, SO SHE DID is something all girls ~ the ones who've had MANY birthdays & the ones who have only had a few ~ need to know!!
Un Amore di Casa - from Cuore e Batticuore. This just makes me happy!! I could move right in.
Chick Party - from Lizzie Kate. Okay, I wanna be invited to this party!! Love the colors!
Frog Motto - from Annie Beez. LOVE this!! Not only is it cute, but it's funny ~ and when your non-stitching friends ask you why there are frogs in it, don't even bother...they won't get it!
Birds Bees and Trees - from Needle's Notion. I really like this one! My grandmother would love this ~ all her favorite things!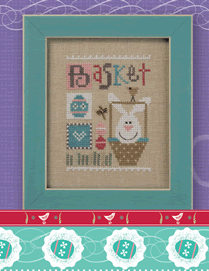 Celebrate with Charm: Easter Basket - from Lizzie Kate. Too cute!!! Love that bunnie's smile!
Pursue Love - from Tree of Life Samplings. A sweet little primitive sampler!
I Found the One Whom my Soul Loves (Song of Songs) - from My Big Toe Designs. What a wonderful design for a couple (or for your sweetheart!).
Mini Sampler: March - by From the Heart. This is my favorite so far!!
Stout & Lager - from Stoney Creek. For the beer lover you know!! I'll have a Yuengling Lager please.
Showtime Sunflowers - from Vickery. Very cool! I like the little outlines and OF COURSE I love the border!
Grateful Every Day - from My Big Toe Designs. A lovely design & an even more lovely reminder.
Sarah's Garden: Orange Rose - from Techscribes. These designs are computer generated from pictures ~ stunning ~ and look best when stitched on smaller fabrics.
Sarah's Garden: Orange Tulip - from Techscribes. The shading is amzing on this!!
Sarah's Garden: Red Daylily - from Techscribes. This is my favorite! Love the way that fuschia looks against the black fabric!
Thanksgiving - from Vickery. LOVE LOVE LOVE the black & white Pilgrims in amongst all the goodies!!!
Christmas Sleigh in the Village - from Stoney Creek. It is NEVER too early to get started on Christmas stitching!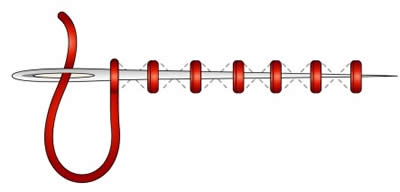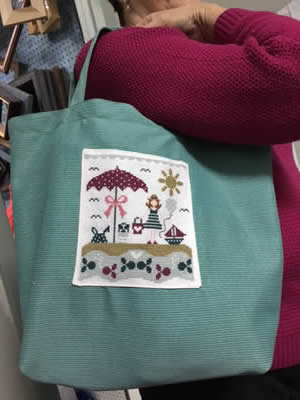 On the Beach - from Tra la la. Is this cute or what?? The design itself is totally fun, but then Mary Anne found fun, ocean-colored fabric & made this tote bag!! LOVE LOVE LOVE! Summer is coming ~ and until then we can stitch about it!!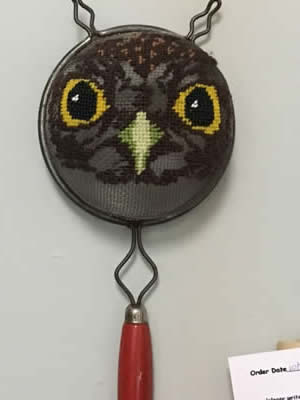 How cool is this? A guy who stitches & comes in the shop regularly, shared this with us a couple weeks ago. I gotta tell ya, Patrick is unbelievably creative. Every time he comes by, he has something that we all say, "why didn't I think of that?". We are always amazed by our customers' creativity! And always have fun sharing with everyone else!
Well, that is all for today, as far as "available before Nashville" goes! I don't know about where you live, but it's supposed to be gorgeous here this weekend ~ sunny & in the 60's! So if it's nice where you are, get out & enjoy! And have fun checking out the new goodies. Don't forget to check your inbox regularly, because as I get a group up & get a good stretch of yipyap, I'll shoot out an email!
And now, I'm off to pick up the boys from school (hopefully without a pack of friends), then do a stop, drop & roll (where I stop at their house, drop them off & then roll out as fast as possible) & come back to the shop! But Jay is home tonight, so .... aaaaahhhh.... back to sleeping in my own bed! With the cutest little (not little) girl ever!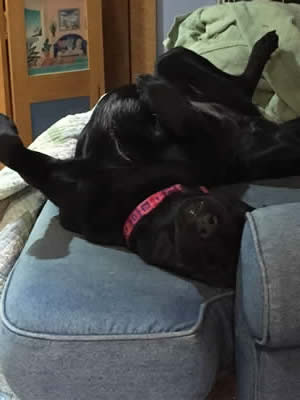 Anyone know a good doggie chiropractor? I think she's gonna need one....
Hugs & stitches ~
Beth & all the Presidents at TSS