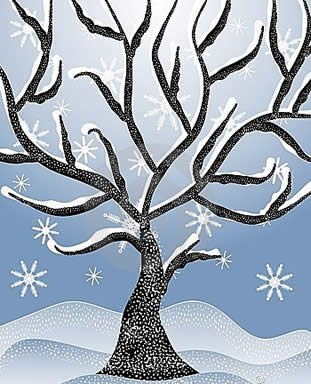 So far, so good!
Yes I am complimenting the winter weather. I know, I should have warned you! So now you can pick yourself up off the floor & get over the shock! But I realize that I spend lots of time complaining about it, so I felt I should acknowledge the fact that it has been MUCH better than last year!! Yes, we've had a few flaky days & we'll have more before we reach 70 degrees again, but, well, so far so good!!
Having said that, we've had a strange week around here, particularly regarding the framing sale! Tuesday was CRAZED, as we were expecting white flakes on Wednesday (which didn't materialize until around 4!), then Wednesday was quiet (except we were CRAZED trying to unpack & SKU about 10 boxes of incoming stuff ~ including 75 pounds of fabric to cut!). Thursday was busy getting stuff out & Friday....CRAZED doesn't really describe Friday ~ of course, everyone is thinking that Saturday will be horrible weather, so they're getting in their last minute framing pieces & stocking up on projects! It's NOT going to be bad folks! Really.
But if you're looking for a new project, we've got LOTS of suggestions! And let me say, if you're not on our Facebook Stitcher's Group page, you should be! Wow! The inspirations there from everyone's Wednesday WIP (work in progress) & Friday Finishes (sometimes the same project in one week ~ yeah, not from me...) are amazing! Here at the shop, we can always tell when someone's posted something new, because all the sudden we have 5 people in a row asking for something! Too fun! So if you're not part of the group, join now!
Pink Ice Cube & Pinwheel Snowflake - from Just Nan. This is my favorite of all these so far! I seem to love snowflake stitching! This is a very limited edition, so don't dilly dally!
Mrs Snowflake - from Misty Hill Studio. Isn't she sweet? Pretty in pink!
Chilly Winter - from By the Bay. These are cosy little homes!!
Crow on Snow - from Misty Hill Studio. LOVE LOVE LOVE!! I think this is so cool!
From Me to You - from Homespun Elegance. This is a sweet, sweet little pillow! So cute!
Shadow Valentine - from Hinzeit. A fun valentine to stitch!
1 Corinthians - from Little House. One of my favorite verses & a sweet cottage too!
Flaws - from Hinzeit. I think this is absolutely wonderful & perfect for a stitcher (or quilter or knitter....).
Wordplay: Love Letter - from Hinzeit. Sweet stitching for your sweetie!
Wordplay: Lucky Leprechaun - from Hinzeit. He's a cutie! But of course, I'm partial to redheads!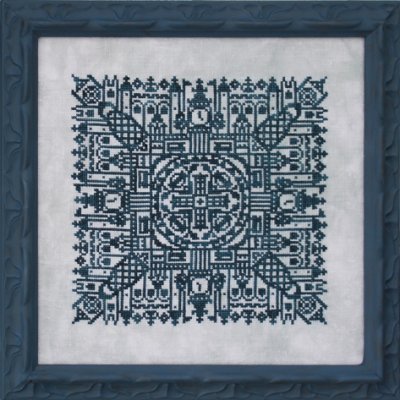 Reflections of London - from Ink Circles. I LOVE this series (did you get Paris?). Do you see Big Ben? Red phone boxes? Tower of London? Double decker buses? London Eye? So cool!
Let's Be Proud - from Imaginating. How cool is this? One of my new faves! I think it's fun to look & see all the words & phrases they've fit into shape.
Cover Story - from Ink Circles. This little set of needlework tools includes a scissor keeper, a needlebook, a pincushion & they all fit in a little wooden tray. When you're not stitching, you can cover them with the little coverlet & tiny pillows! Designs reminiscent of old time woven coverlets!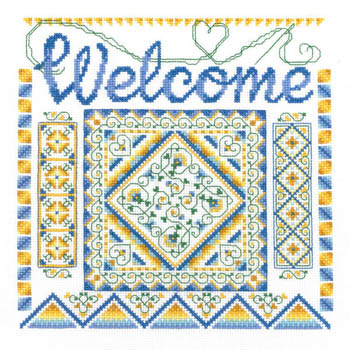 Sunny Welcome - from Imaginating. So pretty! So cheery! Who wouldn't feel welcome?
Wordplay: Paws Purr - from Hinzeit. Purr-fect for the kitty lover you know! Do you see the profile of the kitt within the pawprint?
Wordplay: Paws Wag - from Hinzeit. Just the right color for my big chocolate dog!!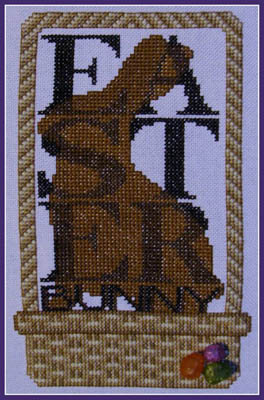 Shadow Easter Bunny - from Hinzeit. I think this is darling!! But I think I'll have to change the letters to more "Easter-y" colors. There's too much brown in this for me.
Vintage Music Cat - from Imaginating. What a sweetie!
Spring House - from Tiny Modernist. What a darling townhouse! I could move right in.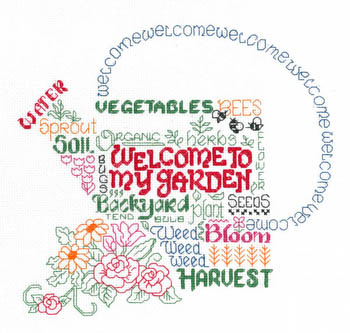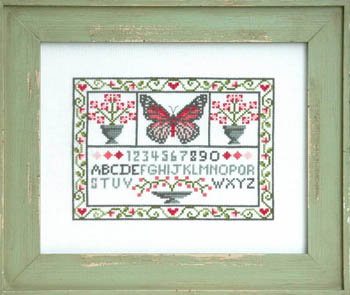 Let's Garden - from Imaginating. I just absolutely love these designs created by these word groups. They're just so creative & fun!
Butterfly House - from Tiny Modernist. So lovely. Love the cheery colors.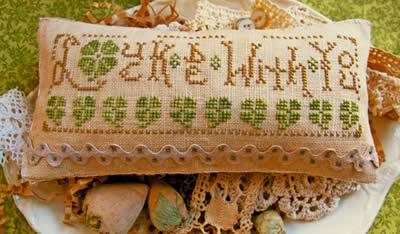 Luck Be With You - from Homespun Elegance. A sweet little pinpillow! The little 4-leaf clover border would be nice to add to a sampler or somewhere that you just need a little something Irish!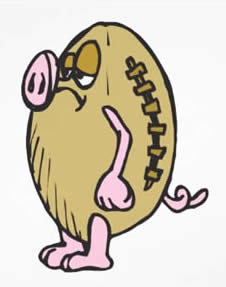 For all you non-football fans out there, take note: next weekend is the Super Bowl & therefore New England's last chance to show us a new & unique method of cheating! You won't want to miss it! I'll be cheering for the Seahawks (again), even though they beat my beloved Carolina Panthers & Molly's beloved Green Bay Packers. I have my Russell Wilson action figure from last year (so graciously provided by my buddy Pat from Lakeside Linens). I've tried to use him as a voodoo doll, but obviously to no avail so I'll be getting him psyched up this week to kick Tom Brady's butt. And yes, I realize I'm taking my life in my hands as my brother-in-law is from Boston & he & the boys are hard core Patriots fans (Abby too). But sometimes you gotta make a stand!
MORE IMPORTANTLY! It will be Super Bowl Sunday & you know what that means!!
It's our annual Super Bowl Sale!
The shop will be open from 12 noon to 4PM.
Everything will be 20% off!
If you can't join us at the stadium in the shop, you can still party with us online!
Just submit your order any time on Sunday & you will get 20% off your purchase. If you're ordering online, remember, our shopping cart won't calculate your discount but we'll deduct it when we process your purchase.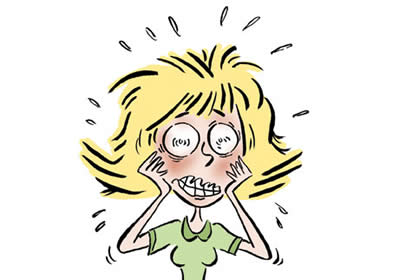 Okay, so I'm not blond, but other than that, this was me (& most of the rest of us) today! So if you were in the shop & saw this, we promise we're not always like this....at least not all of us at the same time!
But what's even better about this picture is that it makes me think of a funny story & it involves Heathen 1, aka my oldest nephew Jimmy.
So aside from the nonblond thing, this does slightly resemble my current haircut. Last Sunday was a monsoon here (along with icy roads from a flash freeze). But of course, I had slacked around on Saturday & done NOTHING so I had to run errands in the rain on Sunday. Sunday afternoon I head off to watch a 7th & 8th grade basketball game (what could be more fun, right?). I get there & as I walk in the gym I hear a voice from the other end yell, "Hey Antie". Now, I had to look up & confirm who was yelling, as both boys play on the same team AND all their buddies call me Antie as well. So I said, "Hey Jimmy B". And he kinda wavers his hand at me and says, "Uh, what happened to your hair?"
1) Male. 2) Teenager. Need I say more? Nothin' like having a guy (of any age) say something heartfelt & meaningful like that! So last night, I had a word of prayer with him ~ and tried to let him know that girls (of any age, in any context) probably aren't going to look kindly upon such a comment. His reply: "Huh?"
*sigh*
So I'm signing off now & heading back out into the shop for EVEN MORE clean up. Remember the framing sale ends Saturday January 24th, so get in or get left out!
Hugs & stitches ~
Beth & all the inmates at the TSS asylum