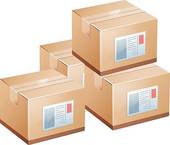 Holy packing tape, Batman!
We are up to our eyeballs in Market goodies. If you've been by the shop, you may be thinking that I'm totally lying. HOWEVER. It's been a crazy, crazy week. Last Monday, Molly & I headed to the St Louis airport with 200 POUNDS of cross stitch!! We then spent all day Tuesday & Wednesday pulling orders, first in my garage, then over at Ab's house (due to a plumbing issue that threatened to interrupt my tubby time....). On Thursday we started shipping & calling....& filling MORE orders!
I have to tell ya, we got TONS (okay, 200 lbs) of stuff & we were pretty sure we got a bit too much. However, we have already re-ordered as much as we bought at the show!! We are thrilled that y'all like all these goodies as much as we do. All we ask is that you be patient with us. We are truly filling orders as fast as we can ~ we took Saturday off, but were right back at it on Sunday! If you ordered online & got a confirmation email, then we got your order & we're pulling, packaging & shipping (or calling) as fast as we can! So unless you have a specific thing you need to add or change, don't fret ~ it's on its way.
Now, for a few updates about some specific items.
*Blackbird Designs. Many of you may have heard that the designers have hit a snafu in their "Magical Mystery Tour" leaflets; specifically with trademark/copyright issues with Yellow Submarine and Octopus' Garden. They have put a hold on shipping any more copies of these books until they get any problems ironed out. Having said that, we don't know if or when we will be able to reorder these charts. So, what does that mean for you? Well, the first 24 folks who ordered these will be getting them, as that's how many we bought (thinking we'd fill the 12 orders we had & have some left over. NOT). However, SO MANY of y'all ordered these, that there are plenty of you still waiting. We are shipping your orders without these leaflets or supplies & we are not charging you for them until we actually get them back in our hands. We will keep your orders here & "active" until we hear otherwise. If you didn't already order these leaflets, you still can ~ just understand that we don't know when (or if) they will be available.
*Heartstring Samplery. We discovered that 100 of these charts (36 of which were ours!) were packaged without page #6. We have gotten that page from the designer & have fixed all the charts we have on hand. However, if you have a chart ~ check it & see if you have all the pages. Lay them all out ~ there are 4 across ~ line up the numbers & make sure they're all there. If not, please contact us & we'll get you the missing page.
*La D Da. There are NO MORE Garden Maiden kits. When Molly arrived at 7:00:01 on Friday night (the Market preview opened at 7:00 PM), she was informed that there were no more kits. After picking herself up off the floor, she worked it out with Lori for us to get the kits we needed. Unfortunately, she can only make the amount that were ordered, so there will be no extras.
Evidently, "a shopowner touched base" with Lori before the Market even opened & took them all. Now, as you might sense, this is a bad move on Lori's part as all the rest of us (shopowners) who played by the rules & waited for the Market to open really got cheated. We are VERY, VERY GRATEFUL that Lori agreed to make more kits for all our customers who preordered these kits. For those of you who missed out, we're in the same boat ~ none of us at the shop will get one either. All I can tell you is, in the future, if you see something you like, ORDER IT EARLY. Also, be on the lookout for a rant soon.
*Abby Rose. Another Limited Edition kit sold out. There are no more To Thine Own Self Be True. Again, for those of you who ordered early, no worries. But there are several of you who will miss out on this one, particularly if you ordered on Sunday or Monday.
*Summer House Stitche Workes. And yet ANOTHER Limited Edition kit sold out. Liberty Starlet is gone. Again, most of you who ordered, particularly early, will get yours, but there are no more.
Phew! Craziness abounds ~ and none of it caused by us (that's gotta be a first!).
And now, a word from our ranter.
I HATE Limited Edition kits & this market is a perfect example of why. First of all, these all started as a hook to get shops to attend the Market. Okay. I see that. But it has become a nightmare. Instead of being excited to see what's new & be able to show you what's cool, we truly were running like maniacs ~ or more like midnight shoppers at WalMart on Black Friday. It's ridiculous. And then when people decide that the rules don't apply to them & they can just ask for their stuff early, it hurts almost everyone: you the stitcher; me the shopowner; the designer who gets 3 tons of grief & the silent treatment....oh wait, I guess it doesn't hurt the ones who skirted the rules. These folks have been ignoring the rules for YEARS at the Market ~ no one is surprised, just aggravated.
The better idea for designers as far as rewarding shops for being at the Market is another idea they had this year: Market exclusives. These are designs that are available exlusively to attending shops for 30 days. After that, they are available to all shops.
So, why, you may ask, am I telling you all this? It's not to cry poor me/us. As I've said a million times: this isn't brain surgery. Nothing we do here will end hunger. But it is frustrating. And we know it is frustrating for you as well. So touch base with your favorite designers & let the know how much you love their stuff!!! And tell them that while you love getting something "exclusive", it doesn't have to be "limited" for you to value their work. I mean, does it lessen your enjoyment of stitching if other people enjoy stitching the same design? Not me. If you do decide to email your favorite deisgners, PLEASE BE POSITIVE. No one responds well to nasty, negative, ugly people. Don't be hateful or pushy. Just let them know that YOUR SHOP will be at the Market, & no limited edition kit will change that.
I'm gonna sign off with a promise of a juicy new newsletter later in the week. But I'm so tired that I'm headed to bed in hopes I'll get to sleep before 3AM. And then we'll be back at it tomorrow, getting all your goodies in your hands!
Thank you all so, SO MUCH for being the best bunch of stitchers around. Every day we see someone or "talk" on Facebook or email who just makes our day. There are very few jobs where you can say that & we know how lucky we are to have you!
Hope y'all caught some of the Little League World Series!! Our (adopted) Taney team was absolutely awesome. And you know what? So were the other 15 teams. I was overwhelmed by the New England coach's speech to his team ~ he is what's great about Little League/Cal Ripken League. These kids are the best of the best ~ and I'm not talking about their baseball skills. I'm talking about their class. They KNOW it's a game. Yeah, they wanna win ~ who doesn't? But they know the world won't end if they lose. Most of them would rather hang out with their "competition" & play X-Box or swim! It is so wonderful to watch a game I love played the right way. Grown ups can learn a lot from kids ~ just don't tell Jimmy & Chris I said so!
As I arrived home last Monday, I was bombarded (in the best possible way) by the 2 best guys ever ~ "lets go out for pizza, Antie!". Who can say no? Not me. We got to Grottos & it was chilly inside, so Chris decided to snag my sweatshirt. He put it on & then complained ~ not about the fact it was pink either ~ because it was TOO SMALL! This is so wrong. So here's our parting shot!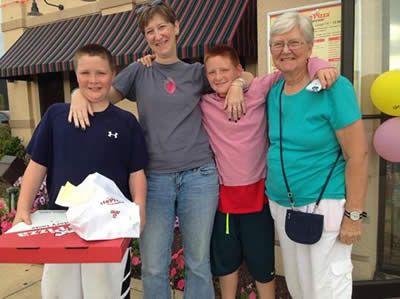 How did this happen? In 3 short years Jimmy will be old enough to drive...and that means in 4 even shorter years Chris will be driving. Word to the wise: get all your driving in NOW.
Signing off....
Hugs & stitches ~
Beth & all the summah lovahs at TSS