Here comes the sun...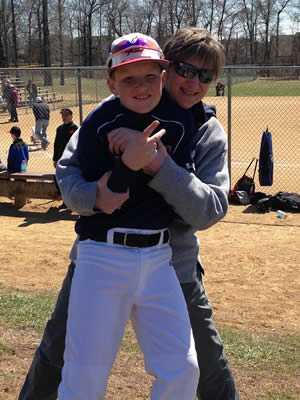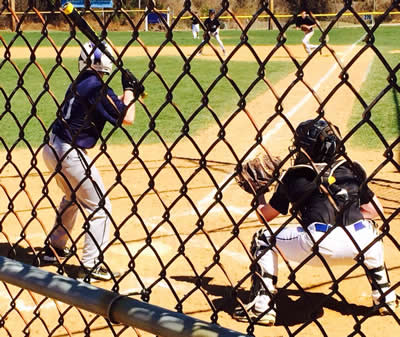 FINALLY!!!!
Yes, we finally saw some sun & we FINALLY played baseball! A "nice" picture of Chris & me (see the "real" us at the bottom of this page). And while YOU may not recognize it, on the right is my MOST FAVORITE CATCHER EVER!
It is ridiculously amazing what a difference it makes when the weather warms up. This winter was brutal in many ways & we're certainly hoping we've seen the END of it. I always try to convince myself that it DOES NOT MATTER ~ it's not like we are unable to get around in reality. We really are capable of carrying on with everything we need to do, we have heat, we aren't cut off from the necessities of life.
And yet.
For so many folks (& I am one of them), winter is mentally & emotionally hard. It doesn't "make sense", but after years & years, there it is. Lots of y'all stitched your way thru the winter. I have to tell you, I didn't stitch from Christmas on. You know when I picked up a needle? Tuesday. Last week. Also that week? Baseball's Opening Day. Coincidence? Maybe. Maybe not. Does it matter? Nah. And really? Enough of the psycho-chatter!! Let's just embrace the sun!
Also, my apologies for being MIA the last couple weeks. As the saying goes, life sometimes gets in the way. I actually started this newsletter right at the end of March. I'll try to do a little better staying on top of things, but I make no guarantees!
So, aside from the long-missing sunshine, what else is new?

Trunk Show!!
Speaking of happy, cheery things...we have an AWESOME trunk show from Lizzie Kate!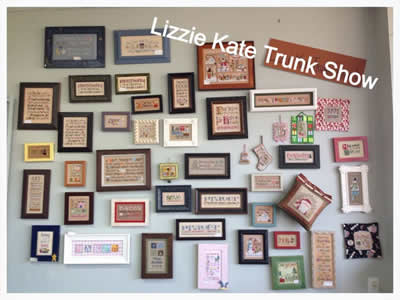 Lots of great models (& a few of our TSS models thrown in). We even have a couple where we've got 2 versions (theirs, the original, and ours). It is such fun to see what a difference a change in fabric or fibers can make. There are several of her newer designs (that we haven't even had time to stitch). The boxers are my favorites! These will be here thru Easter, so make plans to stop in & see them!

MORE NEW GOODIES!!
We are in our yearly springtime quiet time! However, we still seem to be finding fun, new things to stitch!
So here's what we're eager to get our stitching fingers on now ~
Simple Living Sampler - from Heartstring Samplery. I love this verse ~ "I still find each day too short for all the thoughts I want to think, all the walks I want to take, all the books I want to read and all the friends I want to see". This is an especially pretty version of it as well.
On Prudence - from Plum Street Samplers. GORGEOUS!! Paulette used a yummy springtime palette of colors in her newest sampler & the verse is truly "sampler-y": "What's in thy mind let no one know ~ Not to thy friends thy secrets show ~ For it thy friends should prove thy foe ~ Then all the world thy secrets know". Yep ~ while it certainly has an old-fashioned proverb feel, it's never been more pertinent. Hello politicians? People famous just for being famous? This is really a pretty way of saying ZIP IT!!
Family Sampler - from Sara Guermani. Another stunner from one of favorite Italian designers! In the upper right hand corner, you can put your "family established" date or your last name or anything you like!
Springtime Mystery Sampler part 2 - from Rosewood Manor. Woohoo! For all y'all stitching along on this mystery sampler, part 2 is due in. LOVE the verse on this.
Tulips - from Flowers 2 Flowers. I love the simplicity of this design ~ choose a fabric & 1 color of floss & stitch. This would be cute stitched on white fabric with a springy overdyed fiber too!
Cherry Tree Sampler punchneedle - from Three Sheep Studio. Another fun new punchneedle design!
Egg Hunt - from CM Designs. What gorgeous Easter eggs! Somehow, when I dye eggs, they really never turn out this pretty....
Easter Egg Hunt - from Needle Bling. This is ADORABLE!!! Love the chicks & the bunny ears!
Fraises - from Madame Chantilly. Bunnies & strawberries & springtime....what more could you ask for? This is just so sweet!
A Beeh C - from Sara Guermani. What a wonderful flock of sheep! Gonna need a sheep dog to keep them in line!
Soffia - from AAN. I know, it's not necessarily "spring-y", but I love dandelions. Remember when you were little & it was SO FUN to pick them & blow all the fuzzies off...until a grownup said, "CUT THAT OUT"!
Fire and Ice - from Ship's Manor. LOVE THIS! This is too cool, the way it looks like 2 separate pieces ~ but it's not! Just the threads are different. Naturally, I prefer the Fire side!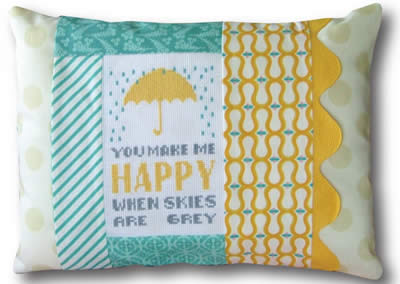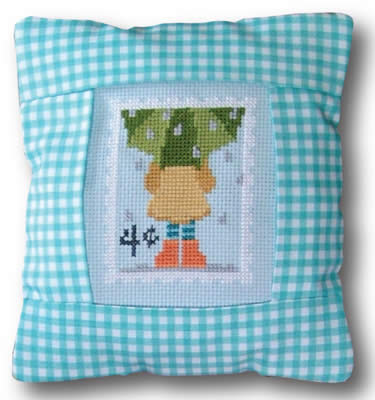 You Make Me Happy pillow - from Pine Mountain. Just right for April stitching! Give this to someone who lights up your life!
Special Delivery: April - from Pine Mountain. Aaahhhh ~ all you need is a big splashy puddle!
I Love You More - from Amy Bruecken. This is my favorite thing to say to the boys ~ when we're headed our separate ways they always say "love you Antie" & I tell them "love you more". So far, they have NO PROBLEM telling me this (even when their friends are around). Obviously they're boys: girls would long ago have said "don't talk to me when my friends can hear you". How do I know? I was once a teenage girl (hard to believe, I know).
Good Luck - from Madame Chantilly. So sweet! I love the extra little trailer of clover!
Happy Home Everyday - from Trilogy. This is the 3rd part of a series ~ what's sweet is that they look cute together, but they look adorable on their own.
My Cat is Smarter than Your Cat - from Designs by Lisa. And the cats will be more than happy to tell you that ~ assuming they'd deign to speak to you!
Starburst Patriotic Welcome - from Cherry Lane Designs. Perfect for your Americana home! Personalize it with your info.
Quilt Blocks - from Faithwurks. Stitch this for your favorite quilter ~ particularly if it's YOU!!
Tisana (Tea) - from AAN. I think it's green tea, too. It's even relaxing just to look at ~ what's up with that?
This Brew's For You - from Faithwurks. Now this is what gets your motor running!!!
Atlantic Cod - from Carriage House. SO, SO New England! I really like this!
Birds of a Funky Feather #11 - from By the Bay. I love bluejays (because...they're blue). But my grandmother would always tell me they're the bullies ~ and I have witnessed this. Dude, why can't we all just get along?
Woodland Hedgehog - from Just Another Button Company. Knittin' mittens! She'll have plenty of needles, in case she drops one.
Owl - from Heritage Stitches. I like this little guy ~ sometimes they look so serious...but this one's a cutie!
Kiss - from AAN. I have such an affinity for these design within a design creations! I think Molly (our resident lipstick hoarder) needs this one.
Eleganza - from AAN. Hmmmm.....don't really see me here, but it is cool.
OHM - from AAN. Yes, for all of you who have seen this & wondered what it means, it's OHM (close your eyes & meditate & you'll get it). I have to tell ya, this is one of my favorite new designs!! I LOVE the bright colors & the design looks sleek & gorgeous. I'm wondering exactly how blind I'll be after stitching on black...
Alice in Wonderland - from Madame Chantilly. First of all, Alice could have used a little meditation after a day with these guys! I really loved this story...that is, until I had to read it in high school. You know what I mean...water isn't just water ~ it actually symbolizes something rude. And evidently Alice in Wonderland was actually a political satire. I liked it much better when it was just an entertaining, imaginative story! On this sampler you'll get to stitch all the usual suspects (I love the cards!) & the cupcake & bottle that say, "eat me" & "drink me".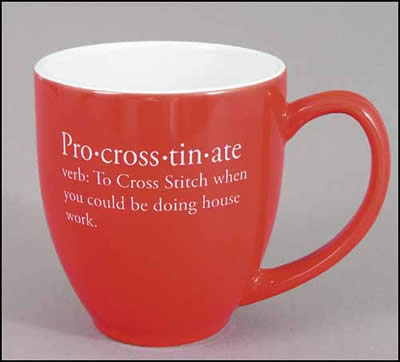 Pro*cross*tin*ate Mug - from Yarn Tree. OMG!!! I love this! We'll be getting these in by the boxful! What could be more perfect for any stitcher??
Baby2 - from Trilogy. This is a sweet baby sampler! And again, you could stitch just 1 square & make it a little pillow or hangup!
Pear Sleds - from Foxwood Crossing. HOLY PARTRIDGES, Batman!! These sleds have not slowed down AT ALL!! And we love that there are more & more fun things to stitch on them!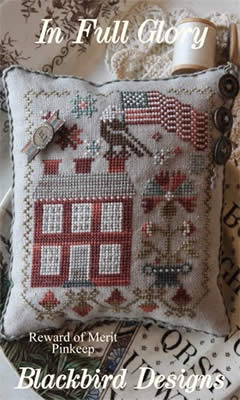 In Full Glory - from Blackbird Designs. This darling little pinkeep is just right for stashing with your stitching supplies (or framing with a big, fat frame!!).
Isola d'Elba - from Sara Guermani. The beach, THE BEACH!!!! OMG, a day at the beach!!!! Take me with you!
Tango Charlie - from LiliPoints. I've always loved these call signs (must be the Jane Bond in me), and anchors are my favorite! Must be ocean time!!
More fun characters from "The Wizard of Oz"!
Miss Quadling - she greets you on the Yellow Brick Road with her basket of seamstress supplies.
Mr Gillikin - he's a baker & brings lots of sweet surprises!

Hey! Now that spring is here, who's ready to stitch Autumn stuff??
Um, not me. However, these new kits from Mill Hill are darling & if I wait until late summer to show you, I'LL FORGET! Most of the little ones can really be for any time of year, so enjoy!
S'mores - YUM! Just YUM!!! There is no wrong time for s'mores.
Jeweled Pear - you could do a pair of pears!
Potions - hahahaha!! Get it? Love Potion #9?
Princess Carriage - Okay, well, orange isn't really my color so I'll wait for the next one....oh, wait. You say this one comes with a glass slipper? Nah....I'll wait. You go ahead (story of my life....).
Grandpa's Tractor - Yep. That's what it looked like! And it was loud & the smoke....
Monster Mash - YIKES! Is that one of those "off with their heads" thingies in his hand?? No treats for you!!
These are definitely more Autumnal (see, I did learn vocab words when I wasn't smack talking the stupid book critiques!).
County Fair - Ooohhh, pie!!
Harvest Home - love these big farmhouses with the wraparound porch!
Ravens - look it's a whole choir of "Nevermore"!
Wanda's Witchery - Now this looks like a place to have some fun!
White Pumpkins - So elegant, don't you think?
Peek-A-Boo - I love the gorgeous vine that's woven around this pumpkin.
The season has well & truly begun!
On the left, the "real" picture of Chris & me. On the right, the "braintrust" (aka coaching staff + 1). Jimmy barely spent 30 seconds talking to us after he arrived at the field from his game. He proceeded directly to where the coaches were sitting & spent the entire time with them. All I can say is a great big huge "You're Awesome" to Coach Kyle & Coach Marty. Not only are they good coaches for Chris' team, they take Jim right in to the "consultations" & have never pointed out to him that he is, in fact, not the 3rd coach! What great guys.
And now, the Public Service Announcement section of our program: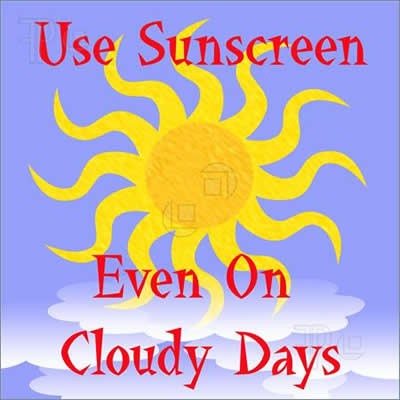 If only you could see the mess that is my sunburn.... Ugh. So of course, FINALLY the sun came out AND it was warm. All on the same day. PLUS, it was the weekend, so I was at the field all day. Now, normally, I am the Suncreen Police. Everyone knows I have it with me. Also, my chair has a canopy & I have a hat. Did I use them on Sunday?? Of course not ~ I mean, really. I haven't even SEEN the sun in so long I didn't recognize it! And just like all the plants in the yard, I just kept turning my face right to the sun. I even commented how great it was that we got to move from the 1st base side to the 3rd base side for the 2nd game, because the sun had moved!!! And much like a bad train wreck, I couldn't look away. So now my nose is peeling & as it is (LITERALLY) right in front of my eyes, I see it constantly! And picking at it. Rest assured, that will be the first & last of the year.
So enjoy the sun, but do so responsibly!
That's all the news from our front! Be sure to stop in & see the Trunk Show! And don't forget to like us (or follow us or whatever it is that you do) on Facebook & Twitter. There's gonna be some fun new treats popping up on those spots!
For now, get out & enjoy the beautiful sunshine & some baseball (just not the Phillies ~ because that is just PAINFUL right now).
Hugs & stitches ~
Beth & all the sunflowers at TSS