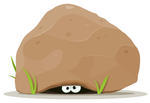 Yes! We are FINALLY crawling out from underneath the rock (0r boulder) we've been under! It's been a long road & we thank all y'all who have encouraged us & been patient with us. We added a new member to our crew ~ Nina, whom I met when her little brother played baseball with Jimmy, about a hundred years ago ~ and, WOW, she is a whirlwind of efficiency! She has been packing mailorders, then when she whizzed thru those, Molly taught her to do invoices, so now she's invoicing AND packing mailorders, then she mastered that, so last Friday we showed her how to add new goodies to the website & then go back to older items & add ingredients....we can't keep up with her!!!
So ~ SURPRISE ~ I'm back to newsletterland! You can either clap now or groan, whichever works for you!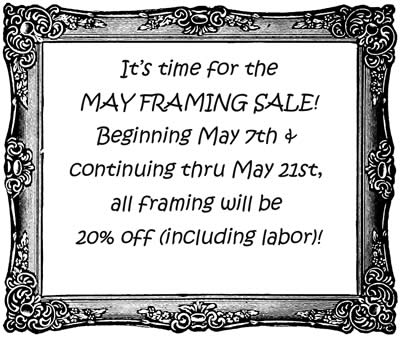 With just one or two exceptions, we are back on track in framing & are eagerly anticipating Lise's return! And it couldn't be better timing! So gather up your projects & check your schedule & pick a day to bring them all in! All framing will be 20% off for the 2 weeks (3 Saturdays) of the sale, including labor! All you have to do is pay the total amount (less your discount!).
I can't wait ~ I LOVE seeing everyone's pieces!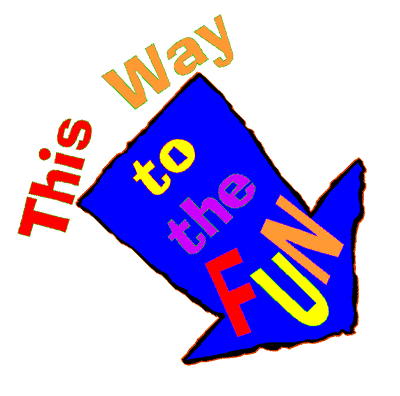 Guess what's coming up? Our Weekend Stitchaway!! Mark your calendars for May 21st & 22nd ~ it falls AFTER Mother's Day & BEFORE Memorial Day (perfect!). We'll be stitching at the Chadds Ford Barn again on Saturday from 9 to 5, and on Sunday from 9 to 2! There's no agenda, just come & stitch ~ ask any questions you have ~ share what you're working on ~ be enchanted by your fellow stitchers' work ~ but mostly, just carve out time for yourself to STITCH! The cost is $40 & that is to cover the cost of using the space at the Barn. There will be munchies & you're welcome to bring anything you'd like to share as well. When you sign up, please be sure to give us not only your name & phone number, but also your email address so we can send you a detailed info list! This has been such fun for us & we hope for you too.
Now, on to the good stuff!
I will tell you that EVERYTHING is new to me these days. I feel like I have truly been under a rock ~ new things have come in (even things I ordered) & then someone asks me about it & I have NO CLUE! It's like they're speaking a different language. So if I yip yap about stuff here that actually isn't new, don't be wondering if you're reading an old newsletter ~ it's not you, it's me!
Strawberry Farm - from Cuore e Batticuore. So cute!! For some of you it may be too cute, but that's okay. We love it ~ all the fabulous strawberry creations...making me HUNGRY!!
Le Petit Marche de Printemps - from Cuore e Batticuore. "Little Spring Market" ~ this is lovely! I love Farmers' Markets & springtime is always when they start popping up!
Woohoo! The next 2 designs from Cathy! Let's all go "To the Beach"!
To the Beach: Flock Together - from Hands On Design. Love all these beach birds! No "pier" pressure here!
To the Beach: Adjust Your Sails - from Hands on Design. Not only great advice, but also a fun design!
Blue Heron - from Imaginating. We've had so many people asking for a great picture of a heron! And finally we have this lovely one!
Let's Live by the Sea - from Imaginating. I'm stitching this to hang in my hut when I win the lottery & buy my own private island.....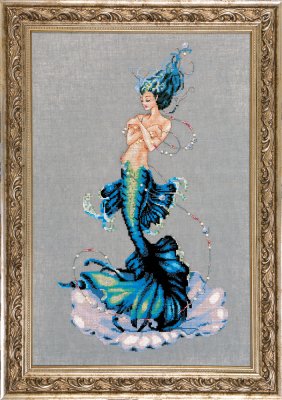 Aphrodite - from Mirabilia. Wow! Just gorgeous! Although I'm not sure about that blue hair...
Tableautin de Printemps - from TraLaLa. Squeee..... We (read: Molly!!) are so excited that this is going to be a seasonal creation. This one is even cuter than the winter one! Love the deer & the little bunny peeking out of the basket!
I Musicante de Brema (Brementown Musicians) - from Madame Chantilly. What a cute, cute design of this classic story!
Simply Summer - from Drawn Thread. The 4th of this series! Love it! And then, look how Cynthia has stitched all 4 together ~ I love that (although I would start with Spring....Winter goes LAST!).
Forest Friends - from Little House. A little house in the forest, with all the friends you need!
Four Freedoms - from Little House. Okay, had to do a little research on this one, because I was sure there was more to the story. I may have mentioned this before, but every time I moved growing up I somehow missed American History ~ where I moved to had had it the year before & where I was coming from would have it in the upcoming year ~ so aside from the Revolutionary War & the Civil War, I'm a blank. The title & theme of this design comes from a speech by FDR in January of 1941 where he proposed four fundamental freedoms that people "everywhere in the world" ought to enjoy. Thus, the Four Freedoms. Not necessarily just American!
Daybreak or Twilight ~ which are you? A great design from Tempting Tangles & you pick the colorway you like best. These are 2 separate charts (I do wish they'd simply given you 2 different color choices in the chartpak....).
Daybreak Star Bright or Twilight Star Light
Shades of Plum - from Northern Expressions. Love the bands in this one ~ they're so detailed!
Resilienzia - from AAN. This reminds me of some og the gorgeous mandalas I've enjoyed coloring.
Love Bird - from AnnaLee Waite. Aaaawwww..... So sweet!
Oggi Sposi (Just Married) - from Cuore e Batticuore. OMG! This is so darn cute! The perfect picture to have at the reception & afterwards! It just makes you smile!
Garden Club #7: Climbing the Trellis - from Blackbird. This might be my favorite so far!! I love the little vases & the flowers too! And don't be put off because they're on 2 separate pieces of linen ~ for one thing, it's not that hard to attach them, and if you really DON'T want to do that, just stitch them on one piece of fabric!
With Needle & Thread - from Samplers Not Forgotten. We were SO EXCITED to see this email from Kimberly! LOVE LOVE LOVE this new sampler! Added benefit: stitching & charting keeps Kimberly from starting her Christmas cards!!!! Although I'm pretty sure she's already done with her shopping..... We MISS you Kimberly!! And we're sure you miss us ~ you know, like you miss the plague!!
Crazy Quilt: April - from CM Designs. Okay, you have to look closer than first glance (or at least I did). There's an umbrella & some raindrops & some of the other patches look like garden rows & spring flowers!
Spring Things - from Waxing Moon. This is so pretty, & filled with all the best parts of spring!
Celtic Cross - from Imaginating. Wow, this is beautiful! We've already sold a bunch of these.
Oh Blarney - from Sunflower Seed. First of all, SO SO GLAD to see a new design from her! And this one is such fun!
Shamrock Scissor Fob kit - from Faithwurks. This includes everything you need to stitch this fun little fob, except the scissors (& don't we all have a spare pair or two that need a little "jewelry"?).
Love Stays - from Misty Hill Studio. Everybody here loves the sentiment in this design!
Always You - from Heart in Hand. Aaawww, make this for your sweetie to let them know. Or make it for your sibling, so they know who was always at fault!
Martha Howells Sampler - from Scattered Seed. This is Tammy's first reproduction sampler & wow! We hope she does bunches more! Love this one! Great colors, love the doggies & I really like how the border is the same on 3 sides & then different on the 4th!
London Zoo - from Kathy Barrick. All the creatures, all together!
New "Birdseye" series from Hinzeit! One for each month. We love these designs & birdies, although we're thinking we're gonna leave off the gigantic EYE buttons!
Jolly January ~ Fabulous February
Magical March ~ Amazing April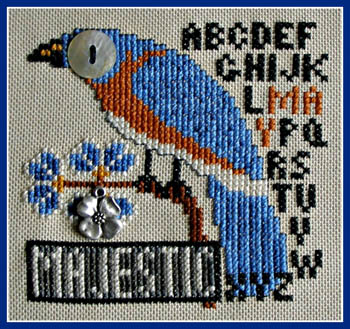 Majestic May
Peacock Band Sampler - from La D Da. Love this fun little sampler!
Dankworth Sampler - from Long Dog. Another gorgeous sampler from Long Dog...I love the bands, particularly the thistle band!
Summer Days - from Little Dove. This just makes me happy! I like the little banners above the bee hives!
I Will - from My Big Toe. Wow! This is a fabulous design for a wedding or anniversary celebration.
For We Walk by Faith - from Lizzie Kate. Linda is starting a new series of Snippets featuring favorite scriptures. This is II Corinthians 5:7. And it's oh so true, because if we walked only by what we see, we would probably never venture forward.
Saved by Grace - from My Big Toe. So pretty & a gentle reminder.
Boxer: Accept What is - from Lizzie Kate. This was the contest winner from Linda's Inspirational verse contest! I don't know who won, but this is definitely a great verse & design! Also, I love the little bonus sampler!
Seeds - from Ship's Manor. Isn't this sweet? Love how they've put it on the side of a crate as a little flower basket!
Here's the Church - from Little House. What a darling design featuring this beloved child's rhyme! You know you can't read this without doing the hand motions....can you?
God's Heart - from X's and Oh's. This is cool, in a mod sort of retro way! Love it!
Annual Border - from Drawn Thread. OMG ~ this one goes directly into my stash! The center verse reads, "One is nearer God's Heart in a garden than anywhere else on Earth". My Mamaw had this verse stitched in her kitchen FOREVER, and she was the greatest gardener! The outside is just a beautiful garden of flowers!! LOVE LOVE LOVE!
Jane's Joy - from CM Designs. This design was inspired by an 1863 quilt! I love it (& this is about the closest I'll get to getting a a quilt done!).
Famille Renards - from TraLaLa. Molly is so excited! Now she can stitch the fox family to go with the deer family. If they will just design a rabbit family, she'll cover all the critters in her yard (you would never guess she lives in a relatively urban area!!).
Family Tree - from My Big Toe Designs. I absolutely love how you look at this & think it's going to be touching & meaningful....and then you read it & laugh out loud! The best part is....it's SO TRUE!
Melancolie - from Jardin Prive. Not sure why it's called Melancholy, but I love it! It's BLUE!
For My Mother - by From the Heart. Just in time for quick stitching for Mother's Day (although every mom would be happy to get this on any day of the year!).
Sweet Land of Liberty - from Abby Rose. LOVE this little patriotic design! Naturally, the house is my favorite part!
Sampler Sack - from Drawn Thread. How lovely! This sweet little sampler bag will hold your necessities & is a treasure all on its own.
Princess & the Pea - from TraLaLa. So, so cute! Perfect for a little girl's room.
Circus - from TraLaLa. This is adorable! Fun for kids of all ages!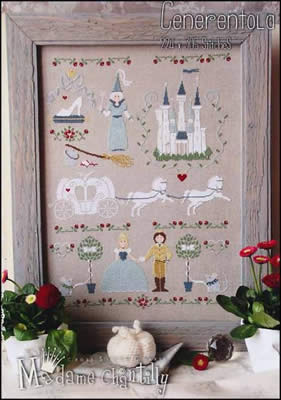 Cinderella - from Madame Chantilly. Some of the sweetest parts of this fairy tale are featured in this darling design!
Little Red Riding Hood: In the Wood - from Madame Chantilly. Oooohh, that sneaky ol' wolf is hiding behind that tree....
Little Red Riding Hood: Granny's House - from Madame Chantilly. Why Granny, what big ears you have!
Cake Menu - from Country Cottage. 1 of each, please!
Let's Shop til We Drop - from Imaginating. Stitch this up for your favorite girlfriend!
Merry Christmas to All - from Bobbie G. I LOVE this design! All the different ornaments are so pretty. And just think, if you start it now, you could get it done in time for Christmas!
Little Christmas Tree - from Keslyn's. I think this is really pretty ~ a very elegant ornament!
Hometown Holiday: Schoolhouse - from Little House. LOVE this ~ which is odd, considering school wasn't my favorite thing & I think we all know my opinion of winter....but this design is so cute!!
Gingerbread Village #7: Gingerbread Boy - from Country Cottage. Aahh, 2 buds out enjoying the day!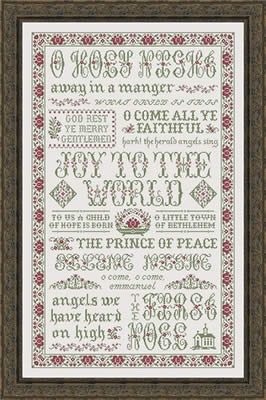 Hymns of Christmas - from My Big Toe. A gorgeous sampler with all your favorite Christmas hymns! I just love this!
Precious Cargo - from Lynn's Prints. Aren't they cute??
Let's Tractor - from Imaginating. I didn't actually realize tractor was a verb, but hey... This is so fun!
Love Bits from Hinzeit ~ we Love them! Quick to stitch & oh so sweet!
Love 2 Stitch - what fun is this? Do one for each of your stitching buddies!
Love Mom - another great quick-to-stitch design for Mother's Day!
Love Coffee - Calling all coffee lovers...this one's for you!
Love Wine - And this is for all the rest of us!
Love 2 Teach - Good idea for a teacher's gift....
Love 2 Nurse - stitch this for your favorite nurse (Page, Kari...talking about y'all!)
Love 2 Knit - A sweet gift for all those knitters!
Love 2 Quilt - or for your friends who quilt!
Child of My Child - from Victoria Sampler. Oh. My. Goodness! What a stunning design. HOWEVER. I do feel that you'll have to decide early on that the Grandma gets to keep it at her house, because if you start making one for each grandchild..... Well, that's where I like to say, "it's only important to be first!".
Tea Roses Pincushion - from Victoria Sampler. This is stunning!! The roses are done in bullion stitches and BEFORE YOU PANIC, she gives you FABULOUS diagrams & directions.
Let it Bee - from Drawn Thread. Another wonderful addition to the hive, we love this new design from Cynthia!
The last 2 months in the Cricket Collection series! I know they're a bit late, but don't overlook them ~ they are so cute! I love January!!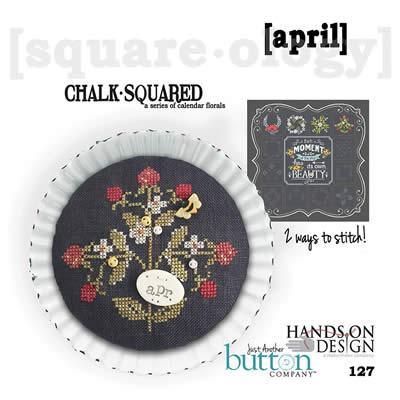 Chalk Squared: April - from Hands On & JABC. Okay, this one is a DOUBLE BONUS! First, it's April (which, as Chris will tell you, is the best month of all); and second, it's STRAWBERRIES! Molly isn't a fan (she's just jealous 'cause her birthday isn't in April).
Yearbook Double Flips from Lizzie Kate!
This is Lizzie Kate's 20th Anniversary ~ holy cow, I remember when they came to their first market in Charlotte...it couldn't possibly be 20 years! So Linda has designed a new series of Double Flips called the Yearbook! Each one will have 2 months included. The first 3 have just arrived! Be sure to collect them all ~ they're chock full of Linda's wonderful, seasonal designs!
YearBook: January & February
YearBook: March & April
YearBook: May & June
Charming Cupcakes - from X's and Oh's. How cute are these?? Adorable for your halloween stitching basket.
Jolly & Witch - from Ship's Manor. 2 fun little designs for 2 of our favorite holidays!!
New World, Part 1: The Night of All Fears - from Barbara Ana. The first of a fun set of 5 designs! This one features a fun Halloween night with some witches bats & 2 black cats!
Okay, I hate that there are Autumn things out when I feel like we're just beginning to see Spring, but fortunately there are no cross stitch police (because I would have been locked up long ago!). So while I won't be stitching any autumny things right now, I do recognize 2 things: 1) there are some folks who LOVE autumn designs, no matter the time of year, & 2) if I wait to put these up at what I consider a more "appropriate" time....I'll forget!! And they're too cute to forget about! So here are a bunch of new kits from Mill Hill!
Country Quilts kit - from Mill Hill. The beautiful colors of autumn really highlight the quilts on the line!
Mouse House - from Mill Hill. Molly loves this one! Now you might recall, I love pumpkin EVERYTHING, but I'm not sure I want to live in one...
Happy Halloween - from Mill Hill. This one is just fun! Love the colors, love the patterns, love the spider webs!
Moonstruck - from Mill Hill. I love this one!! It's just cool...and the colors are awesome.
Haunted Laboratory - from Mill Hill. Nothing good is gonna happen in here! DON'T GO IN THE BASEMENT!
I Drive a Stick - from Mill Hill. In fact, I DO drive a stick (makes my family crazy ~ part of the fun)! Too fun!
Little Monsters: Freckles - from Mill Hill. I'm always partial to freckles, since I have them!
Little Monsters: Spot - from Mill Hill. Aaaww, he's cute!
Little Monsters: Roly Poly - from Mill Hill. He's a happy guy!
YAY! Sugar Skull ornaments!! These are just so fun! I'm getting over the freakiness of them & love all the COLORS!!
Morado (Purple) - from Mill Hill. I like the skull & cross bones charm!
Naranja (Orange) - from Mill Hill. PEACE, man!
Rosa (Pink) - from Mill Hill. Love the daisies!
Verde (Green) - from Mill Hill. He's a star!
Amarillo (Yellow) - from Mill Hill. Makes ya smile, right?
Azul (Blue) - from Mill Hill. My favorite ~ Mr. Blue!
Itsy Bitsy - from Mill Hill. Wow. He looks fierce ~ wouldn't wanna get caught in that web!
Pumpkin Patch - from Mill Hill. Love the stripey one!
Fall in Love - from Mill Hill. This is my favorite!
Back from the morass!
What a time it's been. I know I said it earlier, but really, I can't say it enough: THANK YOU. Thank you for your patience. Thank you for your support. Thank you for your caring. Thank you for being you! We are finally getting our ducks together (not quite in a row yet, but at least gathered up!), & are settling in to some new patterns ~ letting go of jobs someone else can do (never easy for me), looking forward to creating some fun things.
One of the treats for me the last few weeks while I've been framing, is seeing the WONDERFUL pieces y'all have stitched! We've taken a few pics & asked permission to show you & as soon as we get the okay we'll post them. Below is Mary Anne's piece she stitched for a wedding gift. It's "From This Day Forward" from TA Smith. She left off a few motifs & stitched it in black. Isn't the frame perfect?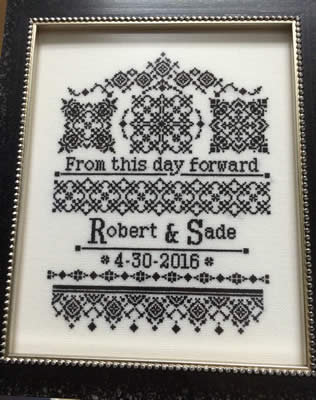 And as always, Phyllis has finished about a million more pieces. We're seriously not sure how ~ I mean, really, she tried to retire & now she works more than she did before, she's about to become a great-grandmother (twice within a month) & has finished both baby samplers and is working on new models. Then, IN HER SPARE TIME, she started (& finished) Blackberry House from Plum Street. Tracy & Molly also started it at the same time. Tracy finished hers about 2 weeks after Phyllis & just brought it in to be framed, and Molly is DANGEROUSLY CLOSE to finishing hers. I was framing Phyllis' the day Tracy brought hers in, & Molly had hers at work, so I gathered them all up, pressed them & photo'ed them. All 3 of them changed colors, but all used Porcelain linen from Lakeside (Phyllis & Tracy used 36ct, Molly used 40ct). They each picked VERY DIFFERENT frames & the funny thing is, each frame ONLY looks good on that particular piece ~ they each tried the frame the others picked & it never worked. So whenever you see a design that you like but you think you would love it in different colors, DO IT! Enjoy the pics & look how different they each look!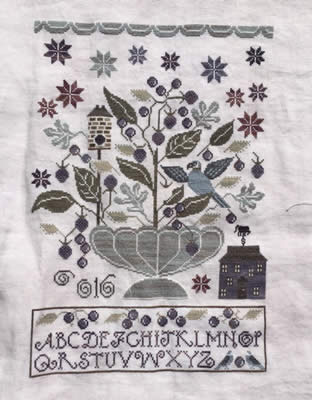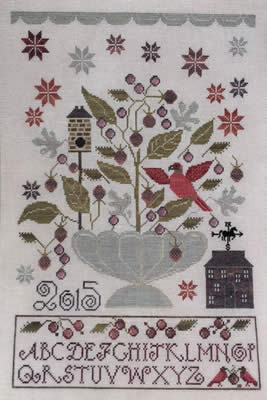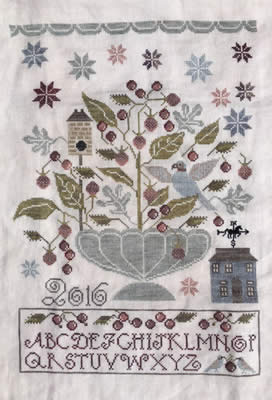 Molly ~ Phyllis ~ Tracy
You'll see that Molly still has to finish the date & a few berries in addition to her headless horse weathervane (I told her to leave it ~ you only need SOUTH). I love how different they look: Phyllis' bowl & the veins in her leaves are more subtle, Tracy's birdhouse colors are softer, Molly used deeper colors on hers ~ more blues & purples (& she's not a purple/blue girl).
Okay, I'll stop now so I can get this on its way! Hope I remember how (!).
Hugs & stitches ~
Beth & all the rockheads at TSS