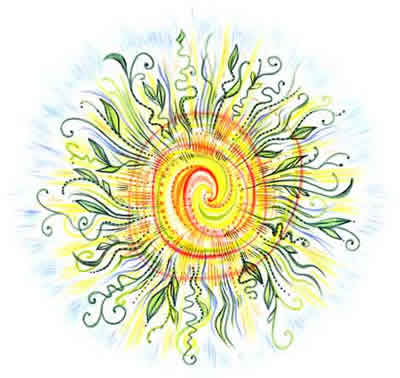 Happy Midsummer!
Yes, Tuesday was the longest day of the year! WOOHOO!!
In Sweden, Midsummer is a big celebration & who wouldn't want to celebrate more than 20 hours of sunshine? Before anyone emails me that the sun never sets in Alaska this time of year ~ I KNOW. But nobody's having a party, and besides, it's always more fun in a different country!!
Around here, we were celebrating Ruthie's birthday on Monday. If you read your Wacky Wednesday newsletter, you saw her picture with "the pack" of boys. It was a fun day!
Speaking of Wacky Wednesday, if you haven't read that newsletter yet, or you missed it, here's the link: WW. As a quick recap ~ remember that all designs by Brenda Gervais are 20% off THRU SUNDAY (25% off if kitted). Also purchases over $75 qualify for free shipping (as Ruthie just turned 75!). Read more on the WW page!
Also, we're seeing some new things that are headed our way soon! Just what we need for all these extra hours of daylight! More goodies to stitch! YAY!
Galaxy Boxtop: Navigating the Cosmos - from Summer House Stitche Workes. Who better to kick off the OFFICIAL start to summer than a company called "Summer House"? And even better, her name is Beth! Yep, so I'm biased. PS. She's really nice & fun too! But back to cross stitch. This is the 2nd installment in Beth's 3-part series, Galaxy Boxtops. All 3 will feature feature a design celebrating the stars in the heavens, and will fit on a 6" Shaker box from Lone Elm. Also, each chartpak contains 1 part of a 3-part mystery sampler called Zephyr Winds (above right). I love the sampler, but I really love the boxes! They're a little bit contemporary, a little bit funky & a lot fun! Below is the first installment, Galileo's Telescope. All 3 will use the same color floss, as well.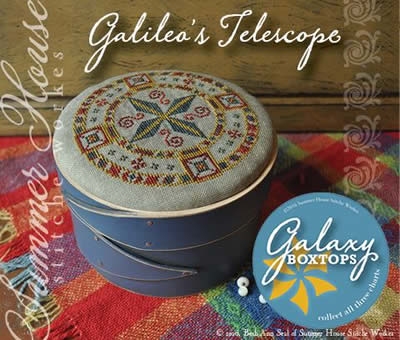 Beach - from Rosewood Manor. LOOOOOOVE this!! Every little detail is fabulous! All the words surrounding the arrow sum up everything great about the beach. Molly's favorite thing (& I love it too) are the waves around the arrow! How totally fun is this??
Autumn by the Sea - from Jeannette Douglas. When I lived at the beach, Autumn was a phenomenal time of year ~ still warm, but no tourists! This next part of Jeannette's sampler is stitched with rich autumn colors, but still definitely for the Sea. One note about these designs ~ you can stitch them as one big piece (once all 4 seasons are released) or you can stitch just 1 or 2! They are just as sweet on their own.
Crazy Quilt: July - from CM Designs. Each month, I love this series more & more! If you think it's easy to make a crazy quilt block look like a sailboat on the water, and still maintain the integrity of "crazy quilting" you're, well, crazy! Thank goodness Carolyn has done the hard part for us & we can just stitch & enjoy!
Tous a la Mer - from Madame Chantilly. Loosely translated, "Everyone in the sea"! LOVE this!!! Molly loves the little white dog, I even like the people (I usually don't like people in my stitching....), and OF COURSE I love the anchors!
Patriotic Medley - from Misty Hill Studio. Two cute designs, but what I like even more is that she shows different ways of finishing, that make them even more attractive! And I read that this chart was dedicated to one of our stitching family members, Robin B! We always knew she was a sweet person, and obviously everyone else feels the same way ~ we're happy to "know" ya!
Crazy Quilting: Just a Little Crazy - from CM Designs. Hmmm.....I think this was made with me in mind (title-wise, anyway). Love all these little designs ~ stitch them all together like this, or just do one or two!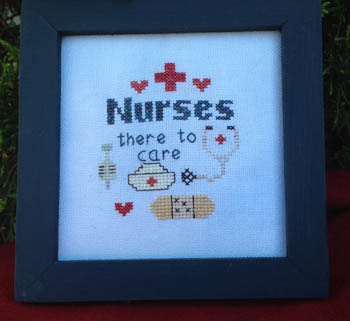 Nurses Care - from Poppy Creations. This is the honest to goodness truth. We are blessed at TSS to count several wonderful nurses among our friends ~ Page, Teresa, Kari, Mary...I know there are more ~ we appreciate your work more than we can say.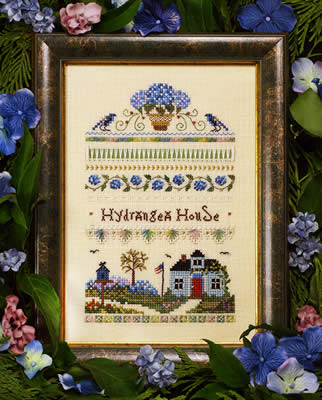 Hydrangea House - from Victoria Sampler. STUNNING! Might be my favorite ~ I just want to move into this little cottage. Hydrangeas are my favorite flower ~ some say I've been known to sneak out in the middle of the night, just to help "prune" the monster bushes at a certain country club. I say, prove it!
Look at the detail in the pictures below ~ just gorgeous!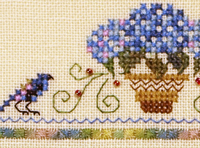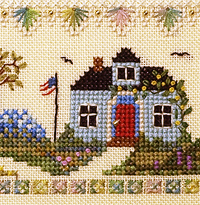 Floral Sentiments - from Misty Hill Studio. Again, LOVELY designs, but her finishing really showcases the designs well. (SIDE NOTE: It makes me INSANE when designers stitch a piece & then just photograph it without framing/finishing/ANYTHING ~ sometimes they're not even pressed).
Thistle Do Nicely - from Glendon Place. I LOVE this! I've seen it done before with shamrocks in place of thistles, and I like it. But I LOVE thistles anyway & this one is gorgeous!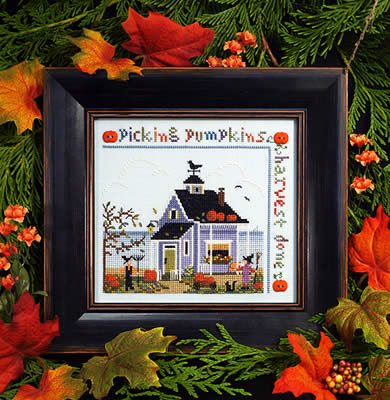 Pumpkin Cottage - from Victoria Sampler. YAY! The next cottage from Thea! I love the color of this house! Once again, every time you look at it, you see something else! Below are some more detailed photos.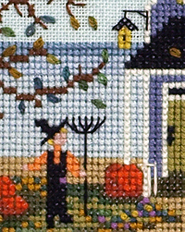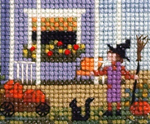 Babushka's Blossoms - from Plum Street. Woohoo! Paulette is at it again!! How fun is this design? I love the ladder to get to the top of the pumpkin! And the flowers on each side are cool!
Bowl Full of Scaries #1 - from Plum Street. The Sampler Lessons have ended, and now Paulette has started a new group of Serial Bowls! This series will all have a Halloween feel, but all in a different way ~ #1 has a person in it, but others may not...or maybe they will.... I think this is adorable ~ I love the snake border (even tho I'm not a snake fan...).
Each chartpak comes with the floss for the design ~ you choose your own fabric. Being that Paulette stitches hers on 36ct using 1 strand of floss, she does the floss accordingly. Therefore, if you are stitching on a larger fabric, you may find you will need additional thread. The great part is, she has used WDW fibers in this series & we have seen very little dyelot changes with their threads. Let us know if you want to get them all & we will set you up on our auto! It's gonna be scary fun!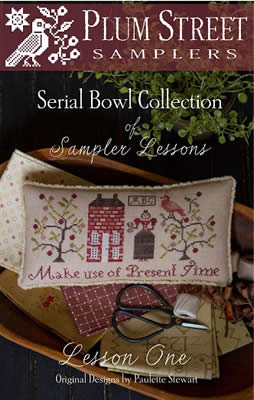 Serial Bowl: Sampler Lesson #1 - this was the first Serial Bowl, released last spring. Now Paulette has released this as just the chart! For any of you who would prefer to get it with the fibers (& trim) included, we still have some on hand: click here!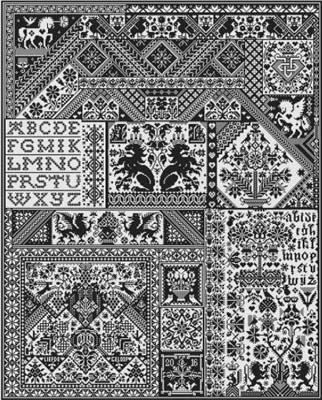 Death by Cross Stitch - from Long Dog Designs. O.M.G. Julia designed this to commemorate her 20th anniversary as a designer, & WOW, she knows how to celebrate! This is a big, honkin' design! We all LOVE this! It's all done in 1 color, so you can choose what you like best. I like that she has done several different sections that could be stitched alone ~ the sampler in the lower right or lower left corner, the 3 motifs in the lower center section, the alphabet in the center left, I love the diagonal portion at the top that looks like lace.... So many great things!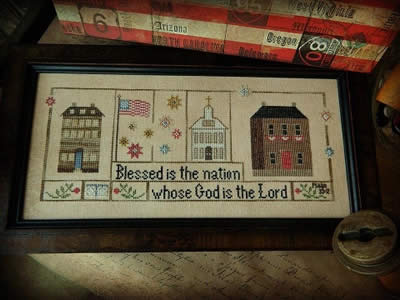 Blessed Nation - from Tree of Life Samplings. This is WONDERFUL!! And it couldn't be more timely, as we move towards our elections. I worry about our country, but I give my worries over to God ~ he will not abandon us.
Hearts of America #4 - from Victoria Sampler. Featuring hearts for California, Minnesota, Oregon, Kansas, West Virginia, Nevada, Nebraska, Colorado, North Dakota & South Dakota.
Hearts of America #5 - from Victoria Sampler. This leaflet contains the final 10 hearts: Montana, Washington, Idaho, Wyoming, Utah, Oklahoma, New Mexico, Arizona, Alaska and Hawaii.
New releases from Sweetheart Tree ~
Please note: these are designs that were originally released as kits. They are now available as just a chartpak. My educated guess is that the chartpaks will also include any embellishments. If you had looked at them before, but decided not to commit to a whole kit, your patience has just paid off!
Fanciful Roses - from Sweetheart Tree. A gorgeous, rose-strewn band sampler!
Tiny Alphabet Sampler - from Sweetheart Tree. Love this one! I particularly like the ivy vines at the top & bottom.
Simply Romantic - from Sweetheart Tree. I love the rich colors in this one ~ and the bands of different stitches always draw me in.
Sparkling Forget Me Nots - from Sweetheart Tree. My favorite! I love the colors she used in this one, along with a little bit of cutwork! Stunning!
This Old Man - from Glendon Place. The second in her series of "Childhood Memories", you know I love it because it has that sweet pup in it!!
My Dog's Love - from Poppy Creations. Truer words have never been spoken.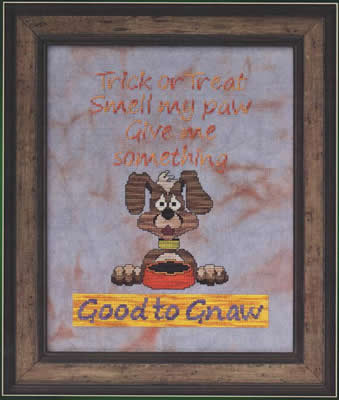 Good to Gnaw - from Glendon Place. Okay, this just cracks me up!! And it describes EVERY DOG I've ever loved!
Rats - from Glendon Place. A cautionary tale (or tail!).
Wicked Witch of Everything - from Glendon Place. Mmmm hmmm! That's right!
Punch Needle & Primitive Stitcher Summer Issue - the new issue has arrived! Molly & Nina love the rooster punchneedle, while I am LOVING all the patriotic designs in it! FYI, we still have several copies of the Winter & Spring issues, if you''ve missed any of them (Molly has been trolling thru hers & planning her to-do's!!).
Mug: BACK AWAY - from Stitch Happy. I know QUITE A FEW folks who are workin' this attitude (...Nina, Connie???). Good gift idea: this mug plus "Coffee Saves Lives" sampler from Heartstring Samplery!!
Countdown to Christmas - from Stoney Creek. Oh my goodness! I know SOME PEOPLE who would start with 365 & scrupulously change it each day (not gonna say who, but YOU KNOW who you are....). The little chalkboard button is separate AND you can actually write on it!
I Believe in Santa - from Popppy Creations. Ooooohh, I could see some wicked cute finishing for this...

I just have one little cutie to show you this week ~ and it's not even one of our stitched pieces! But it is such a cute idea, that I wanted to share it with y'all ~ it kinda nudges me to look beyond the front of the chart & see how I could use a piece of something by iteslf.
Aren't these fun? These mermaids are one square of the "Shabby Summer Calendar" stitched on their own, and made into little scissor fobs! So now my wheels are turning because i LOVE that anchor ~ I'm thinking, mermaid on one side, anchor on the other.... Love this idea!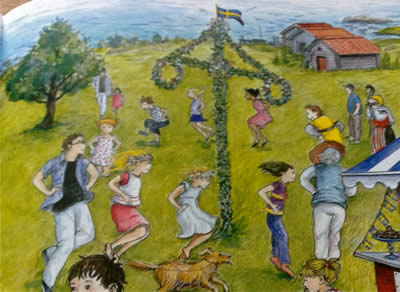 So it's Midsommer in Sweden ~ according to our expert on all things Swedish (Katerina), this weekend is when the Royal Family will be celebrating (more on this a bit later). Ruthie has always wanted to go to Sweden for Midsommer ~ bucket list thing ~ so maybe one day...
In the meantime, we have our wanna-be Swedish royal: Nina has an unhealthy, almost stalkerish attraction to the Swedish Royal Family ~ to the point that she knows the birthdays of all the children, how & where their parents met, even their wedding & CHRISTENING DATES.... She says she just observes from a distance ~ I say that when you have their picture as your screensaver, that's the DEFINITION OF STALKING!
Hugs & stitches ~
Beth and all the long day lovers at TSS