...relax...stay awhile...linger...enjoy...
Why? Because you can't move fast in this heat! We're still moving at warp speed around here though (good thing the airco is crankin'). Not only are we celebrating Christmas in Juy, we are getting ready for the first Norden Crafts online market coming up next month! But before August rolls around, we've got a BLUE MOON coming up on Friday!! Just wait until you see what we dream up for that!
Barefoot Days ~ Summer - from Lila's Studio. Okay, these are possibly THE CUTEST FLIP FLOPS EVER!! And if anyone thinks they're wearing them after I get them stitched.... Directions for finishing are included!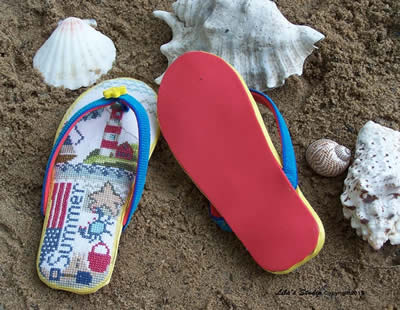 Serving of Fruit - from Imaginating. I sure hope so!!
Let's Retire - from Imaginating. Aaaahhh....sounds like such a good idea....
Summer Harvest - from Hands On. How does your garden grow?? Mine grows really well...on fabric!!
I Fail at Flowers - from My Big Toe Designs. See? This is how my garden grows!
Mind Your Manners - from Abby Rose. What a lovely design for a little pillow or a picture.
Spoken of the Soul - from Dutch Treat. Inspired by an 1856 sampler, it reads, "Life is real, life is earnest, And the grave is not its goal; Dust thou art, to dust returnest, Was not spoken of the soul."
Boy's Adoption Record - from Cross Point Designs. What a WONDERFUL announcement for a new little boy!
Bless the World with Peace - from Imaginating. I love this verse & the the background pattern in the corners is really gorgeous!
Take Heart - from Heartstring Samplery. Beth developed a fondness for tall, skinny, naive designs & this one is so sweet!!
For God So Loveth... - from My Big Toe Designs. One of the most beloved verses ever, this design is beautiful. Can't wait to stitch this one.
Year in Chalk: September - from Hands On. TOTALLY AGREE with this sentiment!!
Year in Chalk: October - from Hands On. YAY CANDY!!! This is too cute!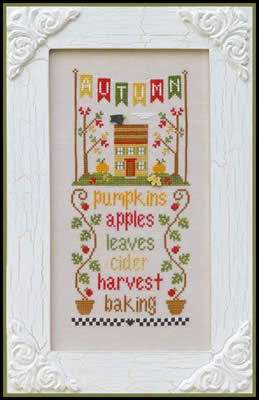 Seasonal Celebration: Autumn - from Country Cottage. You can almost feel the nip in the air!
Cruisin' - from Glendon Place. Just 2 friends, out for a midnight ride...
Spell Bound - from Glendon Place. You can almost hear the haunting music in the background...
I Can Drive a Stick - from Lizzie Kate. Not only do I adore this verse, but the finishing on this is fun, fun,, fun!
Tricks or Treats - from Val's Stuff. A fun little ornament sized design!
Fantasy in Blue - from Imaginating. This reminds me of the beautiful old Blue Willow china.
Summer Bluebirds - from Bent Creek. Sweet & simple!
Shades of Green - from Northern Expressions. Oh my goodness! This is stunning! I love this series of "Shades...". The different panels of filling stitches are so fun!
Building Blocks: Heal - from My Big Toe Designs. So meaningful & speaks to many different levels of "healing".
Hello Phone Case - from Little House. What a darling idea for carrying your phone!
My Stitching & Me - from My Big Toe Designs. What a great motto!!
Hometown Holiday: Pet Shop - from Little House. The favorite store for all pet lovers ~ especially if it's filled with toys & treats!!
Sampler Tree Ornament #8: Potted Poinsettia - from Little House. This is a pretty ornament ~ for Christmas & really all year!
Tiny Tidings XX - from Lizzie Kate. The 20th edition of Tiny Tidings!! This is a darling group of ornaments ~ one of my favorites yet!
Night Before Christmas Sleds - from Lizzie Kate. Woohoo! More fun sled designs! I love the fireplace.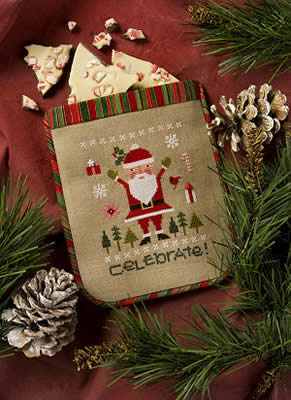 Santa 2015 - from Lizzie Kate. Christmas is always a good time to celebrate!!
Perfette Armonie (Perfect Harmony) Collection
I love this collection of flowers from Renato Parolin! Each design is 80x80 stitches & each one uses 10 colors of DMC. You can pick & choose the flower or plant you like best, you can do a group in a row or you could do a large picture with lots of them! They definitely remind me of designs from the old Danish Handcraft Guild calendars, my favorites being the plants from Gerda Benggston.
But I have to say, the thing that truly reeled me in was reading the meaning of each flower. A couple years ago I read a book & it is still the best book I ever read. It's called "The Language of Flowers" & it's written by Vanessa Diffenbaugh. It's the story of a girl who grows up in foster care & the relationships she struggles with. One of those relationships is with a foster mom who teaches her what different flowers mean. This was extremely popular in Victorian times & girls would agonize over the meaning of a bouquet of flowers sent by an admirer. Now, I gotta tell ya, maybe guys were more "in touch" back then...BUT I DOUBT IT! I'm sure they just grabbed a bunch of flowers & said, "here". Just like they do now. But I digress.
Anyway, that drew me in even more to these lovely designs. I hope you enjoy them & find some you might like to stitch. But I hope even more that you read the book ~ it is wonderful!!
Below are 15 flower designs that are due in this week. There are even more coming.
Yarrow (Achillea) - represents "cheerful, essential people. Beautiful inside & out." It's more commonly known to mean healing & inspiration.
Starflower (Astro) - represents "true friendship."
Bellflower (Campanula) - represents "ambition & gratitude."
Foxglove (Digitale) - represents "flowers of the fairies" or "stateliness, youth". Now I don't know about you, but I find stateliness & youth to be contradictory...
Narcissus (Narciso) - represents "new beginnings" but also "self-love" (the second we associate with the root of the word ~ narcissism).
Fern (Felce) - represents "sincerity".
Fig (Fico) - represents "life, light & strength", but also "argument".
Iris - represents "deep and positive feelings, absolute trust, friendship, thruth, wisdom and hope", also "message".
Holly (Ilex) - represents "a common belief that this flowers protects the house from evil spirits", but also " foresight".
Mallow (Malva) - represents "prosperity and a happy matrimonial life".
Clover 4-Leaf (Quadrifoglio) - represents " the par excellence lucky-charm" but also "Be mine".
Dogwood (Corniolo) - represents " love that defies all difficulties".
Clover ~ Red (Trifoglio) - reprepesents "industriousness".
Tulip (Tulipano) - represents "honesty" or "a declaration of love".
Morning Glory (Vilucchio) - represents "obstinacy and certainty" but also "coquetry".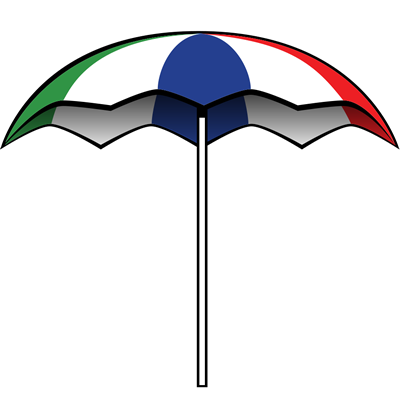 There's so much more to come so be sure to check your email tomorrow & the rest of the week! As you enjoy your summer & bask in the sunshine, remember your SUNSCREEN & drink plenty of water! If you're stitching outside ~ at the pool, at the beach, on your deck ~ here's a few words of advice: many overdyed fibers still run ~ if you get them wet (pool splashes, damp bathing suit or even sweat from your hands) they will run. So stick with basic fibers; large pieces of fabric will drag on your lap (and thru your SUNSCREEN or your wet bathing suit) ~ work on smaller projects; SUNSCREEN makes your hands icky ~ take wetwipes with you or put several damp paper towels in a ziploc bag & wash your hands off before you stitch.
Best idea: READ A BOOK! Then stitch in the evening!
Hugs & stitches ~
Beth & all the cool cats at TSS