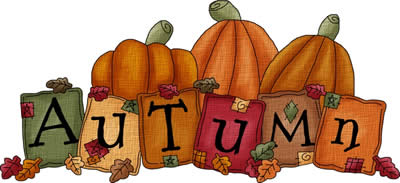 Well, it's here. Autumn arrived on Thursday (with some nice 80 degree plus weather!). I know that oh so many of y'all are waiting for the "real" Fall weather to arrive (around here, that appears to be Saturday). This transitional period presents all sorts of challenges for me (aside from my obvious disdain for cold weather!). Molly was just saying it was time to switch to leggings, socks & clogs ~ and I said "as opposed to just leggings & clogs?" I would prefer to wear no shoes at all, but at least with my Danskos I can go without socks in the summer! But once I have to go back to socks, I have unhappy feet for a while ~ I blame 30 years of ballet (for every foot-related issue!!).
HOWEVER, the great proliferation of Pumpkin Spice EVERYTHING is helping (& my co-dependent, Robin, has been an even bigger "help"!).
Lots of fun new goodies on their way soon! We can't wait to get our hands on them. Most of our Harvest Market items have arrived (at least once), although there are still a few we're waiting on...
I know! You're thinking, "Weren't there just 4 new designs from Plum Street last week?" Why yes, yes there were!! And now there's 2 more! How awesome is that?
The Adams Family - from Plum Street. A little companion to Paulette's "John & Abigail", this design shows them decorating for the season with 2 of their wee ones ~ Nabby & John Quincy! Love the house, and the humongous plant growing out of that cauldron!
Bowl Full of Scaries: Scary Two - from Plum Street. LOVE this! And I don't think it's scary at all! Remember, this one includes your fibers for stitching & the chenille for finishing ~ just BYOF (Bring Your Own Fabric)!
Witch's Night Out - from Lila's Studio. I love this one! Look at the pumpkin "lanterns" in the tree! And the ghostly smoke. Too cute!
If the Shoe Fits - from Designs by Lisa. Too funny! Yet always good advice. People notice these things (right Molly?).
Haunted Hollow - from Elizabeth's Designs. One of my favorites from Elizabeth ~ fabric is awesome, each vignette is darling on its own, and the complete design is lots of fun!
The Ride - from Designs by Lisa. Well, these two gals have found an alternative to brooms ~ I just hope that cat is de-clawed....
Spell Blocks - from Faithwurks. LOVE LOVE LVOE the ribbon "smoke" coming out of the cauldron!
Mrs Witch Sampler - from Madame Chantilly. Very spooky!! I love the shades of grey!
One Nut Shy - from Designs by Lisa. Uh oh...I think I've gathered the missing nut.... But I'll just hang this up & let people think I'm still on the functioning side!
We're Nuts about Fall - from Faithwurks. I'm gonna stitch this but mine's gonna say "You're NUTS to like FALL"!
Garden Club #12: All in a Row - from Blackbird. What a beautiful finish to this series!! Love it.
On the right is the completed sampler with all 12 designs stitched together!
Crazy Quilt: October - from CM Designs. Each one of these makes me love the whole series more! My favorite part of this one is the little ghost peeking out of the corner!!
ABC Sampler Series: IJK - from Little House. Molly ~ yellow house!!!
To Be Thankful - from Country Cottage. Love this ~ I thought it was gonna be specifically "Thanksgiving-y", but I love that it's really non-seasonal!
My Dwelling Place - from Little House. Can I just move in? It even has a sweet strawberry border!!
Pure in Heart Hanging Pinpillow - from Scattered Seeds. Love the vine border at the top of this pretty little prim!
Give Thanks - from Lila's Studio. Beautiful design. But my favorite thing is this BORDER! Look how gorgeous that is!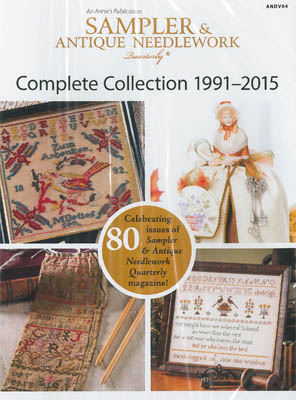 DVD Sampler & Antique Needlework, 1991 ~ 2015 - from Just Cross Stitch. At last you can have all the issues of the magazine (including all those multi-issue projects!).
Christmas Tree Farm - from Samplers Not Forgotten. Love this, Kimberly! Once again, a cute design and (my favorite part) a really neat border!
Merry & White - from Scissor Tail. These are pretty little ornaments ~ I just love blue & white together.
Merry Christmas Snowman - from Imaginating. I like how the swirls at the bottom give the feeling of wintry wind!
Snow Days - from Country Cottage. This really is just a sweet little design ~ I like the little tree!
Christmas Banners IV - from Stoney Creek. I do just love these ~ they're so cute!
Christmas Banners V - from Stoney Creek. The stocking one is my favorite here.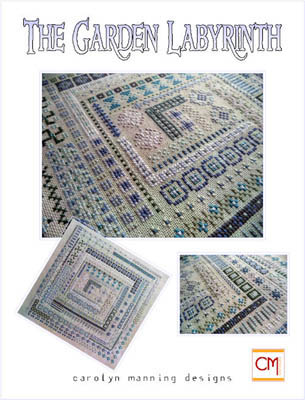 Garden Labyrinth (Winter) - from CM Designs. Aside from the word "Winter", I love everything about this piece ~ beautiful colors, fun borders, great design.
Classic Colorworks is introducing 2 new colors ~ Hayride & Wagon Wheel.
If you get both colors you will also get the free Apple Pickin' .
Clicking on the center photo will get you both fibers & the chart!
Let's Run - from Imaginating. If you stitch a 'running' design, does it give you the same workout as actually running? Because I think it should!
Let's Take a Bubble Bath - from Imaginating. Aaaaahhhh, nothing's better after a long run (or walk up the stairs) than a long soak in the tub.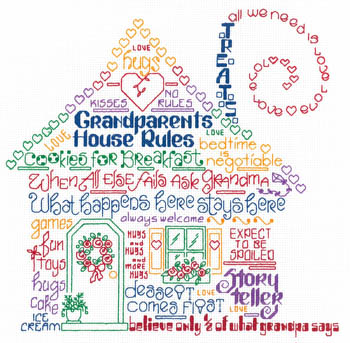 Let's Have Fun at Grandma's - from Imaginating. When you really need to get away....go to grandma's (at least, that's what Jimmy & Chris do ~ and not quietly, might I add).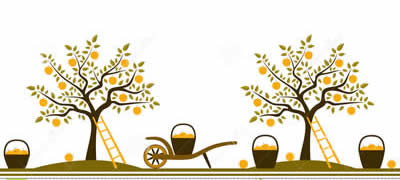 It's that time of year ~ FESTIVAL SEASON!
Nina's church is having their big Greek festival this weekend, & I'm headed to NYC with Carol & her daughter Emily for the weekend & Carol just texted me that it's the 90th Annual Feast of San Gennaro Italian Festival.... You know what that means ~ ITALIAN FOOD EVERYWHERE!! I guess that answers the "what clothes am I taking" question (leggings ~ anything stretchy ~ and LOOOOONNG tops to cover as much as possible!). I should be in a food coma thru early October! With any luck, I'll find some pumpkin ravioli! Wish me luck!
Hugs & stitches ~
Beth & all the
gli amanti del cibo (use google translate) at TSS