Remember when you were little & trick or treat was just one night? Not here!! We're Trick or Treating all the way thru Saturday, Nov. 1st! If you missed the last newsletter, here's the recap:
AT THE SHOP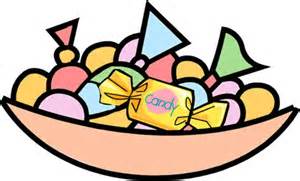 Beginning Tuesday, October 21 & running thru Saturday November 1, stop by & stock up on all your stitching treats! When you're ready to check out, just reach in our candy bowl & pick your favorite candy. Each one will be wrapped with a little paper telling you what your discount is: either 20, 25 or 30% off!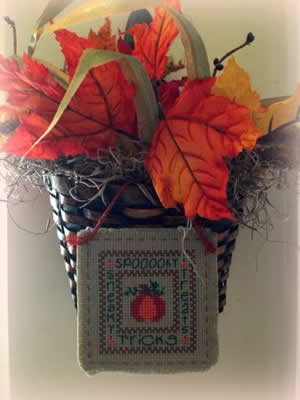 In addition, we will have a basket where you can make a donation that we will then contribute to UNICEF. If you choose to make a donation, we'll include a free Halloween "Spooky Treat" kit with your purchase!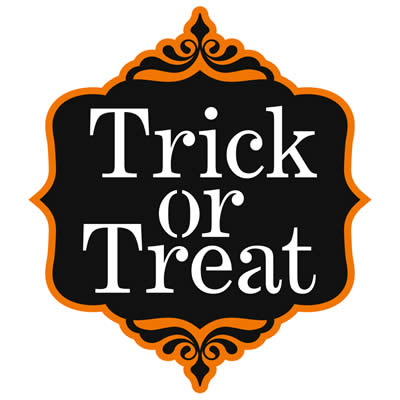 Now, what about all you little monsters who aren't close by? Not to worry!! There are plenty of treats to go around. HOWEVER, you will have to CHOOSE!
** TRICK** If you choose this option, your treat will be FREE SHIPPING for your order & a free "Spooky Treats" kit.
**TREAT** If you choose this option, you'll pay your shipping fee, but we will donate that amount to UNICEF. In exchange, you'll get 20% off your entire purchase & we will also add free Halloween charts in with your order.
Just be SURE to put either "TRICK" or "TREAT" in your comment section before you send your order in!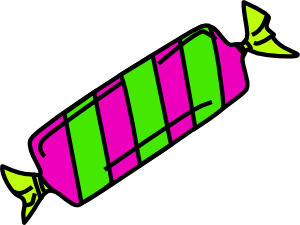 We have been "treated" to seeing lots of stitchers who are in town for the conference at Winterthur this weekend! A bunch were in on Thursday & we are looking forward to seeing a bunch more on Saturday (& maybe, just maybe they'll do a little show & tell from their classes!).
We also gave them the heads up (0r off....) to check out The Great Pumpkin Carve at the Barn at Chadds Ford! This is a really, really cool event!! Over 60 local artists carve HUGE pumpkins & then on Friday & Saturday nights, they are lit up & on display! These are not your homemade Jack-O-Lanterns folks! If you're in this area, you have to go see these!
So, what new things are you going batty over?? Well, here's a few of our new picks!!
First up, from our good friend, Paulette, at Plum Street, there are an overload of new autumn stitches!
Autumn Fraktur - from Plum Street Samplers. This design has such a Pennsylvania Dutch feel that is immediately familiar to us. But whether you know, like or recognize that style doesn't really matter. This design is so awesome! We can't wait to get this stitched!
Jack's Sweet Shop: The Autumn Tart - from Plum Street. Love this!! What a darling kitty sitting next to the cute white pumpkin. Love how she finished this in a sweet little kitchen tart ~ just don't let anyone eat it!!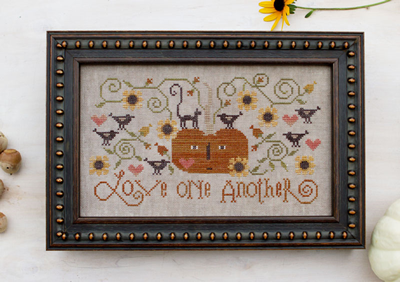 Jack's Sweet Shop: Birthday Tart - from Plum Street. This tart is beautiful! So autumn-y & gorgeous! I truly hope Paulette plans on continuing this series!
Love One Another - from Plum Street. Love these 6 birdies welcoming this sweet black cat to their pumpkin patch! Paulette's designs are so pretty & also make you smile....what could be a better treat?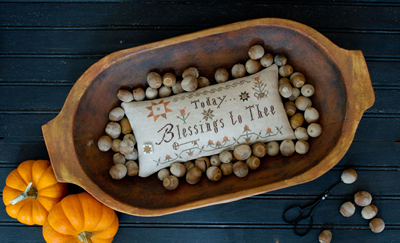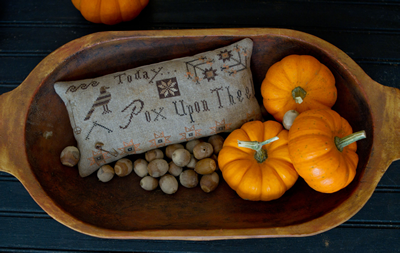 Primitive Moodkeep - from Plum Street. LOVE LOVE LOVE this!!! Paulette says this is a little "keep" to let everyone know how your day is going! On one side: happy, happy lovey, lovey, blessings to all. On the other side: well, I think we all know what the other side is! And what will be face up if someone disturbs us while we're stitching!
Cinderella - from Classic Colorworks. You know, I never considered Cinderella to be an "autumn" story, but the pumpkin certainly makes ya rethink it, no? I gotta say, I might be tempted to leave the "uglies" off!
Histoire de Mouton 2 - from TraLaLa. This girl & her little lamb are harvesting their pumpkins with a little help from Mr Blackbird!
Something Witchy - from Stitching Bear. What a cute parade of trick-or-treaters!
Wonderful Fright - from Sue Hillis. HILARIOUS! If you start now, you can definitely have this done before next Halloween!!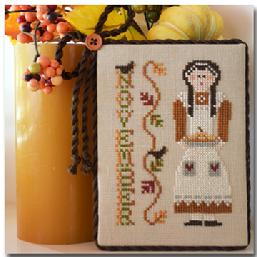 Calendar Girl: November - from Little House Needleworks. I smell PUMPKIN PIE!!!
Classic Collection: Snow in Love - from Country Cottage. Ornament number 3! Love this!! I have to say, one of the things I'm enjoying about this series is that each ornament is different ~ different fabric, different theme, different shape. They're all Christmas ornaments, but each is unique. Now I know there are people out there whose trees are perfectly uniform & everything follows a specific theme. I am NOT one of those people! I love the mishmash of ornaments on a tree. Usually if there's a mishmash it's because each ornament has a story ~ and that's the fun part!
Season's Greetings - from Little House. A lovely little design, reminiscent of a vintage postcard!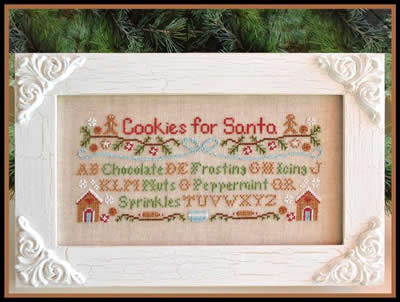 Cookies for Santa - from Country Cottage. HOW CUTE!! Cookies are the best part of Christmas!! LOTS of y'all scored this chart & free DMC for it during our Facebook sale!! If you missed this, perhaps because you're not on Facebook, you missed a fun sale! Be sure to be a part of our Facebook fun.
Also, while we're talking about Facebook, if you haven't joined our Stitching Group yet, you are missing some AWESOME pictures! So many folks are sharing pictures of their projects, both in progress & finished, that we are inspired EVERY DAY!! If you post something, be sure you have info on your project because SOMEONE will be wanting to know: what fabric/fibers you used, how you finished/plan to finish it, how long you've worked on it.... admiring minds (& stitchers!) want to know! Also, if you need an opinion about a piece of stitching, there are lots of stitchers to help. And as opposed to asking your non-stitching peeps, everyone in the group "gets it"!!
ABC des Maisons - from Jardin Prive. Such a sweet village of houses! I love this darling sampler!
Hungarian Rhapsody - from Cuore e Batticuore. These designs are adapted from Hungarian folk art tiles & are LOVELY!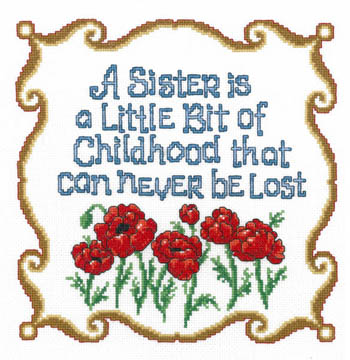 Childhood Sister - from Imaginating. A truer statement was never spoken. No matter how high you climb or low you fall, your sister is the one who will remember the day you stuffed beans in your nose or hogged the only bathroom (when everyone else "had to go" ... & you couldn't!).
Ann M. Franks Sampler - from Heartstring Samlery. This is a beautiful adaptation of an old sampler. Just gorgeous!!
Lady Rachel Ruth - from Scattered Seeds. What a darling little lady she is! We are really enjoying these wonderful designs from Scattered Seeds! Such a great style!
Angels of the Holy Night - from By the Bay. So many lovely designs in this chartpak.
One Child - from Myrtle Grace. This is a wonderful message & a down home feel design. Just right for a room at the stable.
Winter House - from Tiny Modernist. A sweet design & a cozy little house! A good place to snuggle up a stitch the winter away!
Merry Retro Christmas - from Tiny Modernist. I love this gal's quirky flair! The trees look like sweaters!
Let's Deck the Halls - from Imaginating. This might be one of favorites of this series so far! This just makes you smile!!
Modern Christmas to All - from Tiny Modernist. OMG!! I'm thinkin' that Santa would enjoy this ride! I wonder if it has a potty?
Gingerbread Angel Mouse - from Just Nan. What a sweet little ornment ~ do you see her halo?
Ginger Holly Man Pin - from Just Nan. He looks almost good enough to eat!
Gingerbread Cube - from Just Nan. This cube is covered with all kinds of candies & treats!! Pretty AND tasty! If you're a bit intimidated by this 3-dimensional piece, DON'T BE! Nan gives wonderful construction directions.
Casier Natalizio - from Sara Guermani. Another new treat from one of our newest up-and-comers! These little designs are adorable in a printer's drawer. Or stitch them & make lots of ornaments or gift tags! Be sure to keep some for yourself.
Winter Solstice - from Hands On Design. Love these saltbox houses! This chartpak comes with the wool for the little pennies at the bottom.
Peace on Earth - from Just Nan. The 4th in the "Just Dropping In" series, these angels are sweet little messengers of peace.
Peace with Snowflakes - from Imaginating. Gorgeous ~ the design AND the sentiment.
Let's Be Jolly - from Imaginating. These are so cute & clever! Although this one does give me the shivers! It's a good thing it's cute!
La Foret Enchantee Hiver - from TraLaLa. Isn't she dear? I love her pup! This chart is coming from Italy & will be a few weeks before arriving.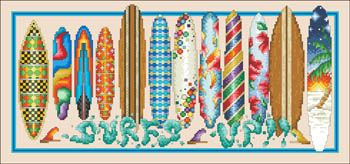 Surf's Up - from Vickery Collection. Aaaahhh....this is more like it! Do I surf? No, but I don't have to participate to love it!!
It's been "one of those weeks" around here. Molly's computer has evidently contracted the Ebola virus of the computer world. I've lost 3 entire days working with Norton Security, as they virtually take over the computer, dig thru EVERYTHING & remove the virus, only to come in the next AM to "the black loop of contamination". Once again, today "Mark Antony" took over the computer & we're crossing our fingers that tomorow we will find our computer "back to normal" with just our usual "what did I do there?" problems! So hopefully we'll be back on track & up to speed next week.
As I'm finishing this up, I'm watching the World Series. As Molly says, it's more fun (kinda) to watch when your team's not in it ~ there's much less stress! It's just baseball, boys. But it does take you away for a while. Now, would I rather be more stressed out (in my lucky pajamas!) watching my Phillies play? YOU BETTER BELIEVE IT! But I'm trying to appreciate it anyway. Find something that takes you away for a while. Maybe it's stitching!
Well, in an effort to get this in your inbox before Halloween, I'll wrap it up here! Don't forget to trick-or-treat thru next week!
Hugs & stitches ~
Beth & all the tricksters at TSS