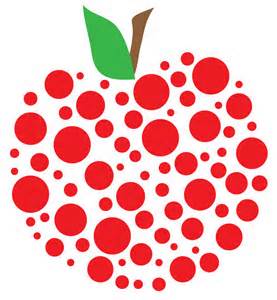 Yep, it's apple season! Didja ever wonder where the connection between apples & teachers came from? No? Well I did. And obviously, the easy answer is that school starts in September ~ right during the apple harvest season. However, I did a little trolling & learned a little more. It is predominantly an American & Scandinavian peculiarity, dating back thru the centuries to the 1600's. Speculation is that many parents "paid" the teachers with apples to supplement their meager salaries (hey! some things still haven't changed....).
So, you can pick your reason. Or you can ignore the whole thing!! This brings us to the end of today's lesson (aka, worthless information update!).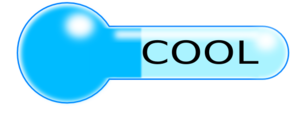 What's hot around here? More awesome "stuff"! We're about to hit Halloween overload! We keep thinking we've seen it all...and then we get another batch of wonderful treats! But it's not just Halloween. So without further ado,
Sugar Skulls #1 - from Stoney Creek. I confess, I don't understand the whole sugar skull concept, or point, but I've seen enough designs that I know it's a "thing". What I can say is that I love the colors & designs & patterns...they're always bright & eye-catching!
Bone Chilling - from Pickle Barrel. Spooky!
Ghouls gone Wild - from Pickle Barrel. Frightening!
Witchy Pumpkin Cottage - from Just Nan. I love these 3-dimensional designs! This is darling ~ all the way arouund. And Nan's finishing instructions are great. Nothin' scary here!
Pumpkin Stack Pin - from Just Nan. We have a VERY FEW of these pretty punkins. So if you would like one, make it quick!
Birds of Wisdom - from Stoney Creek. WOW! These are gorgeous! Verses include: Dream Like a Bird ~ with no boundaries or limits to hold you back; and The Woods would be very silent if no birds sang there except those that sang best. Beautiful designs & beautiful verses.
Tribal Bumble Bee - from Whte Willow Stitching. Very cool ~ I love the little beehive hidden in his wing!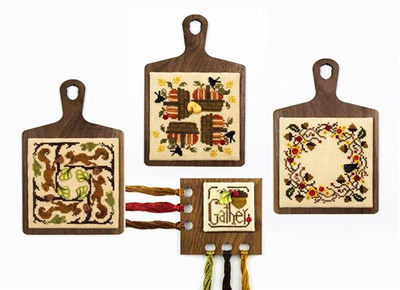 The next group of Square.ology designs are coming soon! How cool are these? And yes, we can get the hornbooks & threadboards (they're on their way too).
Squirrel.Around - LOVE this one! Hey Michelle & Bob, another group of Cheetos for the new place ~ just change those greenish leaf buttons to orange squares!
Harvest.Basket - What a pretty design!
Bitter.Sweet - GORGEOUS wreath for autumn!
Gather.bit - now THAT'S an acorn!
Plenty & Grace - from Abby Rose. LOVE this sampler! Stella & Tracy think this would be a wonderful housewarming/wedding gift ~ instead of the verse, they want to put the family's name &/or wedding date there!
She has found her HOME - from Nebby Needle. Another LOVE!! I want to move into this house ~ love the porch & the garden flag & OF COURSE the pup!
Mary Ann Mitton Sampler - from Merry Wind Farm. This gorgeous sampler has lots of things I like: a very unusual floral border, three verses (hymns), flowers, birds, butterflies, little doggies, and a manor house.
Elena Tratman Sampler - from Merry Wind Farm. What a fantastic job she did with the reproduction of this ~ old samplers were very often stitched in brighter colors, but over the (200-plus) years, they do fade! We've gotten so accustomed to seeing repros done in faded colors that it's fun to see one done in originals!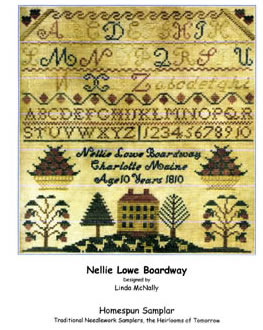 Nellie Lowe Boardway Sampler - from Homespun Samplar. I love the dogs & ducks in the yard! Another pretty reproduction sampler.
Mid-Century Modern Christmas
designs from Misty Hill Studio.
Holly has created a collection of ornaments celebrating the flavor of the 1950's: "There is something about that time that feels very nostalgic, even if you never lived through it. It was a peaceful decade after the incredible turmoil of World War II, a time when Baby Boomers were growing up and things were prosperous in our nation."
Here are the first 4 ornaments!
Aluminum Tree - sure looks like those mod trees!
Bell - a cool bell design!
Season's Greetings - With the mod colors, this doesn't have to be "just" Christmas!
Ho Ho Ho - LOVE this one! Swirly package is my fave!
Peace Snowfriends Banner - from Stoney Creek. Love these frosty little friends.
The Night Before Christmas - from Stoney Creek. Oh my goodness! The house looks like one of my old dollhouses! What fun!
New fabric colors coming our way!
32ct Petit Point Grey with White Polka Dots - these polka-dotted fabrics have become so popular! Love the grey color.
20ct Grey aida - Thank goodness. Just last week, we found out we couldn't get 20ct Nougat (which we used on our Christmas Village!!!), so we're thrilled that this is something similar on its way.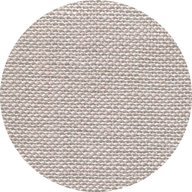 28ct Cashel Delicate Beige - not sure exactly what color this leans toward ~ Wichelt says lighter than 605, but that is PINK (& I don't mean soft pink, I mean PINK). So this one is still a mystery.
32ct Lugana Limestone - really like this color: a little grey, a little green, a great neutral!
32ct Lugana Silvery Moon - another great color: a little grey, a little blue, a great sky color!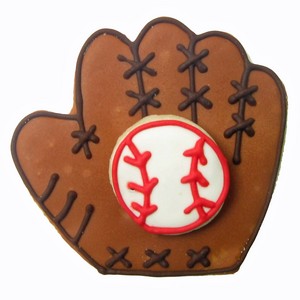 Yes, it's that time of year again! Time for the Little League World Series. This is the first year that my nephews haven't gone (as Jimmy is just finishing up his first full week of HIGH SCHOOL ~ so wrong...). But we are still watching every game. And once again, we have a favorite team, thanks to Barbara B! Barbara was in the shop a couple Saturdays ago & was telling us about Red Land Little League, which is her local LL (out below Harrisburg). At that time, they were still playing Regionals, so no guarantee they'd make it...BUT THEY DID! They have looked fantastic & are getting ready for Saturday's US Championship game against Pearland TX (whom they've already beaten once in a very close game). Last night, Texas took 8 innings (LL games are 6 innings regulation) to overcome a great California team. As the guys on TV said, it was a great win for Pennsylvania! For any of y'all not "in the know", there are very strict limits on the number of pitches allowable & the amount of rest between, so the more pitchers you burn, the less you have for the next game! Yes, I am cheering for PA, although it's hard to watch anyone lose in this tournament. And if Texas wins, then we'll cheer for them in Sunday's Championship game against the International winner (either Mexico or Japan). If you've never watched, but you like baseball, check it out. This is everything that is AWESOME about the game with none of the nonsense or egos!
Meanwhile, Chris & I will be baking cookies (hopefully not just circles....), while we watch. Dough is all done & chillin' in the fridge. Aahhh....cookies, baseball, nephews who still say, "Antie, I love you", my doggy girl....what else could you need?
So grab your stitching &
LET'S GO RED LAND!
Hugs & stitches ~
Beth & all the Pennsylvania girls at TSS