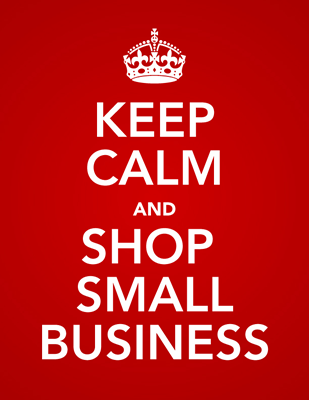 Yes, it is THAT TIME of year again! Time to work off that wonderful turkey dinner by doing some marathon shopping! I used to enjoy shopping on Black Friday (back before I had to WORK on Black Friday), but now, you couldn't pay me to fight the crowds, race for the "last one", arrive 6 hours early...and that's just the parking! However you decide to kick off your shopping, PLEASE spend some time (& some money) buying from local small businesses. I know many of y'all reading this aren't exactly local to us, and that's okay! We are a local small business & we love our customers, near or far. But in addition to us, go to YOUR local businesses ~ you'll find things there that you can't get at the big box stores (even if you arrive at midnight).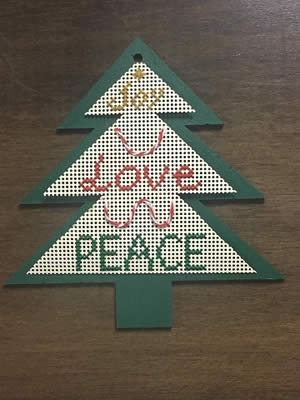 This weekend we are keeping up our tradition of our annual Christmas gift to you, our stitchers! We designed a little Christmas tree ornament for you to stitch! It's stitched on perforated paper & the kit includes the chart, paper, floss & red & white striped "garland"! The handpainted tree was cut for us exclusively by Carol at Designer Stencils ~ she's the best (she got the trees cut a lot faster than I got the design put together & stitched....).
This weekend, all purchases (excluding DMC, finishing, framing & any already discounted items) are 20% off. Thru Cyber~Monday!! And we have big plans for a December Christmas countdown, so stay tuned!!
And now, on with the new things!!!!
Holiday Hen - from Threadwork Primitives & Kelmscott Designs. Another fun collaboration ~ stitching from Threadwork & woodwork by Kelmscott! Love the design & the wooden plaque perfectly finishes this off.
All is Calm - from Lila's Studio. Isn't this pretty? I love all the creatures & oh my goodness, what a wonderful border!!
Merry Needles - from Homespun Elegance. Love this little needlebook from Sandra! Perfect for your Christmas stitching basket.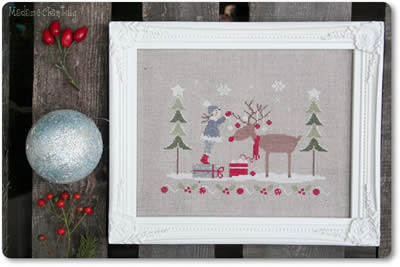 Dear Rudolph - from Madame Chantilly. COMING SOON! Is this not the cutest thing? I LOVE it!!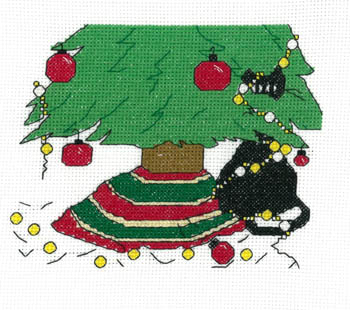 Holiday Surprise - from Imaginating. This just makes me laugh!!!
Saint Nicholas ~ REPRINT - from Prairie Schooler. So exciting to see these treasured designs being reprinted!
Up on the Housetop ~ REPRINT - from Prairie Schooler. This was one of our most popular leaflets ~ so glad it's back. I love the little house designs even more than Santa & the sleigh.
Frosty's Tree Farm (3/3) - from Needle Bling. Yes, it's the 3rd & final vignette from Frosty's Tree Farm! Love the wagon with the snowflakes painted on it. Also, that cute, cute garland at the top!
Sheep Peddler ~ Merry Christmas - from Needle Bling. Oh how sweet this is!
Let's Be Frozen - from Imaginating. This snowglobe is gorgeous! I love it (because this is where I like my snow ~ contained inside glass!).
Two Happy Snowmen - from Vickery Collection. These are actually stunning! So much detail in each one. The only question is: do you stitch both together, or individually??
Snow (Jane's Joy) - from CM Designs. A gorgeous quilt block pattern design inspired by an antique quilt!
Winter Christmas Roses - from Nancy's Needle. I love stitching these ~ they're "counted canvas" but I stitch mine on 20ct lugana. I love the way the overdyed fibers make cool patterns when you stitch on different diagonals.
Snow Garden - from Lila's Studio. LOVE LOVE LOVE this! I know it's the blue & white colors, but I just love winter stitching (which is just wrong on so many levels for me....).
Boule a Neige - from TraLaLa. My favorite new design from one of my FAVORITE designers. I just think this is so so pretty!
Jardin Bleu - from TraLaLa. Love this big, blooming flower pot!!
Oriental Bouquet kit - from Riolis. These just look REAL! What a gorgeous creation. The kit comes with 14ct aida & floss.
World of Color: Blue - from Bent Creek. Another pretty addition to this series.
Thankful Owls - from Bent Creek. Glad this came out in time to get it stitched for Thanksgiving (Kimberly?...).
Let's Remember - from Imaginating. This is beautiful. It would be a lovely gift for a caregiver.
Let's Gallop - from Imaginating. Oh my goodness, what a fabulous design to make for the equestrian you know & love!!

Last weekend I went to a Holiday Arts Bazaar in South Philly. Was it the best stuff I've ever seen? Not all of it, but I did get THE coolest pair of earrings (& if you know me at all, you know I am all about the earrings ~ the more unique the more I like 'em). There were lots of nice things there ~ ceramics, woodwork (I so coveted a wooden rolling pin, but I resisted since I already have an alarming number of them...) ~ and some more kitschy things too. But what they all had in common was they were made ~ MADE ~ by local artisans who were putting themselves out there hoping that others will appreciate the work they love to do. Some will succeed, others will not, but all have succeeded in taking the risk to stand & show their talent.
I'm sure in your neighborhood there are wonderful local shops ~ from bookstores to bakeries to jewelry (yeah, okay, that would be my DREAM street....) ~ where you can find goodies no one else will have. SUPPORT those people ~ they are risking it all EVERY DAY. They don't have a big name investor standing behind them, many of them have to pay their rent & expenses & then, and only then, can they see if there is any left over to pay themselves (& their personal expenses). Just as we should celebrate our differences one from another (because, really does the world need 6 million Beth's exactly like me ~ I THINK NOT), we need to encourage variety in our businesses too. How boring would it be if we all wore the same clothes (or heaven forbid ~ the SAME EARRINGS), drove the same car, had the same nail polish, same haircut....snoooooozzzzze..... So please, go support your local small businesses, or even far away small businesses. I make this request not just for our shop but for all independent shopowners, restaurateurs, car repair places, gift shops, shoe stores, candy makers, bakeries, hardware stores.... Anyone who has the courage to go out there & give it their best!
Gratuitous pup & nephew pictures: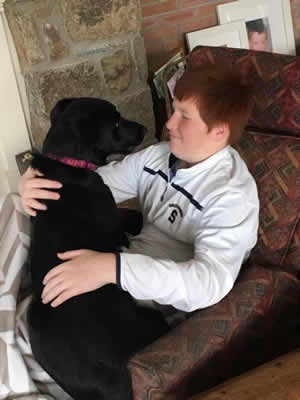 Charlee sitting with her buddy Chris! 2 seconds later Brady evicted Charlee with a look that said, "Hey! That's MY personal lap space! Beat it!"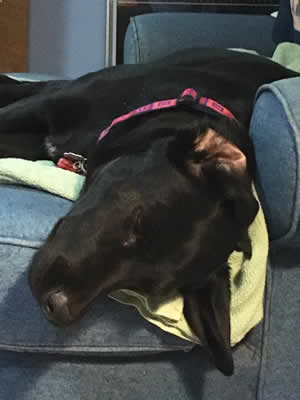 The end of a long day....a morning walk, breakfast (& bully sticks) with the gang next door, squirrel patrol, running laps in the yard...a girl gets tired!
Hugs & stitches ~
Beth & all the one of a kinds at TSS