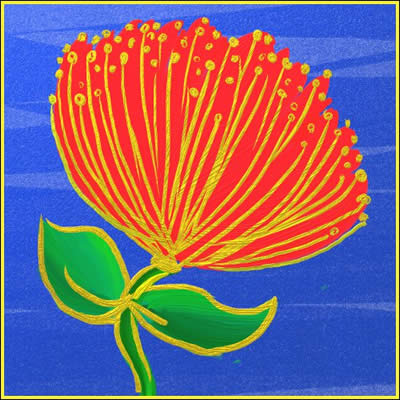 Meri Kirihimete
or Merry Christmas from New Zealand.
As I sit & watch the dreary, dirty grey snow falling here, I pull up my Facebook page & check out all my Kiwi rellies making their summer vacation plans & wish I were there. So the artwork above is of a Pohutukawa tree, aka the New Zealand Christmas tree (think of this as the educational portion of your day...)! Don't get me wrong...I love our Christmas trees here (Fraser Fir is my fave!), but you know me...if it looks tropical & feels tropical....sign me up!
Ah, well, back to reality!
The holidays are soon upon us, whether we're ready or not, so there's no point in getting stressed out. There's not many new designs right at the moment ~ designers are celebrating too ~ but there are a few goodies to show you and some announcements & calendar dates to give you.
If for some reason you cannot see the images in your email, just click on newsletter & you can see it on the website. Any time you have this problem, you can just go to our website & click on the link for Newsletter.
Coming Soon!
New goodies "in the pipeline"!
These are NOT ON HAND just yet (unless I've noted differently), but they are "in transit".
I do wrestle with when to post new goodies ~ wait until they arrive? post early so you can see & ponder? I used to NEVER put things up until they were in our hot little hands as I felt it was misleading to say, "Hey! There's new stuff!" but then the "new stuff" isn't even here yet. But with the pervasiveness of the internet now, almost all of you can see what's "new", whether I post it or not (in fact, there are times that WE learn about new things on the way from YOU!). So the decision we've come to is to go ahead & post items when they are online AND we know they'll be on their way shortly. Bottom line: if you see it in the newsletter on Friday, it's probably not gonna be in the shop Saturday morning, but should be appearing within 10 days or so AT THE LATEST!
I know this is a lot of yip yap & you've heard it before, but there are always folks who are new to our newsletter, so occasionally I feel I need to reaffirm what's what!
Jubilee's Sheep - from Little House. Oh how sweet & peaceful this is!
Snowed In - from Stacy Nash. Even though I hope this is something I NEVER hope to be, I do love these designs! Nancy & I decided we could stitch the top one & just leave the"s" & the "w" off!!
December Reindeer - from Niky's Creations. A perfect last installment in this primitive series!
Winter Beekeeper - from Stacy Nash. Love this lady & her flowers & bees!
Christmas 1878 Marking Sampler - from Pineberry Lane. LOVE this! Very simple, very primitive, very wonderful!
Christmas Trifles - from Shepherd's Bush. 3 darling new Christmas designs to stitch!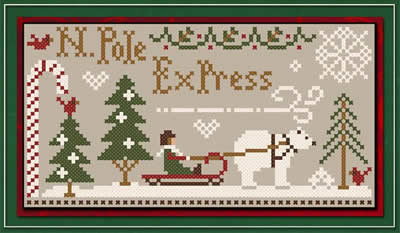 North Pole Express - from Classic Colorworks. Isn't this DARLING??? This chart is on its way ~ it comes as a "threadpak" (ie, chart & threads come together & you get to pick your own fabric).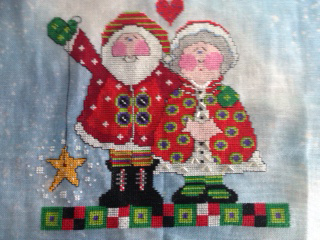 Christmas Magic - from Amy Brueken. It's the most wonderful time!
Wonderland: A new series - from Brooke's Books. How stinkin' cute are these??? Stitch one or collect them all! I love the Mad Hatter & the White Rabbit!! Who's next? Queen of Hearts? Cheshire Cat? Can't wait! I love these!!
Goddess - from Bobbie G. I see this decorating lots of little girls' rooms....
Good Friends - from Bobbie G. It's so, so true!!! And pretty!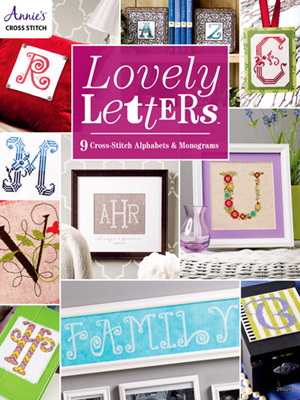 Lovely Letters - from Annie's cross Stitch. We're ALWAYS looking for alphabets, so this is eagerly anticipated. NOTE: Only capital letters, but we'll take it!
Girls - from Kathy Barrick. Love the sentiment!
Butterfly Garden - from Keslyn. This is so elegant ~ the hearts in the corner really neat & different!
Mary Mustardseed - from Scattered Seeds. Too, too sweet!
Susanna Folley - from Kathy Barrick. I do like tombstone angel designs, but this one is kinda sad....
Smooth Sailing - from Bobbie G. Perfect for the sailor (or wanna-be) that you love!
NeedleTravel - from Fiber & Fabric Mania. This book is HUGE & slam full of needlework shops from coast to coast!! Plan your roadtrip now!
New fun project bags!!
The mesh bags ARE IN STOCK RIGHT NOW!
But you'll need to be quick as there are only 1 or 2 of each style still left!
New quilted project bags from Sew Much 2 Luv!
These are on their way ~ some Christmas-y & some more Winter-y!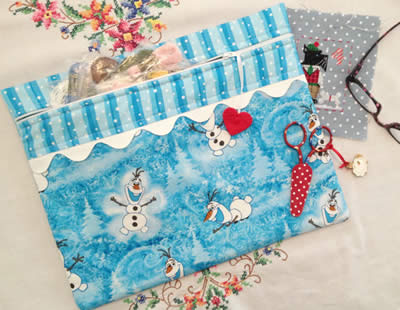 More new designs on their way from Italy!
These designs, along with our re-order of the HUGELY popular Rovere della Luna, will probably NOT be here before Christmas, but they are "on the way".
Anterselva di Mezzo - from Renato Parolin. Another of these pastoral winter scenes! Love Love Love!
Colle Santa Lucia - from Renato Parolin. Love this beautiful church on a hill.
Tous Egaux - from Renato Parolin. "All Equal" ~ darling sheep, bunnies, birds & more. And all are equal.
Villaggio - from Renato Parolin. Each one is cuter than the one before. I can't decide which to stitch first.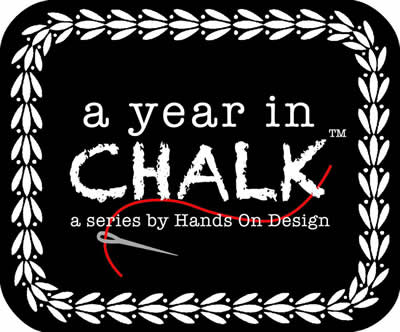 You know what's bad? When you are already reeled in to a new series SIMPLY BY THE LOGO!!! Yes Cathy Habermann, you've hooked me & I haven't even seen any stitching yet! For any of you who aren't familiar with Cathy's work, she is the designer for Hands On Design & she also does AWESOME finishing! Check out her blog when you get a chance!
OPEN & CLOSED
It is THAT TIME of year...everyone is coming & going & celebrating & travelling & visiting & it's hard to remember where you even are sometimes!!!
Our Holiday Hours are:
Open Tuesday December 23rd, 10AM ~ 5PM.
THIS WILL BE THE LAST DAY TO PICK UP ANYTHING YOU NEED FOR CHRISTMAS!
CLOSED: Wednesday & Thursday, December 24th & 25th.
Open Friday & Saturday December 26th & 27th 10AM ~ 5PM.
Open Tuesday December 30th 10AM ~ 5PM.
Open Wednesday December 31 10AM ~ 2PM.
CLOSED: Thursday January 1st.
Open Friday & Saturday January 2nd & 3rd 10AM ~ 5PM.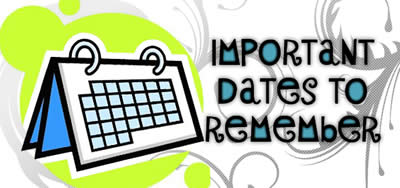 We will be doing inventory on Monday January 5th. No need to worry about that, since we're normally closed on Mondays! However, we are going to take the rest of that week (Tuesday the 6th thru Friday January 9th) for some intensive work on the shop!!
While Advent is a time of waiting & preparation, we have are moving from the waiting mode to the preparation mode here at TSS. For some time now, we have been yearning for more space, or at least more functional use of our space. We would like space for teaching again & also space where stitchers can stop in & work on a project they might need help with. As our internet business/mailorder shopping has increased, Molly & I have started tripping all over ourselves as we jump from mailorder to inventory to internet & as any of you who have seen our office lately know, we need a streamlined space to alleviate the stress & clutter. As we have become aware of additional space available here in our complex, we began to plan how we could make the transition & what we would need to do.
The first thing we realized was that it would take us time to make more space income-producing to the point of covering the additional expenses (rent, utilities, etc). And so we went to our local financial institutions seeking that line of credit to see us thru the transition. Well, if you thought that 35 years of opening the doors every day & paying your bills on time makes you a reliable businessperson, you would evidently be wrong in the eyes of the loan officers at 7-plus banks, from small, local ones to huge national ones. They fall all over themselves welcoming you in & "oh, yes, that sounds great! This will be no problem!" Then they realize you're a SMALL business & (GASP!) you've NEVER borrowed money ~ SHAME ON YOU!! "So sorry, your lack of credit history doesn't allow us to work with you". Really? But that's actually nicer than one man, who told us we weren't worth it because small businesses were a thing of the past & we'd be gone in a year (BTW, that was 18 months ago. Fill in your own curseword here). And THAT guy had actually come to us wanting to "work with us" because their bank is "very dedicated to local businesses".
So the extra space has passed us by for now & we are tired of waiting for the next bank who is "dedicated to making this happen" for us. We are instead moving forward with preparations of our own & we'll be focusing on the space we have & making it work better!! So that is what we will be doing for that first week in January!
And if Santa brings you a winning lottery ticket that you simply can't manage to use, we'll be happy to help you out with that!
Time to sign off & send this on its way to you! I'll leave you with another happy holiday image!!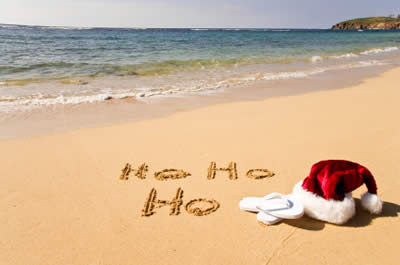 Hugs & Stitches ~
Beth & all the sunshine seekers at TSS