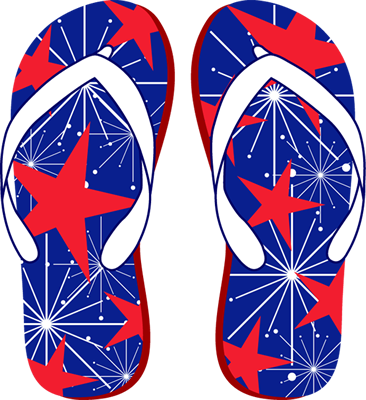 Kinda says it all, doesn't it?
I love summer! I know, you're shocked! It's hot here ~ wicked hot. My pups don't love it (except for the pool!). I LOVE IT! I'm not an athlete (in any way, shape or form), so I'm not out exerting myself. I will go out & pull weeds & work in the garden. I will sit thru a 2 hour baseball game. All accompanied by lots of cold water/diet Coke. Everything's better ~ food tastes better (especially fruits & veggies), drinks taste better (particularly beer), I like my summer clothes way better than my winter clothes....
I started this newsletter 2 weeks ago & I do apologize for not finishing ~ my grand plan to finish & send it on July 3rd was smacked down by a LOVELY (not) power outage that started at EXACTLY the same time as my 3-day STAY-cation. I was looking forward to 3 whole days of no work, no baseball....just me, all my TV shows on demand & lots of stitching!
Alas, this is what happened.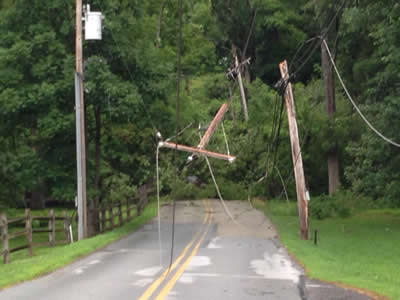 That was an intact telephone/electric pole about an hour earlier. This was right below our driveway. And yes, the road does continue beyond that gimungous tree....but not for several days.
So there was no power at my house ~ although the weather was cool, so no biggie. Except my sweet, darling nephew Jimmy B. was so worried about me that I had to go sleep over at their house (next door) where their generator was running. How can you refuse him when he's being so protective?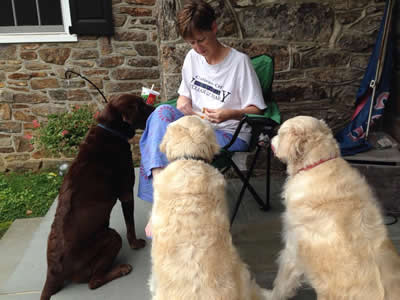 4th of July breakfast with the girls ~ no I did NOT go to McDonalds; but my brother-in-law did! As you might guess, these 3 never miss a meal!
Also, I'd like to thank my sister for taking this incredibly glamorous shot of me ~ she always catches me looking my best....
And so, my stay-cation did not go as planned. At all. Really, do they ever?
Oh well, that's okay. In the meantime, I've started yet another project (shocking, I know. And no, I haven't finished anything). That's all right though. It's about the stitching, not the finishing. And on that note, let me show ya what's new (& thus, available to me for even more temptation!).
Summer of Love - from Serenity Stitches. Doesn't this look even cuter than a jar full of lightning bugs?? This is Abby's NEW design company & one of her first 3 new designs! YAYAYAYAYAY!!!!!!!!! This one is a jarful of love! We've filled a BIG mason jar with glass pebbles & some sort of battery operated little lights that twinkle! WAY better than a jar of petrified lightning bugs!
Saltbox Strawberry Fob - from Kelmscott. We LOVE this!! What a fun little fob for your scissors!

August - from Cricket Collection. It truly is the BEST month of the year!! I love all the different seaside motifs on here.
Itty Bitty Kitty ~ A Day at the Beach - from Sweetheart Tree. Mr Crabby better watch it ~ that kitty will knock that sandcastle right over on top of him. And deny it!
Sandy Days - from Miles to Go. LOVE LOVE LOVE this! A darling little design with my favorite colors & theme!!!
Gather Here - from Serenity Stitches. Another heartwarming creation, adorned with our very own MollyMade Frame ~ they are a great team!
Summer Box - from Shepherd's Bush. YAY!! Summer! This is a sweet little design with sunflowers & a flag & beautiful bright colors! Betsy, the first one's for you!
Sampler Hill - from With Thy Needle/Country Stitches. SQUEEEEEEAL!! LOVE LOVE LOVE this! A wonderful sampler from a fabulous sampler maker, I can't wait to get my hands on this one~ Isn't that a beautiful border??
Stitcher's Favorites - from Thistle Threads. Every stitcher's corner needs this piece! I love all the different needlework represented (even though I can't actually DO all of them....)
Blue Fanfare - from Imaginating. These butterflies really pop against the gorgeous blue flowers!
Once Upon a Butterfly - from Imaginating. A heart full of butterflies ~ sounds a little stressful...
Spot on Flowers - from Kelmscott. Lots of pretty flower motifs in this sampler. Each of these would be pretty stitched on their own as well ~ perhaps as a biscornu or a pincusion!
Sweet Songbird - from Miles to Go. So sweet! I think this is really a pretty little tweeter!!
Love You - from Serenity Stitches. These sweet little sayings come to life with Molly's awesome frames & Abby's mats. The smallest one is finished in a tiny frame on a pedestal!
Sampler Days - from Country Cottage. That's right, EVERY DAY is a Sampler Day!
Summer (Ete) - from Jardin Prive. Aaaahhh.....the best parts of summer! What a fun sampler!
Old Red Barn - from Little House. Perfectly harvesty!! Love the barn, but I also love the leaves on the trees!
July - from Cricket Collection. I wish it were July all year long!
Days of Liberty - from Chessie & Me. I love this! It will go directly into my stash!
Hurrah - from Pineberry Lane. What a wonderfully primitive & patriotic design! Just proving that there's no downtime for patriotic stitching!
Stars & Stripes - from Miles to Go. Patriotic patchwork! Love the designs!
New Needleminders from Kelmscott!
Folk Art Uncle Sam - This guy is adorable! And remember, patriotic is never off season!
Teapot - Isn't this elegant? When did we all get too busy to make real tea??? Well, this way you can pretend!
Heart of the Home - from With Thy Needle/Country Stitches. A lovely, homey sampler! Molly thinks this would make a wonderful wedding or anniversary sampler!
Earth Laughs in Flowers - from JABC. I have always loved this verse & these flowers are cute!!!!
Summer Circle - from AAN. On this fabric, with this floss, it definitely looks sunshiny! But you could also do this on white wtih red & the hearts would pop! Or stitch it on white with black & it would look like beautiful iron scrollwork (I just bought earrings in Charleston SC that were inspired by all the scrollwork in the city.) What do you see?
Shine On Summer - from Miles to Go. "....I'm Mr. Heat Miser, I'm Mr. Sun...". Love this design!
Daily Reminder: Listen - from Trilogy. The start of a sweet new series! Stitch one or stitch them all!
Daily Reminder: For Keeps - from Trilogy. Just right to give to your sweetie.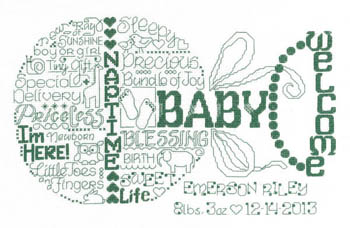 Let's Love Baby - from Imaginating. We think this is a DARLING little baby announcement! It would make a cute little pillow to go in a nursery.
I is for Image - from Jardin Prive. I have to say, this is one of my favorites so far ~ and there's no "I" in Beth.....
Z is for Zig Zag - from Jardin Prive. Aaaahhh....I could use some Zen.....
Frosty Forest #9 - from Country Cottage. The picture is complete! I just love this....even with the snow! Must be the colors....
Teenie Tiny Halloween I, II & III - from Sweetheart Tree. These 3 designs are darling for your Autumn decorating. Get the one you like best or get all 3!
Spell's Store - from Primitive Hare. How cool is this?? Looks like it came right off Diagon Alley (& if you have to ask....ask a kid!).
Bewitching Pixie: Emi - from Nora Corbett. Hmmm, methinks she might have a friend named Robin Hood....
Bewitching Pixie: Ani - from Nora Corbett. And I am SO NOT eating that apple ~ can you say Snow White???
Double Double Toil & Trouble - from Homespun Elegance. I think this is the cutest thing! I don't know why this one sucks me in, but it does! I love the little pompom trim around the edge!
A Smidgen of Halloween - from Heart in Hand. Just a little cutie picture! My favorite is the green pumpkin!
Gobble Gobble - from Heart In Hand. What a fun design to stitch for Thanksgiving ~ from pumpkins to pie, turkeys to Indians to Pigrims! We're thankful for them all!
Happy Thankful Thankful Day - from Trilogy. Another great design for Thanksgiving ~ FINALLY!
Happy Bat - from AAN. THIS. IS. TOO. COOL!!! How fun will this be to stitch?
That's Halloween - from AAN. Another whimsical creation! I think that spider has had a little too much pumpkin!!
Mary Jane Smallman Sampler - from With Thy Needle/Country Stitches. This is a really pretty reproduction ~ it looks very Colonial to me, but don't hold me to that. What I like the best? Look t the last line where she was just like, "the heck with this, I am DONE stitching. Just finish the last darn word!"
Housework is for the Birds - from Heartstring Samplery. Couldn't be more true ~ and if I could train some birds to do the housework, I'd get more stitching done!
Autumn Fun - from Diane Graebner/Lynn's Prints. What fun at the pumpkin patch!!
Snowy Day - from Diane Graebner/Lynn's Prints. How beautiful & peaceful is this?
Calendar Girl: August - from Little House. Okay, someone said it looks like she's getting ready to go back to school. I prefer to think that she just really likes to read!!!
Just Bee - from Hands On Design. What a happy little pillow! This chartpak includes the calico finishing fabric, the twine & the bee charm.
ASAP - from Poppy Kreations. LOVE this! Gives a whole new meaning to ASAP!
Persian Lace - from Rosewood Manor. This is just stunning. The detailed work makes all the difference!
Pieces of Eight - from Wendy KC. What a fabulous chartpak filled with fun things to make for your stitching basket! It only uses 2 colors of overdyed floss, so just pick 2 colors you like (I'm thinking.....BLUE & maybe some....darker blue!)
Redwork Quilt - from Imaginating. Love how the inner square looks like redwork embroidery!
Stop & Smell the Flowers - from Stoney Creek. ....and please don't eat the daisies...
Tropics to Winter & in Between - from Vickery Designs. There should be no doubt which side I'll be residing on!
Mrs. Claus Tropical Christmas - from Stoney Creek. That's right! If I didn't already have a stocking, this would be me!
Just Cross Stitch Christmas Ornaments DVD ~ 1997 - 2013 - from Just Cross Stitch. Did you ever wonder if you would ever be able to find "that sweet little ornament from 2001 but I don't have the magazine anymore...". Great news! Now you can have them all in one place!
Just Cross Stitch 2014 Christmas Ornaments - from Just Cross Stitch. Don't miss out on yours ~ order now!!
Roly Poly Scissors! New from Kelmscott!
Don't they look fun? For all my fellow scissor hoarders collectors out there. The only question is which color will you pick?
Hot off our needles....kinda.
A few more fun things to show you that are finished, or newly started (can you guess? Come on!).
Jacki stitched this & it's been finished for a while now! It is stunning ~ perhaps one of the prettiest Christmas designs I've seen in...forever. And yes Jacki, I had to steal the picture from your blog (thanks to my shaky photographic skills....). The photo on the right is more true color-wise, very rich Christmas red (CC Currant) & green (CC Blue Spruce).
Now check out this snippet below from Sue R. (hi Sue, I stole this pic from Jacki too!). Sue is using totally different colors than Jacki used, yet still all Christmas colors. What a totally different look! Play! Have fun! There's nothing wrong with changing things up.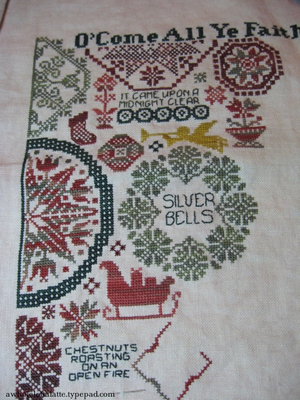 Below is Phyllis' work in progress on a shop model. She's stitching "Christmas Village" from Sara Guermani & she's about halfway done. I cannot begin to express how stinkin' cute this is!! I tried to take a few close-ups too. Every time you see it, you see something new.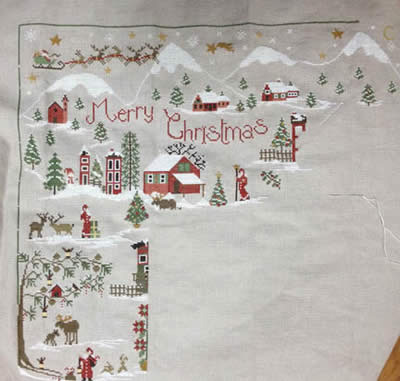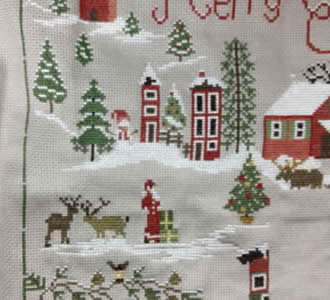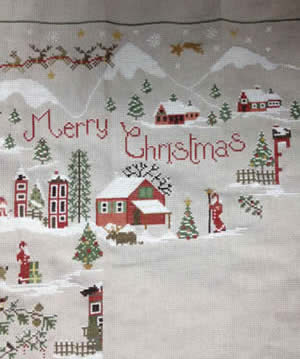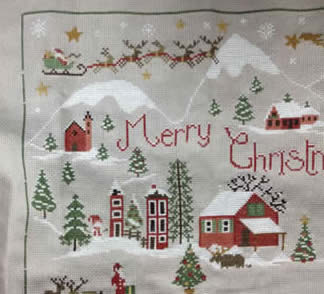 Wanna guess who's stitching "On the Beach"???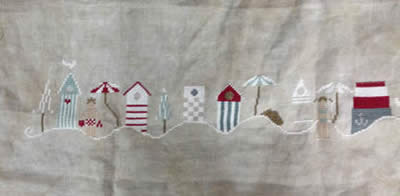 That's right! This is my new project & I am loving it!! I have the lighthouse on the right side to finish, & then there are some seagulls & a plane pulling a banner ~ I'm still debating on what to put on the banner...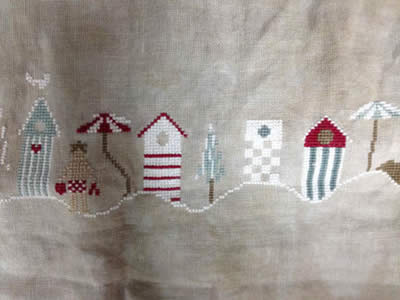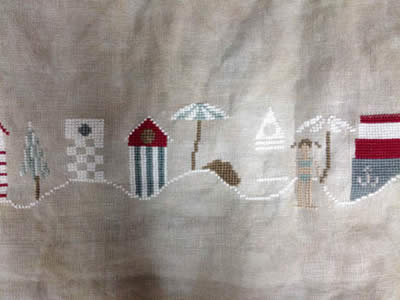 Well, that's about it around here! It will not take me 3 weeks to do another newsletter next time. (Well, unless I win the PowerBall & have to move to My Own Private Island In The Caribbean).
Don't forget that Christmas in July is still going strong!
Until then, I'll leave you with some gratuitous baseball pictures from Chris' (never-ending.....) State Tournament. They lost in the semifinals in extra innings, but it didn't affect their spirits!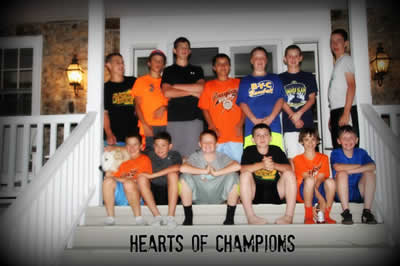 On the right, "the lineup".
On the left, the postgame sleepover (no sleeping involved).
Hugs & stitches ~
Beth & all the late bloomers at TSS