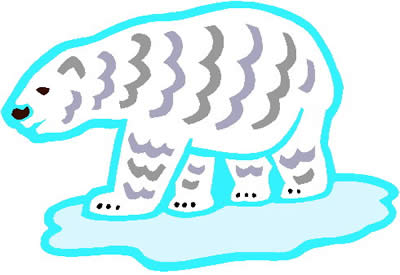 POLAR BEAR!!!!
Ugh! Really?? So if, instead of a lion, March comes in like a polar bear....
....how on earth does it go out?? Maybe a sunfish??
I don't know, but SOMEONE said today that she heard, "we're only 2 more snowstorms away from Spring".
THAT IS NOT FUNNY!
Moving forward into March (which I'm already OVER!), we looked back at February & realized that, due to snow, ice & power outages, we were closed just about as many days as we were open! For all y'all who have emailed us to check & see if we've dug out yet, we thank you for your kind concern! For all y'all who are ever so patiently waiting for your mail orders to arrive, WE CAN'T THANK YOU ENOUGH! And for those couple of you who have done nothing but whinge at us, it's okay, we've been called worse things by better people & we've survived.
AMAZINGLY, there are even more fun things to stitch. Also, we've got a couple things that were limited at the Market ~ we didn't post them earlier as we weren't sure if we could get them.
Here's what's new!!
My Granny's Afghan - from Carolyn Manning. Just what you need on ANOTHER cold day! This looks just like a granny square agfhan.
Let's Go to Grandma's - from Imaginating. All the best things about Grandma!
Let's Go to Grandpa's - from Imaginating. No matter what you call him ~ Papaw, Grandpa, Pa ~ he's always ready to share the best seat in the house with you!
Upstairs Downstairs - from Ink Circles. This certainly looks like a cozy spot to curl up!
Worm Moon - from Misty Hill Studio. I hope this birdy is still down south ~ because if he even finds a worm around here, it'll be a popsicle!
Sprinkle Seeds - from Imaginating. It LOOKS like spring....you can almost SMELL it....maybe stitching it will make it so!
Sampler Printemps - from Jardin Prive. What a lovely springtime sampler ~ there are so many signs of spring.
Welcome Spring Pillow - from Pine Mountain. Springtime in the village looks so inviting, doesn't it? The pre-finished pillow comes in the kit.
Calender Girl: March - from Little House. She's got a fistful of luck!
Emerald Star Quilt - from Carolyn Manning. Ahhh, green....it looks like a quilt full of 4-leaf clovers!
Happy Leprechaun - from Flower 2 Flowers. Aye, he's a right cutie, he is!
A Little Beach kit - from Lizzie Kate. Oh what I wouldn't give for just a little sunshine, a little beach....
Special Delivery: March Kite - from Pine Mountain. You can choose whether you'd like this little kit with aida or linen!
Sprout Grow Bloom - from Just Another Button Company. Love this happy bunny! Perfect for springtime or any time!!
Home is Where My Heart Is - from Not Forgotten Farm. I love this sampler!! The most perfect part is the pup waiting at the front door - the keeper of my heart!
Little Guys: Bunny Egg - from Amy Bruecken. What a cutiepie!
Easter Basket - from Flowers 2 Flowers. Stitch up this darling little basket for your special basket!
Little Guys: Little Chick - from Amy Bruecken. I just love this!!
Easter Parade - from Sue Hillis. Are these not the sweetest little bunnies? And the finishing is just right!
Hippity Hop - from Sue Hillis. Darling little eggs ~ and hey! No calories!!
Hangin' with my Peeps - from Sue Hillis. HeeHee...you know Easter is on its way when these cuties make their appearance!
Dilly Dallying & Lollygagging - from Just Another Button Company. This just says, "lovely summer day" to me!!
Happy Butterfly - from AAN. When spring finally arrives, this is what we'll all feel like ~ emerging from a dreary old cocoon to show our colors & play in the sun!
Butterfly Bliss - from Imaginating. Love these fluttery creatures!
Tribal Music - from White Willow. More awesome music! Thank goodness we're getting in good music designs now!
Allen's Hummingbird - from Cross Wing Collection. I have really developed a fondness for hummingbirds ~ we have several who visit us in summer ~ and this one is gorgeous.
Lunation - from Ink Circles. One full cycle of the moon. What I really like about this design is that she does 3 different views of the earth ~ I think that's cool, because I'm so used to picturing the earth as shown here (America-centric), but there's so much more! I also love the little version (maybe stitched over 1 thread!).
Bedtime Expressions - from Stoney Creek. Isn't this neat? This would make a wonderful gift for a little boy's room!
Seeds (w/buttons) - from Just Another Button Company. One of my FAVORITE verses. And I love this version of it.
Bushel & a Peck - from Not Forgotten Farm. Growing a basket of love ~ adorable!
Laughter is Sunshine - from Stoney Creek. If this were true, I'd make sure it was never cloudy again. Maybe I should stitch it up & believe it....
10 X the Fun: Carrots - from SamSarah. How darling are these? At first I was confused (stop laughing) about the dotted lines at the top ~ finally realized IT'S THE GROUND!!!
Grape Seeds - from Carolyn Manning. I am LOVING these quilt patterns she's designing! These are such yummy colors too!
Comfort - from Workbasket. All these words sum up what quilts are to me ~ and always remind me of my Mamaw.
Sparkle - from Mill Hill & Curly Girl. YAY! New designs from one of my favorite artists! The little verse reads, "enjoy the beautiful time with glistening wishes of love & luck."
Dandelion - from Mill Hill & Curly Girl. How many of you remember picking these magical little blossoms & blowing wishes into the air? The little verse reads, "every marvelous is bundle of very little things."
Journey - from Mill Hill & Curly Girl. LOVE LOVE LOVE this (but not a camping fan...). The small verse reads, "enjoy the view along the way. life is full of exquisite
Fireflies - from Mill Hill & Curly Girl. I thought fireflies were everywhere ~ but I was wrong! The small verse reads, "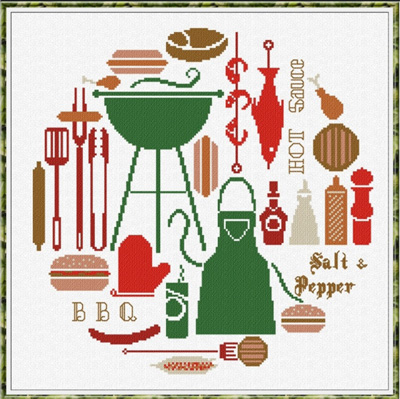 BBQ World - from AAN. IT'S SUMMER!!!! It must be, right? RIGHT???? Do you have a grillmaster at your house? This would be a great gift!
Land of the Free - from Amy Bruecken. Love the whimsical design of this!
Home of the Brave - from Amy Bruecken. It just makes me smile!
Boxer: If We Pray - from Lizzie Kate. Such an inspiration, and pretty too.
Be Who You Are - from Lizzie Kate. I love this saying ~ wouldn't this be good as a graduation gift?
All Things Sampler - from Workbasket. What a fun sampler, filled with so many favorite things!
Tho the Wrong - from Workbasket. Such a happy sampler, with a wonderfully guiding verse.
Floral Etui - from Victoria Sampler. Oh my goodness! Another stunner from Thea! I know I repeat myself EVERY TIME another new treat comes from Victoria Sampler, but it can't be said enough ~ her creations are beautiful & their directions, diagrams & construction advice is second to none. This is simply a treasure.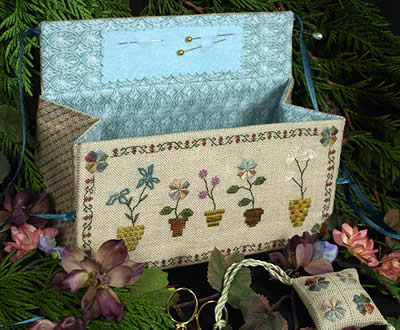 Gregory in the Garden - from Kathy Barrick. What a pretty boy he is!
Long May She Wave - from Barbara Ana. I couldn't say it better than they did "Dated 1776 (though "stitched" in 1777), it features the American Flag flowing in the wind, Uncle Sam ready to take off and a discreet Betsy Ross, needle in hand, putting the finishing touches to the flag she has just sewn. A tribute to everything American, and to all the women behind the great men." I love that her thread is trailing off the end ~ and I ESPECIALLY love the little pup!
Lily Panel A ~ Lily Panel B ~ Lily Panel C ~ from Heritage Stitchcraft. These 3 designs are just stunning! Stitch 1 or get all 3!
LIMITED EDITIONS from Lizzie Kate. These kits are few in number & won't last long!
Song of Spring ~ Do Your Best. Each kit comes with EVERYTHING you need to stitch & complete the pillow (except stuffing).
Frog Prince - from Heritage. Adorable! Stitch it for your little princess (or prince!).
Butterfly - from Heritage. Show your colors, little one!
Giraffe - from Heritage. Who do you look up to?
Lion - from Heritage. Ahhh, too cute to be fierce!
I Love Chocolate - from Val's Stuff. Hilarious ~ love that there's a big bite out of his ear!
Live Each Day With A Smile - from Val's Stuff. A cute reminder (& some days I need more reminding than others).
Farmyard Chicks - from Cathy Jean for Victoria Sampler. These are just darling! Whether you finish them in the little tins (we have 'em) or as little pillows, they just make ya smile!
Spring Trio - from Scissor Tail. Stitch one or stitch all 3. Spring must be on its way!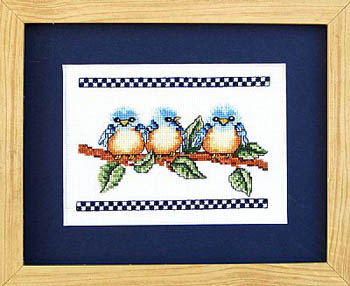 The Breakfast Club - from Bobbie G. I guess that makes them the early birds!!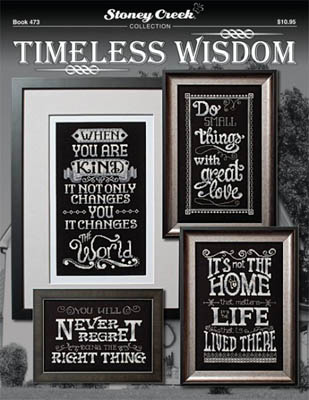 Timeless Wisdom - from Stoney Creek. Wonderful chalkboard messages for your home!
Cityscapes kits from Riolis. Each of these stunning kits comes with fabric that has the outer border screened on. You get to stitch the "heart" of each city.
Cityscapes: London - Big Ben along the Thames.
Cityscapes: New York - Manhattan at dusk.
Cityscapes: Paris - La Tour Eiffel.
Cowgirl Country - from Tumbleweeds for Little House. OMG, this is so stinkin' cute!! The finishing just makes it all the more adorable!
Blue Morpho - from Ink Circles. A great design based on a blue butterfly (do you see him in the center?). Love these symetrical pieces.
Lasting as Eternity - from Heartstring Samplery. Love the border & the house on this reproduction. Also the sweet cherub in the corner.
Diagonal Sampler - from Workbasket. LOVE LOVE LOVE this little twist on a sampler. It still feels very traditional, but really different.
Calico Heart - from Not Forgotten Farm. A sweet pincushion!
Cassiopeia - from Mirabilia. Cassiopeia returns from her exile to the stars, lovely as ever!
Life is Wonderful pillow - from Pine Mountain. A darling little pillow (kit comes with prefinished pillow wrap!).
Margret Rogers' Garden of Eden - from Needlework Press. Another wonderful Adam & Eve reproduction. Although it would now appear that there are 2 more people at the dinner party ~ I must have missed that Sunday.
Mary Shepherd - from Samplers Not Forgotten. As I may have mentioned before, Kimberly is a local gal & we get to see these samplers "in the works". This is one of (many of) my favorites ~ you can't see the detail of the flowers in this picture, but it's stunning. A beautiful basket of blossoms!
Emma Sandford Sampler - from Dutch Treat. I have a particular fondness for samplers done all in one color & this one is REALLY cool! There are lots & lots of motifs in this one ~ Emma was obviously working on corners, probably to decorate table linens.
All Hearts' Sake Sampler - from Stoney Creek. I really like the different little sections of this sampler ~ you could easily pick out a little piece to do as a mini sampler or pillow.
Por Luciana Delgado - from Needlework Press. Not sure exactly where Luciana lived (although I'm guessing Spain...), but it does have a little different feel than an American or British sampler ~ I love that while we all enjoy the same thing (needlework), we each have a little different flair.
Springtime in My Garden - from Samplers Not Forgotten. Love this border & the tree in the center looks like it's blowing in the springtime breeze. Even the colors are lovely, soft springtime colors.
Seven Sheep Sampler - from Scarlett House. A new sampler from one of my FAVE designers! How cool is that border?? And what's more springy than 7 sheep??
This is My Work Pinkeep - from Pineberry Lane. A fun little primitive design!
Mary Ann Crumley Sampler - from Samplers Not Forgotten. This is one of Molly's favorites from Kimberly! I love the house ~ it is SO COOL!
Needle & Thread - from Lila's Studio. This is such a wonderful (AND TRUE) verse. Perfect for sampler stitching.
Tribal Kokopelli - from White Willow. I love these ~ they make me smile!
Peace Wheel - from Ink Circles. Another cool structured design. This pattern was based on "a most unusual and transient form of art found in India and many other Asian countries. They are drawn by hand using powdered rice or rock directly onto the ground. The artist frequently starts with a matrix of dots, then creates a path of twisty turny lines that weave around and between the dots. When the wind, rain, and walkers take their toll, the design is swept away and replaced by a new one, usually before sunrise every day." Very cool, no??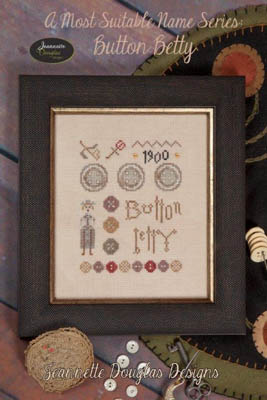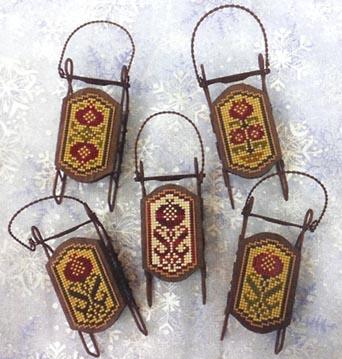 Betty Button - from Jeannette Douglas. Somehow, poor Betty got overlooked in our Market newsletter, so she's getting her own spot here (& we think she's one of the cutest ones yet!).
Pomegranate Sleds - from Foxwood Crossing. Another group of sweet sleds that we missed posting!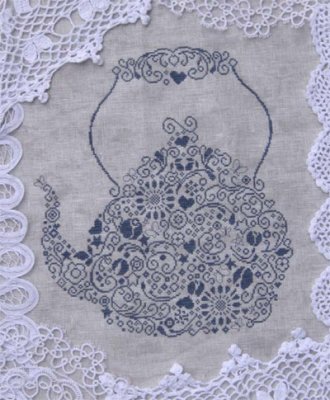 Tea Pot - from AAN. Lace seems to be the perfect adornment to this teapot!
For the 3 people out there who are not quite ready to say "ENOUGH" to winter (Nancy T, Nancy H, lookin' at you...), there are some charming new Wintry designs & you'll notice I'm not even discriminating against them by refusing to show them (aren't I doing well??).
However,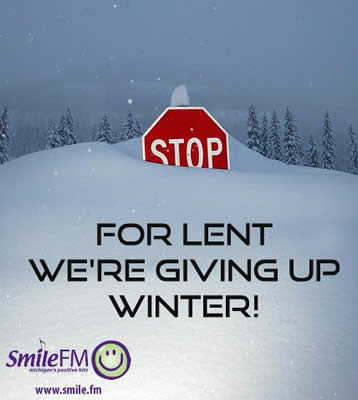 ....ooooohh, wait, I think it's supposed to be a sacrifice....oh well, too late to change now.
Thanks for the pic, Lorraine!
Fancy Winter Sewing Bag - from Stacy Nash. Isn't this darling? I love the whole pattern. And it's not screamy Christmas.
Reindeer & Ribbons - from Stoney Creek. This is gorgeous. Very Scandinavian feel.
Big Dog Stitching Bag - from Stacy Nash. This doggie is not just big ~ it's also chocolate!
Twas the Night... - from Sue Hillis. A classic Christmas creation. The holly is gorgeous all by itself.
Sock Hop - from Sue Hillis. I'd hate to have to fill all these stockings ~ poor Santa!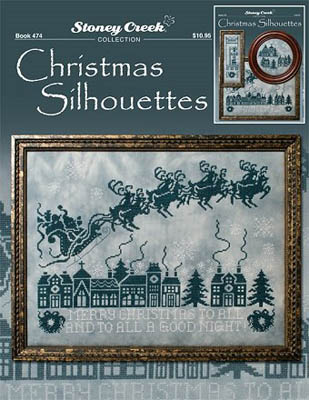 Christmas Silhouettes - from Stoney Creek. She picked the perfect fabric for this long winter's night sky!
Words of Wisdom from a Snowman - from Sue Hillis. Okay, I am quite naturally suspicious of any advice received from a snowman ~ however this is really, really cute!
Best Gifts Stand Up - from Stoney Creek. A very true sentiment & 3 cute snowfriends!
4 Seasons: Autumn - from Lizzie Kate. Lovely, autumn colors ~ I love the leaf border at the bottom.
4 Seasons: Winter - from Lizzie Kate. I'm trying..... Okay, the fire looks cozy!
Frosty Forest 4: Snow Friends - from Country Cottage. Ahh...nothin' like a little friendly competition ~ can't you hear it: "I have more than you"...."Yeah, but look how BIG mine is"....
Snow Kitty - from Val's Stuff. Woohoo! A "snowman" that doesn't melt!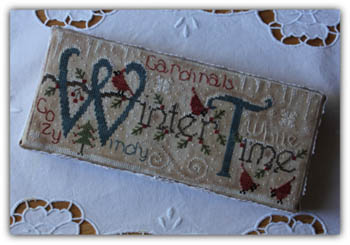 WinterTime - from New York Dreamer. This is a really fun design ~ love the icicles hanging at the top.
Winter Joy - from By The Bay. A snippet of the Olympics!
Snow Moon - form Misty Hill Studio. I don't know....looks pretty awfully cold to me!!
New Overdyed threads!!
We're enchanted with the new colors!
From Weeks Dye Works
Verdigris ~ Terrapin ~ Cattail ~ Amethyst
Laugh for the day....
The top picture here is about 11 years old...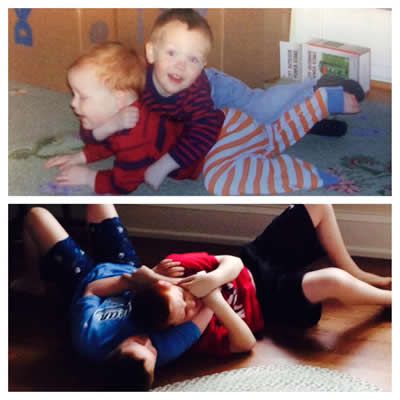 ....the bottom picture is about 11 minutes old.
Chris hasn't quite figured out what I tell Jimmy...it's only important to be first (this applies to most everything...including here, "first to achieve the chokehold on your brother"). The other thing I tell them all the time, "you guys are so cute....IN PICTURES".
When does baseball start????
Oh wait, I was "invited" to join Jimmy's Fantasy League a couple weeks ago. Let me just say, nothing makes ya feel dumber than having the 12-year-old have to walk you thru creating your ESPN account (because you can't really seem to SEE the GREAT BIG RED WORD that says "ENTER"). And then, to add insult to injury, I had to endure 30 minutes of online drafting & enough smack talk from the fools & 1 cousin, that by the end I ended up with quite possibly the worst team possible (they snicker when they look at my lineup...and the real telling thing? No one is trying to trade for ANY of my players....). I used to love this game...I used to "get it". Now, I think I'm just past my "good by" date.
I blame the snow.
So I'll leave you with all these goodies to ponder. Also again (I really can't say this enough), THANK YOU ALL for your patience, your kindness & your friendship. We will get back on top of it (as soon as we get past those last 2 snowstorms....AAAAGGHHH!!).
Hugs & stitches ~
Beth & all the snow-daze(d) & confused at TSS