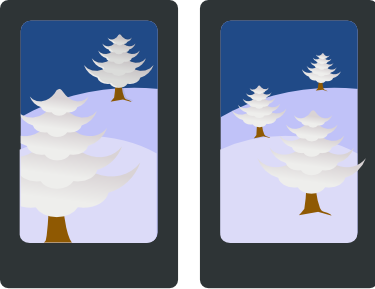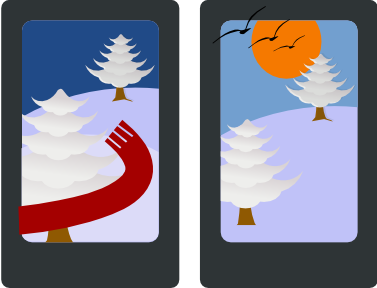 Yep. It's winter. No way to sugarcoat it. It's like having the flu ~ you just have to grit your teeth & power thru it.
Oops, sorry, that's just my pep talk to get me thru the next couple months!!!!
Don't worry though, as soon as I win the lottery & move to my own private island I'll be able to give up that little pep talk! This AM here we got an inch or two of snow ~ and I will admit that while it's still untouched & pristine, it is pretty to look at. But I'm always reminded of the year I was in New Zealand during December ~ one of the boys was commenting on how nice it would be to have a White Christmas... You can IMAGINE my response. Yes it's lovely...at first. But as any of us who actually see snow semi-regularly, it gets grotty & dirty & filthy & NOT PRETTY!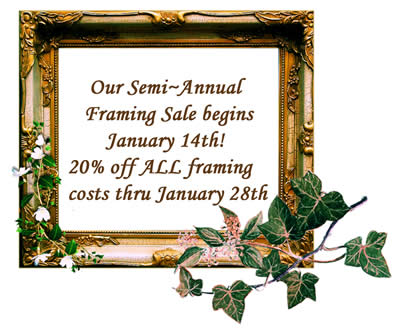 That's right, the big Framing Sale starts Saturday!! You have 2 weeks (3 Saturdays) to come in with your projects to be framed. All framing is 20% off ~ the only requirement is that you pay for the whole thing (frame, mats, glass, mounting, etc ~ less 20%) when you drop off your pieces. This is the only time (also in May) that we discount the mounting cost (which, in my humble opinion, is the worst part of framing!). So make your plans!
I know I've been MIA for a couple weeks ~ lots going on within & without ~ so this newsletter will be a tad longer than usual (don't know if that's the good news or the bad news...). ALSO, since the weather has moved into the "65 degrees yesterday ~ snow, sleet & ice tomorrow" phase, I'll put out my annual reminder:
During sketchy weather on weekdays, we are closed on the same schedule as Unionville/Chadds Ford & West Chester School Districts. So if you live in those areas, you may already know. IF YOU DON'T (or if you're like me & don't pay attention since you don't have to get kids to school), PLEASE CALL US at 610-459-8580 before you head out. If you get our machine during regular hours (10AM ~ 3PM), DON'T LEAVE HOME, because we're not open. The same applies to snowy Saturdays ~ call first! Also, keep in mind that while it may be clear where you are, it may be nightmarish here!!!
AND REMEMBER:
Our hours have changed!
We are open Tuesday ~ Saturday, 10AM until 3PM.
If you are headed our way, but not sure you'll make it before 3, CALL US! During the week, we are almost always here until 5, but we are in the back office so we won't see you at the door. On Saturday, if you are stuck in traffic or just not going to be here before 3, CALL US ~ if you are coming for framing or to pick something up, we more than likely will be able to accommodate you. As I said in the last newsletter, we really pored over our hourly reports to see if this would work & 3 ~ 5 was almost always deadsville. But again, we're happy to work with ya!
Okay, moving on!!!! Time for some new goodies (to stay inside & play with!).
Winter Thyme - from Hands On. I LOVE this! LOVE the colors (even though they're not my usual go-to's), & I love the 2 different pieces of linen. Cathy gives good instructions for putting these together & (just in case your work is a little sloppy ~ like mine!), I like how she's covered the seam with rickrack!!
As Time Goes By - from Pheasant Street Sampler. 2 pretty pinpillows to go in your stitching basket.
Winter Sampler - from Sara Guermani. O.M.G!!!!!! LOVING this! Why, oh why, do I like Winter designs?? Molly assures me it's because they use so much blue.... The pictures above are (obviously) the same sampler, just 2 different ways of finishing. Don't you think the houses at the bottom look like Rainbow Row? Kinda??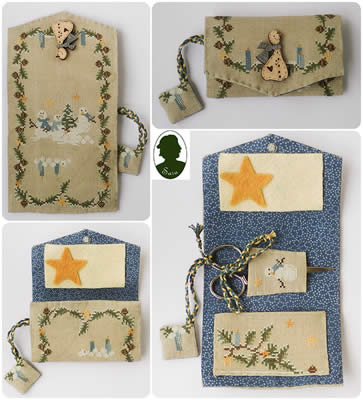 Winter Pocket - from Sara Guermani. Okay, confession. I'm not usually a big fan of these pocket thingies. HOWEVER, this one I like! I love the pine border all around the edge ~ it's just really pretty!
Dans un Panier de Fleurs - from C'Mon Monde. Love this little "flower basket" ~ she gives you directions for making the basket itself & then you can fill it with whatever suits you (I'm thinking I could keep the scissors alive longer...).
Winter Window - from Sara Guermani. LOVE this one!! Can't explain it...I just do!
Winter Window 2 - from Sara Guermani. This reminds me of my very first house (although our house was MUCH SMALLER) ~ we lived on a little lake where people would come to ice skate and one night I looked out .... and my Romper Room teacher was out skating!!!! What a thrill ~ so of course I had to go out too (I was probably 4???).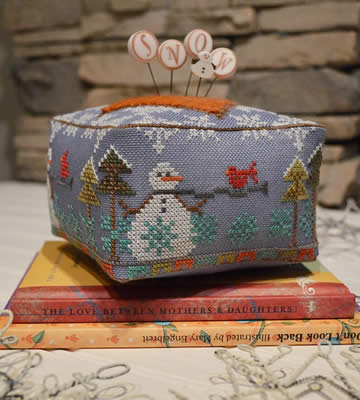 Block Party: SNOW - from Hands On. Everyone (us included) enjoyed these blocks so much that Cathy has decided to do more! This one is DARLING (yes, I see the hypocrisy of hating winter & loving winter stitching ~ don't care). Below you can see detail of one side (Cathy says each of the snowflakes around the bottom is different) & the top. I love the "top shot" this one ~ love the snowflake pattern!!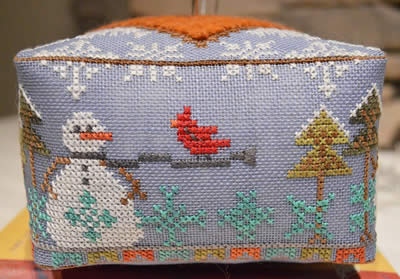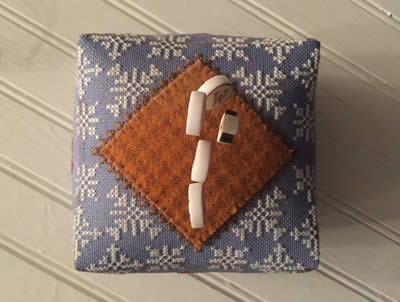 Cherry Blossom Cottage - from Victoria Sampler. Okay, what is sweeter than a pink cottage by the sea? NOTHING!! I love this new addition to Thea's Cottage series!
What's in your Jar: February - from Needle Bling. Hearts in a jar...can't decide if that's good or icky...sounds like a display in a medical museum!
What's in your Jar: March - from Needle Bling. Hey! Where's the lucky 4-leaf clover????
What's in your Jar: April - from Needle Bling. YES! Candy & chocolate! Also: the best month of the year!
Prairie Birds REPRINT - from Prairie Schooler. The latest of the Prairie Schooler reprints, these were soooooo popular & we know they will be again!
Birds & Berries REPRINT - from Prairie Schooler. This is another oldie but goodie ~ Molly loves this one!
Albero di San Valentino - from AAN. Aaaawww, its a valentine tree ~ wonder if it's like that love lock bridge in Paris....
Birds of a Feather - from Pheasant Street Samplers. A sweet little primitive pinpillow!
Cinnamon Heart - from Threadwork Primitives. How gorgeous is this? Love all the different heart motifs & the way she finished it is darling!
Folies d'Amour (Crazy for Love) - from AAN. Well, I'm crazy for the design....
Love is the Greatest Adventure - from Heart in Hand. from Heart in Hand. Yep, right up until you get mauled by a bear....
Home is the Nicest Word there is - from Lizzie Kate. A quote from Laura Ingalls Wilder ~ so sweet!
Our Family Rules - from Abby Rose. Perfect for every family!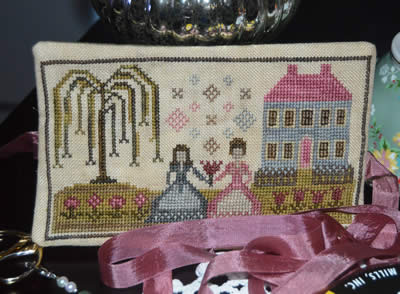 Tea for Two kit - from Abby Rose. This darling kit includes the chart, 30ct linen, lining fabric & trim, plus 2 Twinings teabags & directions for finishing. Perfect to make for your tea-loving friend (or to keep for yourself!!).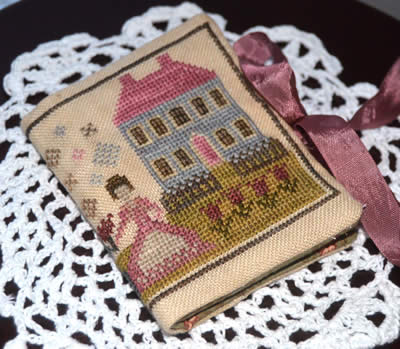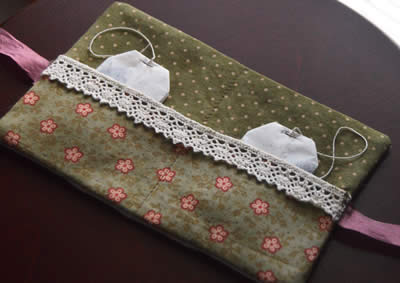 Celebrate with Charm (complete set) - from Lizzie Kate. Woohoo! A new series coming from Lizzie Kate! Everything is bright & cheery & happy! If you click on the banner above, you'll go to the page for the whole set, otherwise, you can click on either of the first 2 coming, below!
Celebrate with Charm: Love - from Lizzie Kate. A sweet little treat from someone special!
Celebrate with Charm: Luck - from Lizzie Kate. Just right for the wearin' o' the green!
Panier de Fleurs - from TraLaLa. I love this sweet little flower basket!
Bouquet Tropical - from TraLaLa. Kathy B. ~ it's calling your name!!! This is lovely!
Lace Corset - from AAN. Okay, so while this is so NOT me, I want it to be! Sometimes I wanna be that girl that has the fancy lingerie (instead of just underwear) & the girly boudoir (instead of the messy bedroom)! I also think this would be cool to stitch if you worked in a lingerie shop or if you had an honest-to-goodness dressing room!
Cute as a Button - from Needle Bling. Isn't this sweet? I know lots of y'all have a valentine who would love this!
V * W * X REPRINT - from Prairie Schooler. Now, before this went out of print (the first time...), we stitched the "W" one, finished it as a flatmount hanger & on the back of it stitched the last name & wedding year of a newly married couple (who've now been married 10 YEARS!!). We hung it inside a grapevine wreath & it was really neat.
Garden Labyrinth (Spring) - from CM Designs. YAY! Another to add to the series! I can't be positive, but this might finish it off (I could just go check...but where's the fun in that??).
New Dots & Needle Nannies from Zappy Dots!
Wow, these things have really taken off! And they keep adding more cute designs from our favorite designers! I wanted to give you a rundown of the difference between "dots" & "needle nannies", as they are the same size, but they are NOT the same thing. Also, I have a couple pictures so you can see kinda how they work....
So, below on the left is an example of a "Dot" attached to a scissor fob. The dot is a 1" diameter piece attached to a smaller, thick magnet. That magnet then "sits in" the opening of the fob. The nice part? You can change 'em out as often as you want!! In the center, Nina is sporting one of the Dots in a necklace. On the right is a Needle Nanny, attached to my scarf! The Needle Nanny consists of 2 parts ~ the top part is a 1" diameter design, but as opposed to the Dot, this one is backed with half of a Rare Earth wicked strong magnet pair. You can't see the back on this picture, but it's on the backside of my scarf. Now lots of y'all stitch using a -Snap or scroll frame, so your fabric is nice & taut ~ you can attach your needle nanny to your fabric. But many of you stitch in hand as I do, no Q-Snap or frame. So why would you want one of these? Well, as you can see, you can attach it to your shirt, sweatshirt, sweatpants...whatever...& then when you need to set your needle down, you can put it right on your needle nanny. That magnet is also strong enough to hold a good size pair of embroidery scissors in place! OR you can just wear it as jewelry!!!!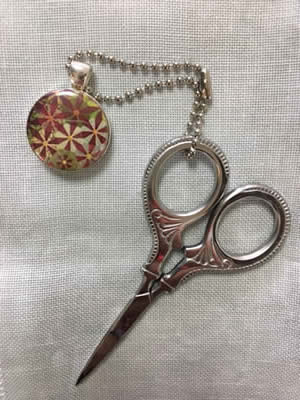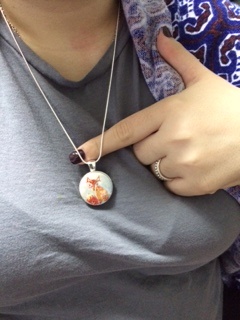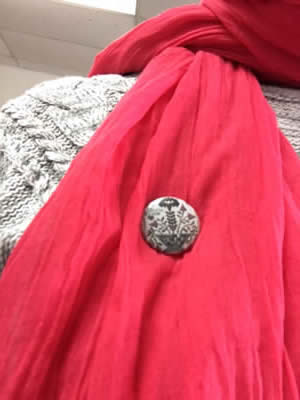 Now, as far as clicking thru on these goodies, if you click on the picture, you will go to the NEEDLE NANNY; if you click on the word below it, you will go to the DOT (with the option to add the fob or a necklace).
Bessie ~ My Lady ~ Louise & Henry
Liberty Hill Inn ~ For Freedom ~ Mercantile
Lantern Lane ~ Winter Plaid ~ Simple Joys
Old Red Barn ~ The Inn ~ Two Red Houses
Farandole d'Hiver - from C'Mon Monde. This is a darling little series of critters for each season ~ a Farandole is a folk dance from the Provence region, sounds somewhate similar to a Maypole dance. I love this little winter guy with his bluebird friend. Also each chart gives you several translated charts for whichever language you prefer!
Farandole d'Ete - from C'Mon Monde. How cute is this little sailor guy? Love the sailboats & the fish & hey! The bluebird's back!
Farandole de Printemps - from C'Mon Monde. A cute little bunny out watering her veggies ~ and chatting with mr bluebird!
Farandole d'Automne - from C'Mon Monde. TOO CUTE!! Mr Fox out in the fall colors...but wait! Where's the bluebird??
Threadkeep: French Sheep - from Kelmscott. Isn't this darling?? Very vintage, with that vintage postcard image & such a sweet little lamb!
Mini Needleminder: Sheep - from Kelmscott. Another of her minis, this 1" square minder has a beautful sheep on a chocolate background.
Threadkeep: Little House Queen - from Kelmscott. I can't be sure, but it looks like she's holding a model of Notre Dame...anyone?
Threadkeep: Love Roses Vintage Postcard - from Kelmscott. This might be my fave ~ and I am neither a valentine or rose fan. But I think this is gorgeous. In fact, I'd like to wrap a ribbon around a vase like that. IN FACT, I just realized why this appeals to me ~ the ribbon is tied like a pointe shoe!!
Well, now that we're deep in the dead of winter, it's time for the Springtime Mill Hill kits! It does craze me a little that they come out so far in advance of the season (I mean, really, it's not like they're 20" x 20" solid stitching), BUT they are so pretty & that's really nice when everything outside is dreary & grey! All the kits include the chart, perf paper, floss & embellishments. Frames are available separately.
Lighthouse - I love the sky in this one!
Fabric Shoppe - As I often say, I don't want to stitch this, I want to go in this!
Carrot Garden - Fabulous detail on this! I love the ant on top of the poke.
Laundry - So, I hope there's enough people out there who recognize what that thing in the middle is...because we're quickly getting to the point where fewer & fewer do!!
Goldfinch - This one is gorgeous!
Hydrangea - My favorite!! Can't wait for summer!!