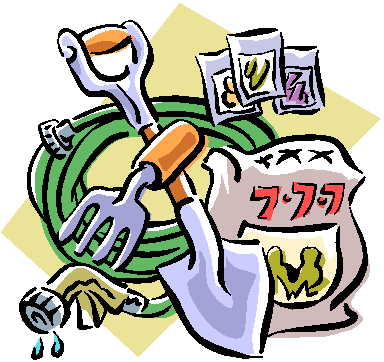 Yep, it's time to get your hands dirty!
Now that Mother's Day has come & gone, my grandmother would say it's time to plant your flowers! Of course, this also coincides with baseball games, practices & tournaments ramping up, so my "garden" is currently growing 1 bleeding heart plant, 1 butterfly bush & the 10 larkspur that didn't get uprooted 2 years ago...oh, & 3 or 4 half-buried baseballs (with & without covers), Ruthie's train that she is determined to set up this year (we have the "stanchions" for the track pounded in & about 3 pieces of track) & a handful of matchbox cars. The deeper you dig, the younger the boys' toys get! Having said that, I shudder to think what the coming years will find in my "flower bed". You know how archeologists can tell you so much about ancient civilizations based on what they excavate? Well, when they excavate my yard they'll be seriously scratching their heads!
So, being that I don't manage to get too many flowers planted these days, much as I try, I console myself with pulling weeds ~ and there are ALWAYS plenty of those! And no, I don't wear gloves, so my hands are a horrible mess. And that's why I can't stitch with silk during the summer! We'll completely disregard the fact that I generally don't use silk anyway. Did ya see how I did that? I've managed to blame those boys for the fact that I can't stitch with silk! As I like to tell them, it's a good thing they're cute! In pictures.
Ah well, that's why I stitch. I can make my own "garden". And in that vein, here are the newest "seeds" for your garden!
Trust Me - from Serenity Stitches (aka, ABBY!). Abby's newest finish. I love this ~ I like how it's stitched on night-time fabric with stars & moon, because isn't this when all our fears & securities really get to us? And yes, this is one of our hand-painted frames!
Give Praise kit - from Janlynn. What a lovely design this is! This kit includes 14ct aida & your floss. So often, especially during the summer "travel" months, it's nice to be able to pick up a kit & go!
3 Little Words: Dreaming is Free - from Lizzie Kate. Oh so true! I am really liking this series! I think I'm going to do mine as separate little pieces & hang them all around the house.
3 Little Words: Embrace the Journey - from Lizzie Kate. Definitely good advice, every time you head out the door!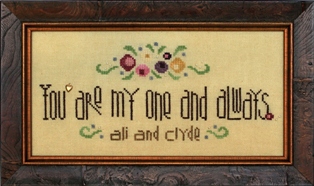 My One & Always - from Heart in Hand. What a wonderful wedding sampler!! Or perfect for an anniversary. Or even a non-wedding! There are so many appropriate events for this!
Feathers - from Hinzeit. And have you noticed that reminders tend to appear when you really need them?
Faith Hope Love - from Hinzeit. So excited to see anchors everywhere these days! I used to have a necklace with a charm like this design. Loved it.
Enter Happiness - from Hinzeit. I like how this starts out nice & ends up snarky!!
Hope Blooms - from the "Whimsical Edge" of Kelmscott Designs. LOVE LOVE LOVE this!! This chartpak comes with the 3 gorgeous gerbera daisy buttons.
Thinking of You - from Serenity Stitches. Yep, another darling creation from Abby! If you feed your soul the right food, you can grow love too.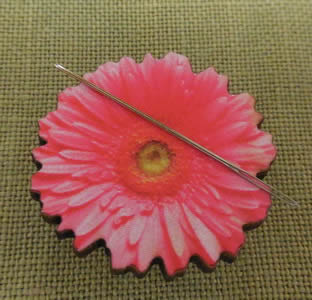 Needleminder: Pink Bloom - from Whimsical Edge. This looks so real! And so, so pretty.
Summertime Sliders from Just Another Button Co.
Tasty, juicy & sweet! stitch up one of these, or do all 3! These are felted wool pincushions that come with the wool (the scalloped bottom layer is precut for you), directions & buttons. The cute pins come separately.
Tropical Melon ~ Citrus Splash ~ Summer Treat
Symphony Bouquet - from Designworks. Oh so elegant! This would be lovely for a Symphony Gala. Or my house!!
May Flowers - from Pheasant Street. LOOOOVE this one! Of course, it's blue (yay), & I love the quilt over the fence & the flowers...I would love for my flowers to grow like that!
Flower Market kit - from Janlynn. Not quite like the Flower Market at Rockford Park, for all of you who live close by here. Definitely reminiscent of so many European markets I enjoyed over there. So I'll just stitch this & enjoy it every day!
Cream & Sugar - from Mirabilia. Oh. My. Goodness! What could be more lovely than Nora's creation of delicate teacups & beautiful blossoms? Stitch 1 or stitch all 6! We've each picked our favorites around here!
Home by the Sea - from By the Bay. I love this little picture ~ a simple little house by the sea, stitched on darker fabric than you normally see. Her explanation: who doesn't enjoy a stormy day at the beach? I know I do. And as the saying goes, a bad day at the beach is better than a good day, well, ANYWHERE ELSE!
Sea Breeze Vista kit - from Janlynn. Oh how I wish this was my "vista" from my desk...of course, I would never get ANYTHING done.
Seashell - from Hinzeit. So great to stitch for a beach house or to remind you of the beach!
Sand Dollar - from Hinzeit. The best currency on the beach!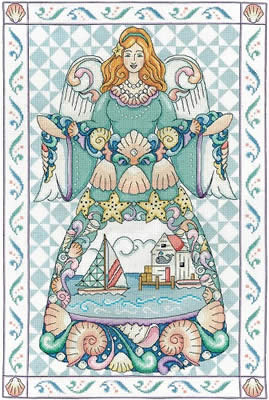 Seashell Angel - from Designworks. We've been waiting & waiting for this one to come back in stock at our supplier! Another beautiful Jim Shore adaptation. LOVE this!

Seashells - from Hinzeit. Look at the tiny little shells on this design! Just perfect for this!
Rainbow Beach Huts kit - from Anchor. Pick out your fave, but you can't have mine (that blue one with the anchor on the door!). I just love this!
Rainbow Beach Chairs kit - from Anchor. This was the first of this series that caught my eye. For any of you who've spent summers at Myrtle Beach, you'll agree that this is what the beach looks like ~ lots of pretty beach chairs & umbrellas! LOVE this.
Square.ology Ahoy! - from Just Another Button Company & Hands on Design.
This new series of designs are darling. The premise is that with just a quarter of the chart you can stitch the entire square design. I happen to love this collection, but I am not enamoured of this charting idea. The way this works is you stitch the top right corner of the design, then turn THE CHART 90 degrees and stitch the bottom right corner. Continue to turn the chart another 90 degrees, etc. The thing that you MUST be aware of is this: you can turn your FABRIC 180 degrees (ie, upside down) & your stitches will still lay the same way. But you CANNOT turn your fabric 90 degrees. If you do that, then your stitches will cross in the wrong the direction. So, be very careful as you stitch this, as your tendency will be to turn the fabric: DON'T DO IT! If you keep that in mind, you'll be just fine & will be able to whip up these fun & quick to stitch seaside goodies!
Sail Around ~ Sandcastle Frame ~ Octopus Dance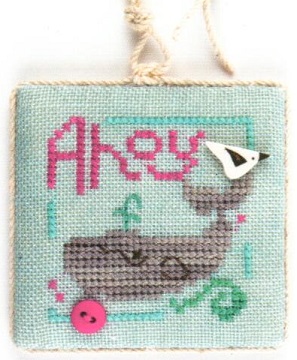 Square.ology Ahoy - from JABC & Hands On. This little cutie would make a cute little fob!
Morning Calm - from Heritage Crafts. Isn't this cool? I think both these designs look like a little European harbor.
Quiet Moorings - from Heritage Crafts. Love these little boats, moored up & waiting for the next tide.
Rainbow Flotilla kit - from Anchor. LOVE LOVE LOVE this!!! Look closely and see how many pets you can count aboard! This is such fun!
At Sea Cats - from Designworks. What a crew! They're totally trolling for dinner!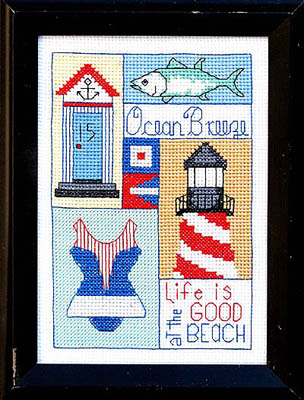 Ocean Breeze - from Bobbie G. Stitching this might be almost as refreshing as an ocean breeze!
Paulette is releasing a trio of patriotic treasures to stitch!
Winsome Pair - from Plum Street Samplers. This cute scottie dog is giving his bald eagle friend a ride!
George & Martha - from Plum Street Samplers. The FIRST First Couple at home at Mt Vernon. The stars look like fireworks!!
Party Tarts - from Plum Street Samplers. FINALLY! The one place where both parties can get along!!!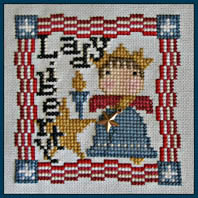 Lady Liberty - from Hinzeit. Just when you are thinking, "that's cute", you realize that her "skirt" is the Liberty Bell!! Clever!
Land that I Love - from Country Cottage. Couldn't resist sharing this little snippet of Nikki's next creation!
Summer Threads - from The Primitive Jewel. I love this design. And I really like the creative use she's come up with here!
Summertime Coverlet - from Heartstring Samplery. There's just something about coverlet samplers the reaches to me. And really, what could be better than a SUMMER one? I love the flowers repeated at the top of this & then all the creatures ar the bottom. Symmetry!
Aunt Helen's Sampler - from Carolina House. Redwork samplers also get catch my eye. I particularly like the way she's finished this.
Mrs Maguire's Garden - from Pineberry Lane. Looks like she's got a really nice garden going here ~ and all resting on a layer of pins & needles! Wonder what the archeologist will say about that?
Sepia Sampler - from Notforgotten Farm. A fun twist on old sepia photos, this sampler makes you think of the same time frame.
Stitching Things I - from Homespun Elegance. This darling design has been revised & reprinted from one of Sandra's earlier creations. So nice to see it again!
Stitching Things II - from Homespun Elegance. Another perfect design for your stitcher's basket.
Dairy Farm - from Pheasant Street. What a lovely pastoral scene ~ rooster & cows, sunflowers & trees, and a pretty manor house. I also love that she has created those cute scissor fob & pinpillow smalls!
Sunflower Love - from Homespun Elegance. Happy, summery sunflowers!! Great for summer stitching!
Nancy Cassell Sampler - from Samplers Not Forgotten. Another GORGEOUS sampler from Kimberly! And we are playing 6 degrees of separation on this one. You see, the lady in the picture here stitched the original sampler in 1841. It was than passed down thru the family & currently belongs to Stephanie J., one of our customers! She got in touch with Kimberly & asked her to chart it & here it is!! As always, I am IN LOVE with the border! And somehow, it is even more enticing when you have even a teeny tiny connection! So thank you Stephanie & Kimberly for this lovely sampler!
Caroline Woolman Sampler - from Queenstown Samplers. As you might surmise, this was originally 2 samplers, but Barbara stitched them on one piece of linen & it is fun! The verse reads:
"To crown both my age & my youth
Let me mark where religion has trod
Since nothing but virtue and truth
Can reach to the throne of my god"
Barbara shared this information about the stitcher: "Caroline is connected to many of the original families of Quaker Friends in Burlington County, NJ. She was the great grand-niece of John Woolman (1720-1772), who was a teacher, merchant, tailor, author - journalist, an itinerant Quaker preacher and early abolitionist. His writings are well known. In 1768 John Woolman published A First Book for Children. The book contains the first bold, Roman alphabet used by Quaker schools for many decades after. It is most appropriate that Caroline worked her humble sampler with John Woolman's alphabet."
Maria Ceron Mini Sampler - from Lindsay Lane. This is the 3rd istallment of a series based on a large antique sampler (see below). Meg has broken it down into sections, so you can stitch just the ones you like, or the whole thing. Also, she initially stitched her repro's in colors that match the original piece, done by looking at the threads on the back of the original. These colors were much brighter than what you see on the original now, thanks to fading. But after lots of stitchers requested color changes to match the front, she's also created a "faded" color key. Which do you prefer?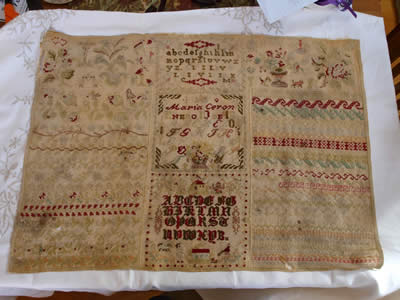 I Stitch - from NotForgotten Farm. Is this not dear? Lori designed this as a primitive little bracelet & we love it.
Samplermaker's Hornbook - from NotForgotten Farm. Stitch this sweet little sampler & finish on a hornbook or as any tiny creation!
A Happy House - from Summer House Stitche Workes for Stitchers Village. This is Beth's version of her "ideal home". We just love this colonial looking home with flowers & a pretty fence!
Love Lives Here - from Kelmscott. This is a really great idea! Paula has designed this to stitch for any new home. It's just right for a housewarming gift. And it's not a ton of stitching. The house button is lovely without being any one particular style. Stitching is done in black silk, but you could use any color you like.
A Country Village Home - from Margaret & Margaret for Stitchers Village. A charming home in a country village, surrounded by family & friends! Just right.
Friendship - from Hinzeit. A pretty design & a certain truth. Thank goodness for friends!
You Are Loved - from Hinzeit. This is a wonderful design of this meaningful verse. Certainly one you could stitch for a guy & they wouldn't think it was too "girly"! Not an easy task.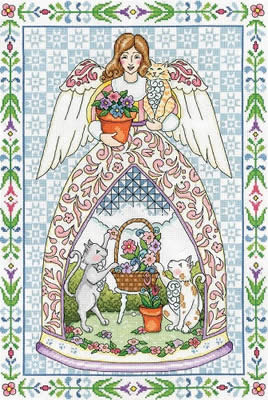 Kitten Angel kit - from Designworks. Oh so sweet! Such darling little kitties!
Baby Boy (shadow) ~ Baby Girl Shadow - each from Hinzeit. Took us a bit to figure out the shadow ~ it's a rocking horse, in case you're in the same boat. Perfect for it you want to stitch just a little something for someone.
Need something for the kiddos' bathroom? Stitch 1, 2 or all 3 of these! They're cute & quick!
Brush Teeth - from Hinzeit. This one needs to be stitched on 10 count over 2, in my opinion!!! Or perhaps tattooed backward on my nephews' foreheads!
Splish Splash - from Hinzeit. Yay! Tubby Time!
Wash Hands - from Hinzeit. She did a cute job of those hands, but what I love is the drop of water!
Summer Owls - from Madame Chantilly. Ah, those owls! Looks like they're ready for summer at the shore!
Everyday Bowl Fillers - from The Primitive Jewel. More little pinpillows for stitchers!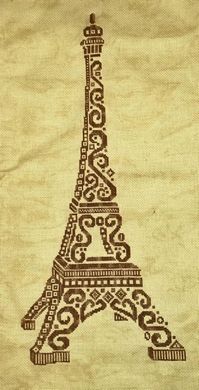 Tribal Eiffel Tower - from White Willow Stitching. Another fantastic rendition of this iconic tower!
Wee Petites - from Keslyn's. These tiny little motifs are lovely done all together as shown here, but I want to stitch one & finish it in one of the pocket watch frames as a necklace.
Mahogany Crown - from Keslyn's. Such a pretty design ~ I love this symmetrical pattern.
Felicidad (Happiness) - from TA Smith. Happiness is just what this makes me think of! It's cheery & a bit sparkly (not literally sparkly). This is another great one for choosing a fun overdyed thread & making it your own!
RYO Mandala Set 7 - from Ink Circles. This is one of my favorites in this series ~ I like how she's pulled differently shaped sections, instead of just round or square. These also remind me of my COLORING BOOKS!
Precious in Pink - from Keslyn's. What gorgeous needlework "smalls"! Love the pattern ~ especially those teeny tiny finishes!
Cottage Grove - from Keslyn's. Another beautiful design to fit in our insanely popular round boxes. These would make lovely bridesmaids' gifts ~ stitch them in your wedding colors to personalize. Also nice for a graduation gift!
Fancy in Purple - from Keslyn's. Oh so pretty! As always, I'm enchanted by the geometric look of these.
September - from Cricket Collection. Hooray! The next 2 charts in the calendar series! September is chock full of all the things that make Autumn great!
October - from Cricket Collection. Pumpkins & black cats, witches & ghosts ~ all in front of a huge full moon.
The last 4 charts in the "Joyful Journal" series are on the way! These have gotten cuter with each month! I love the little vignettes the are perched on the border. Remember, the series started with December.
August ~ September ~ October ~ November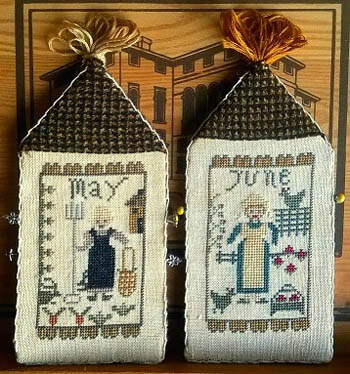 Amish Girls: May & June - from Niky's Creations. These ladies are getting their summer garden ready!
Halloween - from Sara Guermani. A new chart coming soon from one of our favorite European designers! This one is full of spooky spiders & busy witches, giant pumpkins & scary castles!
Stitching & Quilting Party - from Sara Guermani. Okay! Wouldn''t you love to go to this party?? I guess stitching this is the next best thing to being there!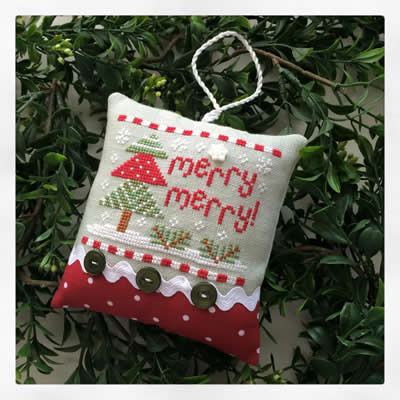 Classic Collection Ornament #10: Merry Merry! - from Country Cottage. I love the tree in this ~ it's whimsical & cute & makes me smile!
Needleminder: Andrew's Key - from Kelmscott. Who holds the key to your heart? Your stitching needle, of course!
Needleminder: Home - from Kelmscott. Look at the gorgeous pattern on this house! I'm ready to move in.
Needleminder: Whale Weathervane - from Kelmscott. Oh so New England! Molly's already called dibs on the first one.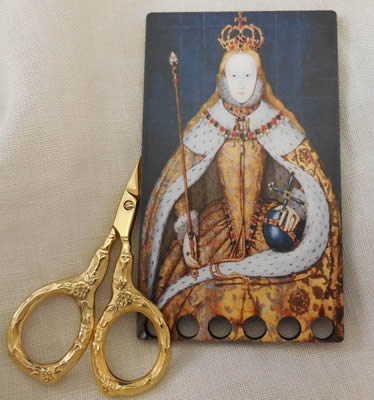 Threadkeep: The Gold Queen - from Whimsical Edge. Ah, yes. It's good to be the Queen. These are really neat!

Couple of items to share with our mailorder stitchers! We've had several folks questioning the cost of shipping & handling. We have these inquiries from time to time & so we like to try & let you know what happens (& what doesn't). Please understand that we are not Amazon or LL Bean. Also, there really is no such thing as free shipping ~ you're paying for it one way or another, and we prefer to be out front with it, instead of burying it in the cost of the item you're buying.
We set up our tentative s&h prices based on the cost of what you are buying, as opposed to the size & weight of the order. Having said that, we lower it if it's at all possible. In the past, we have used UPS as our preferred shipper for anything remotely costly. However, recently the UPS charges have skyrocketed & we really only use UPS for orders over $100. We have shifted to Priority Mail for most of our shipping. But we've had lots of folks ask us to "just stick it in an envelope". And guess what's been happening? Orders are not reaching our stitchers. We've had to replace orders sent to New Jersey, Texas & Hawaii that got lost in the postal system. So we are NOT going to "just stick it in an evelope" anymore, unless you understand that if your order goes missing you'll have to pay again for it to be replaced.
Frequent Stitcher's Rewards Points
Many of y'all are very familiar with our Frequent Stitcher's Reward Points. But if you're a mail order customer, or new to our shop, you may not understand what's going on or how to "read" the point system. So here's a little primer on how it works!
For every dollar you spend in the shop (that's not a sale item), you get a point. When you reach 200 points (spend $200 on items not on sale), you are eligible for a 20% off shopping "visit"; ie, you can redeem your points to get 20% off your entire purchase anytime you like. There is no time limit (ie, it never expires). So you can use it on your next purchase, or you can save it for a big purchase. The only thing you cannot do is use it in conjunction with another promotion (ie, no double-dipping), or for finishing costs or framing labor (framing supplies ~ frames, mats, glass ~ are eligible).
So how do you know where you stand? If you're in the shop you'll see your points printed at the bottom of your receipt. Also, if you're in the shop & you reach 200 points with your purchase, a coupon will print on the bottom of your receipt & we will point it out to you. You'll have to keep track of it to use it, because you have to give it back to us when you want to use it.
If you are a mail order customer, your points will print at the bottom of your invoice. However, when you reach 200 points we do not "redeem" your points or print a coupon, because for the most part you aren't going to be physically handing in your coupon to us in order to take advantage of your discount. When you reach 200 points, we try to pop a note in your box to let you know, but it doesn't always happen. So what we are going to do going forward is to highlight your points on your invoice when you reach 200 points. After that, all you have to do is tell us you want to use your points whenever you decide to use them (you can just note it in your comment section of our online order).
Remember, you don't have to use it on the next purchase you make ~ I mean, what if you just need a pack of needles? Who wants to waste 20% off on that??? Also, it never expires! So don't panic!
And last but not least, when you redeem your points for 20% off, we'll drop your coupon in our basket & at the end of each month we draw one & that person gets a $50 gift certificate. And yes, we put mailorder coupons in too!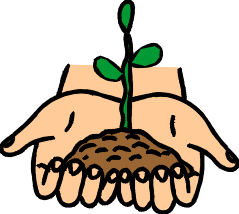 As our days get longer & warmer, be sure to take time to feed your soul ~ no matter how that happens. Summer generally finds us going on vacations, visiting family we don't see every day, going places we haven't been or places we love to go. But don't get caught up in rushing here & there that you miss time JUST FOR YOU. Stitch, read a book (!!), work in your garden (0r just pull some weeds), play with your dog, COLOR (!), read to your grandkids if they're close by, go get ice cream by yourself, take a nap (another of my FAVORITES)....
There are as many ways to treat yourself well as there are people in the world ~ don't let anyone, ANYONE tell you how to spend your precious spare time. At the end of the day, the VERY END of the "day", you won't regret reading an extra book instead of working an extra hour, you won't be sorry that you took a personal day to go to the zoo with your kids instead of slogging thru another non-essential 8-hour day, you won't feel bad that you chose to go get a pedicure instead of doing laundry. There's a phrase that always sticks with me ~ "don't be so busy making a living that you forget to live your life".
We have lost 2 different & disparate people in our TSS family in the last week. For many of us (me included), this type of loss makes us "take stock" & evaluate what's important. Both of these people had folks who loved them & each of them did things that fed their soul ~ stitching, spending time with grandkids, loving their pup, volunteering. And while those of us left behind will miss them, we can take a little bit of comfort in the fact that they left behind good memories with us. So go out and make some good memories ~ even if they are "just" for yourself.
Hugs & stitches ~
Beth & all the memory-makers at TSS