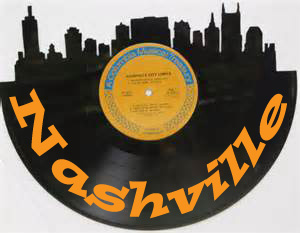 Once again, I've blinked & it's Nashville time again!!
Generally, this freaks me out, but as this is my "vacation" as well as a work trip, I can't wait for it to get here! If Nashville is ever a vacation option for you, you should go! We love it ~ it's a great city, great food, lots of fun little shops in different little neighborhoods (we don't spend a lot of time "downtown" any more). The Market is actually south of the city in Franklin, and THAT is a great little place to spend the day (or 2)! Molly & I have started mapping out our food excursions (currently, we have enough different places to eat to cover about 3 weeks of meals...not sure how much time we're gonna be able to dedicate to the Market...just kidding!!). We're also looking forward to discovering new shops, as well as visiting our old favorites.
In fact, I'm gonna plug our absolute fave right now! It's called Philanthropy & it's in Franklin. They have lots of fun, different clothes, jewelry, & home items, similar to Anthropologie, but much much more affordable. But the biggest attraction is the fact that this shop is about PHILANTHROPY! They pledge a minimum of 10% of their total sales (NOT THEIR PROFITS, but their SALES) to support charities locally, nationally & internationally. They have a "prayer wall" where you can leave a prayer request & read others' requests. It's not preachy or overpowering & if you're not particularly religious it's not going to be a turnoff (in fact, we didn't even realize all the background until our 2nd visit). It is WONDERFUL! You can visit their website at http://philanthropyfashion.com.
But back to cross stitch!!
This will be the page where I give ya ALL the yip yap! I'll be sending out newsletters too, but if you come to this page on the website, you can see it all in one place (then you don't have to remember "which newsletter was that...."). On our home page (www.strawberrysampler.com) you will see our little Nashville logo (see above). By clicking on that any time it will bring you right to this page.
Also you can go to the Nashville 2017 page & see everything I've posted to date in the system!
WE INTERRUPT THIS YIPYAP TO BRING YOU BREAKING NEWS ON THIS YEAR'S NA$H CA$H STORY!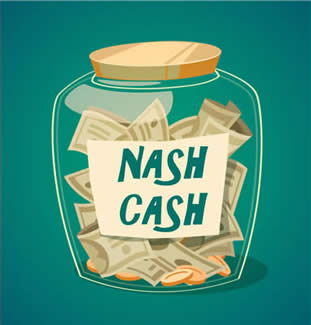 So this year's Nash Cash is similar to last year, but with a little twist! We'll begin with the basics:
For all purchases of $25 or more, you will earn 20% in Nash Cash (ie, for $25 purchased, you earn $5.00). Now, if you like, you can cash it in immediately on your Nashville order.
OR
You can BANK IT! There are 2 advantages to BANKING. #1 is that you'll be accumulating Frequent Stitcher's Points on your account (which you won't get if cash it in. #2 is that SHOULD YOU CHOOSE TO BANK IT, you'll bank it at 25% of your purchase amount (it's kinda like earning time & a half when you work overtime!). This is just like cash, that you can spend, beginning April 1st & running thru June 30th!
CONFUSED YET??
Don't worry, I'm gonna do a little side-by-side comparison!
Premise: You spend $100 on Nashville goodies.
CASH IT

BANK IT

PURCHASE

$100

$100

NASH CASH EARNED

$20

$25

Frequent Stitchers Points Earned

$0

$100

Nashville purchase price

(excluding tax, shipping fees)

$80

$100

Nash Cash you can spend on anything, April ~ June

$0

$25
So it's up to you! You just need to tell us CASH IT or BANK IT. And yes, for all of you who have already placed your orders, this will apply to those orders as well. You can shoot us an email & let us know. If we don't hear from you, we'll EMAIL you to find out. Again, I know lots of folks are telling us they don't always check their emails any more. I get that, I'm one of those people. But for this you're gonna need to make an exception.
Now, some of you may be wondering, "What on earth are Frequent Stitcher's Points & why do I care?" Fair question, as we never know who's already heard this & who hasn't (or, who's like me & heard it but already forgot...). When you make a non-discounted purchase, you accrue Stitcher's Points. 1 point for every dollar you spend. These show up on the bottom of either your receipt (if you're in the shop) or your invoice if you do mail order. When you reach 200 points, you can redeem them ANY TIME YOU WANT to get 20% off an entire purchase. The only things it doesn't apply to are: finishing, framing labor, Lone Elm products (as these are not available to us at regular wholesale prices), DMC (already discounted), Dazor Lamps (already discounted), & anything else already discounted. So, you can't come in on Super Bowl Sunday (when everything's already 20% off) & redeem your points. So you can see how that would impact you if you chose to BANK your Nash Cash. So be sure to let us know what you want to do with your Cash!
Another thing while we're on the topic of email & communication! I will beg you again to use the online ordering system. The biggest reason we prefer this is that we know EXACTLY what you are selecting (vs an email or phone call asking for the "sping flowers" design). We've heard from folks after I last posted this with several reasons not to use it & I'll try to allay those reasons.
If you are a local & want to come pick up your order, THAT'S FABULOUS! No, we will not charge you shipping & handling (even though it's gonna say that on your order). Just put in the comment section that you will be picking this up.
You do need to enter a credit card number. Our system is secure. One of the security things is that as you enter your credit card number, it's not gonna always look right ~ THAT'S OKAY! That is done so that if someone was standing over your shoulder at Starbucks, they couldn't copy down your info.
If you would like fabric for a design that we don't have listed with that design, you can do 1 of 3 things:
1 ~ you can go to our fabric section & select from what we have up online (although I acknowledge that I do not have up everything we have on hand & as soon as I clone myself 50 times, that will be one of the clones' jobs. I've tried to teach Charlee how to work on the website, but all she wants to do is post selfies & order dog toys online).
2 ~ you can put a message in the comment section that you'd like fabric (&/or floss, embellishments, whatever!) for certain designs.
3 ~ you can shoot us an email in reference to your order & tell us what you'd like.
Corollary to this item is, if we have a fabric (or fibers) listed but you don't like it (say, 40 count linen), again just let us know in the comment section that you would prefer a different fabric (say, 16 count!). We will try to get fabric as close to what was originally used as possible.
If you are still uncomfortable using the online system, our 2nd choice would be an email from you. If you do this, PLEASE GIVE US AS MUCH INFO AS POSSIBLE. We need the name of the design, the designer, the price, anything else you can give us. If we have questions, we'll email ya. ALSO, don't ~ DO NOT ~ email your credit card info!! Our online system is secure; but email is not. If you email your order, then just give us a call at the shop with your charge info.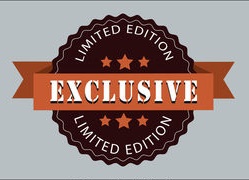 We're gonna start with the Limited Edition items, because if you want those you need to order them NOW, particularly the Italian items, so that we can pre-order them & make sure you don't get left out.
HOME Pindrum - from Summer House Stitche Workes. This is the 1st of 3 ~ Home*Hive*Nest ~ and it's just the finishing kit that is limited! It includes: Weeks wool, quilt cotton and bronze cast charm for finishing.
Bewitched - from Praiseworthy Stitches. This sweet Witch Owl is mounted on a black tin as pincushion and includes adorable smalls. The tin is lined with a band of cute Halloween creatures. Smalls feature a flying cat thread winder, a jack-o-lantern stitch counter, the cutest owl scissor fob and a tiny trick or treat bag thimble holder. Materials used include cotton floss, calicos, linen, ribbon, & beads. All materials and complete finishing instructions are included.
M'Lady's Posey Necklace - from Praiseworthy Stitches. Another darling little kit! Order very early!
Gratitude kit - from Heart in Hand. This limited edition kit includes all the supplies you need to stitch & finish this lovely little pillow, except the floss. You get the linen, chart, finishing instructions & all the finishing fabrics & trim!
Try a Little Kindness Limited Edition - from Heart in Hand. This is such a sweet little design. This Limited Edition kit includes 32 count cream Belfast linen and a tiny purple heart.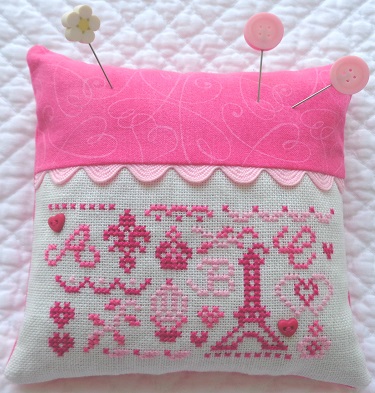 A Little French Pinkeep - from JBW Designs. The kit will include the linen (a #32 Belfast in Antique White), the print fabric for the pillow, two JABC buttons, rick rack, finishing instructions, a needle and the chart.
Again this year, we're gonna do this page by Designer. And we're starting with the gals coming from Italy! They always ask us to preorder as much as possible so they know what to bring with them!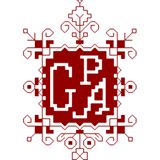 Giulia always has stunning designs for us & this year is shaping up to be another winner!
Nora's Pillow - this beautiful pinpillow is available as a LIMITED EDITION KIT (which includes EVERYTHING except the pins & fiberfill); or you can purchase the the chart separately & add on what you need (maybe you'd like to change the colors...there are only 2).
Raffaellesco, a Deruta Sewing Set - This stunning stitchers roll & accessory set features designwork from the Deruta region of Italy, which is famous for it's gorgeous ceramic work ~ the bead in the tassel is similar.
Canada, Land of Hope - LOVE this design!! Isn't her little dog sweet? I also like the needlebook & scissor pocket. The tray & stitcher's cache are also available. This is a treasure! You can always change the flag if you like (if you don't live in Canada!). She includes directions for making the strawberry pincushion as well.
Izannah Walker's Box - this design has such a sweet primitive schoolgirl feel to it! I love all the little goodies you can put in the Candle box from Lone Elm.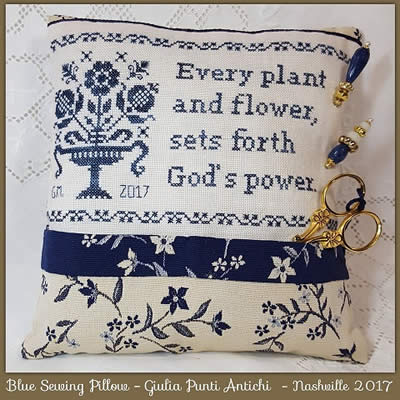 Blue Sewing Pillow - LOVE this design ~ it reminds me a little bit of my Aunt Marya's blue & white china! The finishing kit (which includes the finishing fabrics & cording) is available for just a little while.
Denise Pincushion Doll - Molly really likes this one! I like her little pin case.
Janice, A Thanksgiving Pincushion Doll - you can tell by the "harvest-y" colors that she's definitely ready for Thanksgiving!

Simona has some of my favorites so far!!
Land of Freedom - This is by far one of the prettiest Americana pieces I've seen in a long time!! Cannot wait to stitch this! And the Lone Elm box is perfect for finishing it!
God's Power Sampler - Is this not a gorgeous reproduction?? I love the grapes to either side of her name!
Red Bank School Sampler - What a fun primitive sampler! The peacock's tail is great!
Eliza Allen Sampler - oh my! Another gorgeous reproduction sampler!! Love the border & I spy a puppy too!
Eliza Allen Sewing Set - This is fun! She took different motifs from the sampler & made smalls for your stitching basket!
Rose Bouquet Pillows - Molly's fave! These remind me of those lovely old-fashioned berlinwork flowers!
Roses Melody Sewing Casket - STUNNING! This is just amazing! Love the colors & the scrolly stitch work!
Cardinal Mystery Sampler - This is gonna be soooooo fun! This will be released in 4 parts, starting in March! And the 2 cute little buttons are part of the design as well!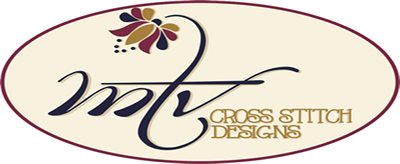 Maria Teresa's designs are quite soft & delicate ~ I love her colors!
Elegance in Bloom Sewing Box - I love all the detail in this ~ the colors are yummy & don't you think that cyinder pincushion is fun?
The Star Gatherers - This would make a gorgeous wedding gift, don't you think? Love the colonial feel to it.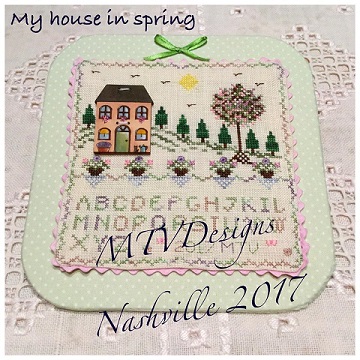 My House in Spring - This is her limited edition ~ the chart comes with the sweet little hand-painted house.
Dancing Dragonflies Sewing Set - I love the creativity in this design! So many fun smalls to stitch!
Secret Pincushion - This is my fave!! So soft in color & I love that she finished it on top of a Lone Elm Shaker pincushion.

Romina has a line of overdyed threads that are becoming quite popular with designers! I love her bold colors! And her designs are FUN!!
Confetti ~ Watermelon ~ Lavender Cream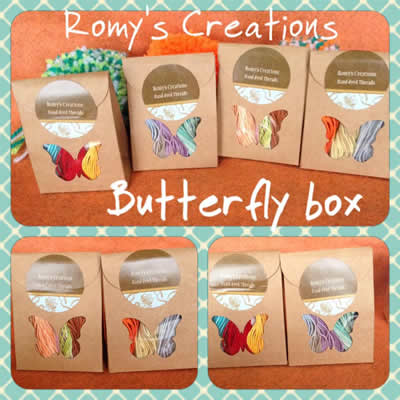 Butterfly Box - This is a fun little package & a neat way to try Romy's threads. Each one contains 3 colors ~ we won't be able to pick & choose, so we'll send you the one we like best!
Enchanted Wood ~ Tiffany ~ Americana
Stitch-in-Wood: Bear - Aren't these adorable? Each kit comes with the charts for each design!
Spring Flowers Threadkeep kit - Love this design! Chartpak includes handpainted threadkeep!
Bee My Friend - Too cute!!!
Time to Bee Happy - This chartpak comes with the yellow & white fabric!
Dreaming of the Sea - I think this is adorable ~ so fun! Perfect for a little one's room, especially at the shore!
By the Ocean mini sewing set - LOVE LOVE LOVE this!! This is for all my beach loving friends out there!
Wisdom Collection II - Both of these charts are included. I love both of these designs! Of course, I'm always partial to the Anchors!
United We Stand - Yes we do. And sometimes it takes a reminder from our friends across the sea.
Easter with Friends - I think this so cute!! Love the teacup!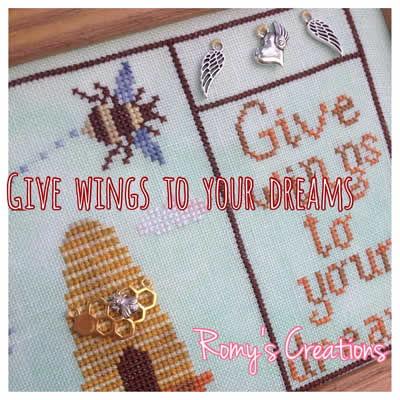 Give Wings to Your Dreams - The chartpak includes 4 charms. I love the honeycomb charm.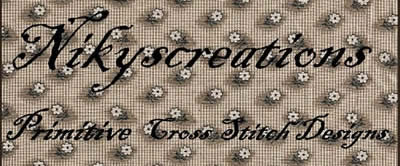 Niky is bringing wonderful goodies (as always!) & we can't wait to get our hands on them!
Blue Bunny Threadkeep Kit - this is a LIMITED EDITION kit! The bunny threadkeep is handpainted!
Rose - Isn't this sweet? I love the primitive arbor.
Alphabet Garden - I love the spring fling feel of this little sampler!
Spring Pins - There will be a few sets of these available for us ~ they are sweet little handpainted springtime pins.
Be Friend - I think this is a very dear little design!
House of Cooking - LOVE this! I wanna change it to House of Baking, though.
Tea for Two - Friends for Tea & Tea for Friends!
Girls Sewing Basket - Love this primitive little sewing basket! Niky includes finishing directions in the chartpak.

Isabel has SO MANY great new designs! It's hard to pick my favorite!
Colonial Hare - OMG! Thes 2 bunnies are THE SWEETEST! The picture on the right shows part of one bunny stitched on Isi's new "Boleyn" linen!
Love and Faith - Sweet sheep & a favorite verse of stitchers!
Salem Stitcherhood LTD ED - LOVE this design! It comes with hand dyed linen to stitch - wooden frame - pattern - parchment and photographs booklet with finishing instructions ~ this kit does not include the buttons and rusty bells.
Fraktur Family - this is such a pretty design! It would certainly make a great housewarming gift!
Now & Then - Hmmm, I can't decide how I feel about this...the top part is a lovely lady...but the underlayer is a skeleton. I get it ~ do you like it? Like I said, I can't decide!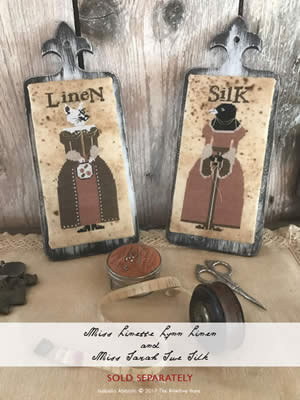 Two more lovely ladies of fiber!
"Miss Linette Lynn Linen" & "Miss Sarah Sue Silk" join last year's "Miss Harriet Hare Cotton" & "Miss Mary Margaret Wool".
Threadkeep ~ Hare Spirit - Love her hat!
Threadkeep ~ Hare Queen - This is darling!!
Threadkeep: Hare in the Moon - Love this!! So cute!
Threadkeep: Ocean Song - THIS IS MY FAVORITE!! I love this mermaid!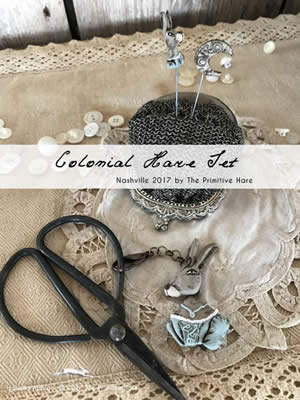 Colonial Hare Set - Pins? Fob? I like them both!
Sheep Company Pin set - Love the balls of wool & the shearing blades!
Boleyn Linen, 30 count - This is really cool linen ~ she's printed on one side of it & it looks like old parchment!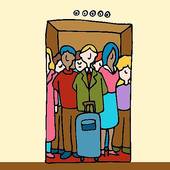 2nd Floor
The 2nd floor opens in Italy! Okay, not literally, but, 4 of the 6 Italian gals are on this floor! You've already seen everything from them that we've seen, so we'll travel on around.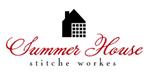 Beth has the neatest way of creating something...with a twist! Things are never quite as they seem ~ and that's what makes it fun!!
1799 Workbasket - These creations are based on a PA German Sampler from 1799. She hasn't reproduced the sampler in its entirety, but instead has used the alphabet to make a stitcher's roll & some of the motifs to make an ort box/pincushion using a Pincushion base from Lone Elm & a needlebook stitched on wool!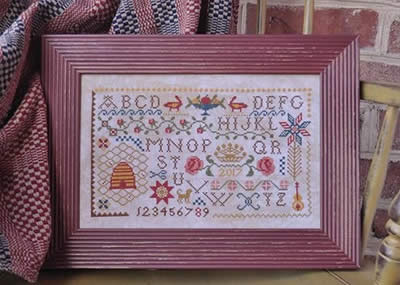 Reality Check - this is my favorite fun thing!! Looks like a nice spot motif sampler, right? EXCEPT! Hidden within the sampler are references to 15 different reality TV shows!!! And she's not telling us what they are right away! But we have an inside track here ~ and her name is NINA! I have faith that she can tell us most, if not all, of them!!
HOME*HIVE*NEST ~ Home - I know I already showed you this with the limited things (the finishing kit is limited), but I thought I'd show you again! It's the beginning of a 3 part series ~ HOME*HIVE*NEST ~ that will each be these charming drumroll pinkeeps! HIVE comes out in June & NEST in September.
Fragments in Time, parts 3 & 4 - I absolutely love this year's series! The colors are gorgeous & I love the sampler motifs!

Tracy's designs often have a Mandala, or other type of symmetrical appearance! And you know that appeals to me!! So far, she's released pictures of 3 of her Nashville designs, but I know for a fact there are more. So you'll have to "come back" to this one!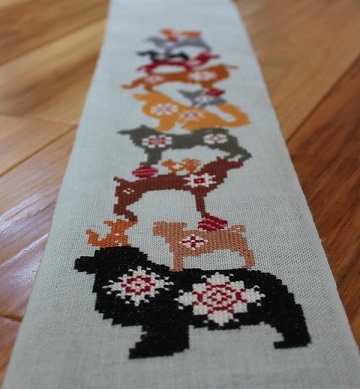 Dog Pile - a bunch of y'all already saw this on Facebook! Isn't it adorable?? Can't wait to see how she's finished it!
Dragons of Sumatra - How cool is this?? This sampler is based on antique Indonesian motifs. I LOVE the borders ~ love how they change at irregular intervals! Can't wait.
Green Damsel - this dragonfly design is a companion to her Red-Headed Bee & Blue Morpho butterfly designs! Lots or dragonflies flitting around on this!
She has 3 more designs (that we know of) called "Arranging the Sewing kit", "Dark Shards" & "Chalkboard Mandala".

Cathy continues to create some of the most darling "out of the box" designs! Ruthie is addicted to her Block Party designs!
Good Ship Sampler - This is one of my FAVORITE verses! And I think this is a really fun rendition of it! And the little sampler, Cathy said, is made up of "left over" motifs! Love it!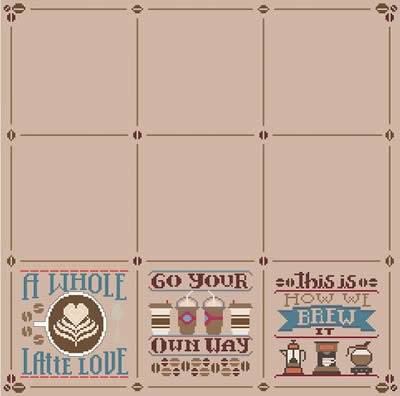 Cool Beans - this is for all you coffee lovers out there (or, if you are like our very own Carolynn & you work for a coffee company!). Collect & stitch all 9, as laid out above, or pick & choose your particular brew! Charts 4-6 will ship in May, charts 7-9 will ship in July.
Cool Beans: Whole Latte Love - sad to admit, that I JUST saw that this is looking straight down into a coffee cup, with the foam design on top... Obviously not a coffee girl.
Cool Beans: Go Your Own Way - is your to-go coffee hot or iced? Either way, get it to go!
Cool Beans: Brew - I don't drink coffee (I prefer my caffeine cold & carbonated), but I love the smell. So much so, that I have considered getting an automatic coffee maker so that I could have it kick on in the morning & make the house smell like coffee. I have, thus far, resisted that temptation.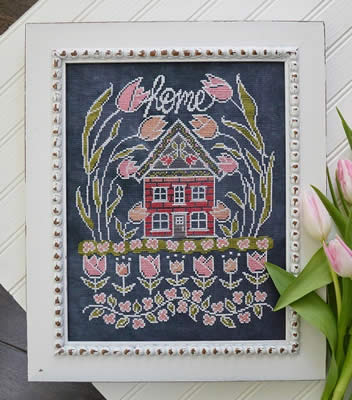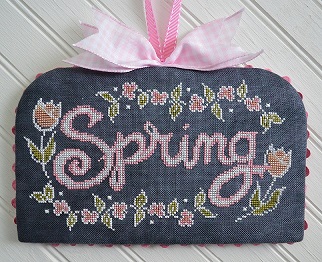 Chalk for the Home: Tulip House - Cathy does such a cool job with this chalk designs! This is a new series of 4 Home designs ~ one for each season would be my guess! LOVE Tulip Home. Of course (as usual)my favorite part is the house! Also included in the chartpak is a 2nd design, Spring, with lots of elements taken from Tulip Home!
Well Hello There! - This fun chartpak includes all 12 monthly designs! Cathy's inspiration for these was all the cute little memes you see on Facebook or Instagram where they take a picture or image & overlay words on it! So Cathy decided to do a group of cross stitch memes! Each month says "Hello...." & is decorated with button emojis (you know, the little images you can add to your text messages or Facebook messages). All the button emojis are fun little motifs that you associate with that month! The finishing on this is also really clever! There is one board & Cathy has a tutorial online for how to finish your stitching & then you use velcro to change them out each month. These are so fun ~ and my favorite thing? They're in bright, contemporary colors!! Do you have a "younger stitcher" in your world? These would also be good for someone who's getting started ~ not a ton of stitching or color changes, and fun to do!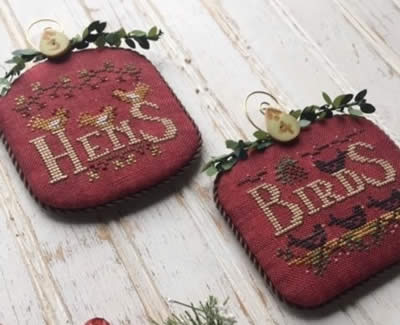 12 Days: Hens & Birds - the next 2 days in the 12 Days of Christmas grouping! These are really darling!

These folks not only make gorgeous wooden products for finishing, they also create some lovely designs!
Sarah Richards, An American Sampler - I love the soft colors in this sampler! I can't tell from the photo if the bottom section is a piece of lace or if it's stitched ~ either way, I like it!
Cherry Wall Pocket - this is one of their new wooden pieces! And this particular piece comes with the Liberty chart included.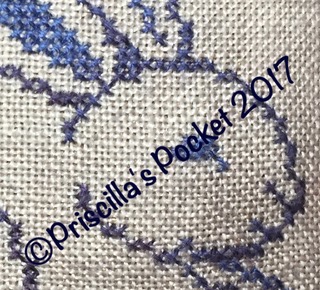 Stoneware Bunny kit - this joins the Cat & Kitten from previous years' shows! I know it's gonna be adorable!
Freedom's Watch Haversack & Sampler - Wow! How cool is this? I love the sack finishing. And while I would never take it out in public (can I just tell you, my dog rides in my car...and sheds....in my car; also, I spill things...just sayin'), it would look great hanging in the barn (or in your house!). And it's different from a framed picture. On the right is the reproduction button of the Liberty Tree that goes with the haversack.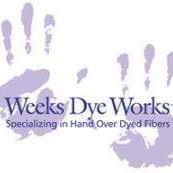 These gals always have great new colors of floss each year! Molly & I were just saying though, that one of the floss companies needs to start naming their floss in collections, like nail polish!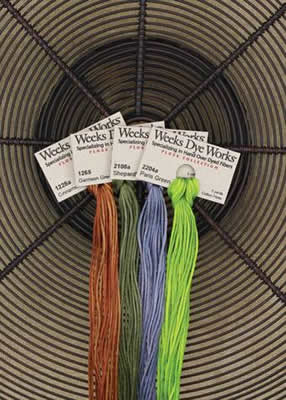 From left to right: Cinnamon Twist, Garrison Green, Shepherd's Blue & Paris Green.

These gals always have great stuff! So be on the lookout for even more!
Funky Blue Crab - All of us here on the East Coast, particularly on the Eastern Shore, are dearly attached to blue crabs!! Love this new design!!
Beach Wreath - Woohoo! How cute is this?? Starfish & Sea Urchins & Sand Dollars, Oh My!!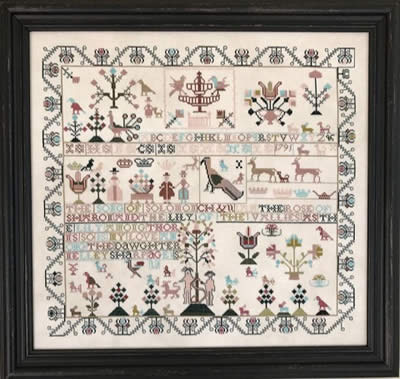 Nelley Sharp 1791 Sampler - Wowser! This is one big sampler! There are so many great sampler motifs in this one! Also, check out her borders, particularly the corners ~ we are always so bent to make everything perfect, but these girls got 1 or 2 to work out & then fudged the others.
WOW! Santa gets around! But we all knew that. It seems he's been taking selfies too! Check out all the places he's visited!
Santa Visits North Carolina's Cape Hatteras Lighthouse ~ Santa Visits Pennsyvania's Liberty Bell
Santa Visits Scotland ~ Santa Visits Great Britain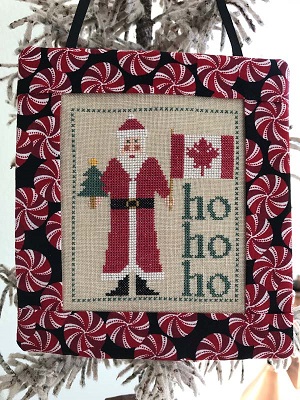 Santa Visits Canada
Santa Visits Maryland ~ Santa Visits Virginia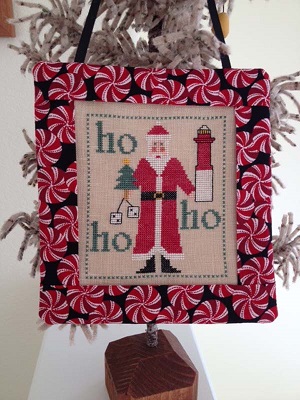 Santa Visits New Jersey's Barnegat Lighthouse (& evidently, Atlantic City)
Santa Visits Delaware (aka, the Blue Hen State) ~ Santa Visits Texas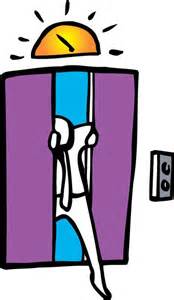 * DING *
"Third Floor, Fabrics, Fibers, Samplers & more!"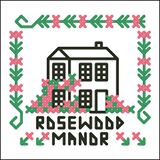 Karen's designs are some of my most favorites!! And this year promises to be no exception. Her colors are always yummy & I just love her flair.
Row, Row, Row Your Boat - LOVE this!! I always love anything with ships & the sea & anchors & this one is just very cool. I personally could live without the verse, and the great thing is you could put something else there or leave it off completely!
Morning's Glory - GORGEOUS! Another one that goes directly into my stash! Love the colors & I love the verse on this one!
Merlin's Tulips - The more I look at this one, the more I see! I love the colors & the central design, and I just realized there are alphabets all around it!! Also, I like those little motifs in the corners!
Basket Sampler - Another fave!!! Bright springtime colors & lots & lots of flowers! You can also order the set of Valdani floss for this!
Four and Twenty Blackbirds - A treasured verse, but even more than that I like the 2 motifs ~ they're somewhat Quaker in feeling!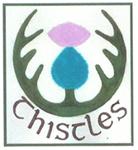 We are always enchanted by these designs from the Netherlands! I know, she should have been in my European grouping, but I ran out of time!!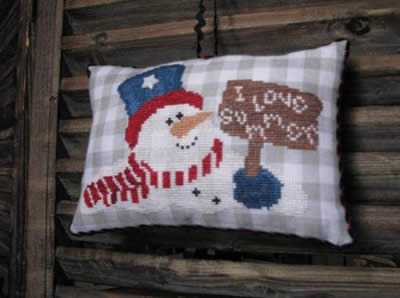 Red, White & Blue Snowman LIMITED EDITION kit - Now, either this guy can't read, or he lives in a freezer!!!
Queen of the Keys - LOVE this design! Let me just say though, don't let Molly be queen of the keys (she's been known to drop them in the toilet)!
Lady of the Moors - Isn't she sweet?? I love all her sheepies & I love the thistles too!
I think these "cone" designs are quite clever ~ they remind me of needle rolls, but you can hang them!
Winter Cone - Love the polar bear & the snowflake designs & the blue fabric!! Why do I always like the winter designs...it's just WRONG!!!
Christmas Cone - This house is decorated for Christmas ~ love the giant candy cane.
Spring Cone - Aaaawww, isn't it sweet? Birds & bees & bunnies too!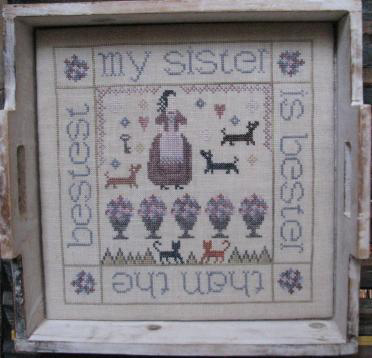 My Sister Is - CUTE!! Ya know what I like in this one? All the dogs & kitties! Maybe her sister is a dog!!!!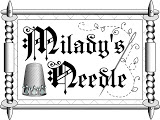 Gloria has a wonderful talent for bringing samplers to life! I also love how she takes bits & pieces of samplers & creates something new & different. She has only posted 1 piece so far, but there are more things coming so you'll have to "come back" to this floor!
Sampler Sisters Spool kit - Oh my goodness!! How darling is this? Gloria had a hard time getting spools for a bit, but she has a new source & boy are we glad! Love this!!!!

These gals ALWAYS have such whimsical creations!! And this year is no exception!
Vintage Tart Tin LIMITED EDITION kit - We think this is so sweet! We know it is VERY limited, so we're not sure how many we will be able to get ~ crossed fingers!!
Quaker House Thread Keep LIMITED EDITION kit - I just love houses! At first, I thought they were tulips at the top of this, but upon closer inspection, they are acorns!!! Might be time to see the eye doctor....
Quaker Fox - MOLLY'S FAVORITE!!! Isn't this the cutest?? I love his tail!
Christmas Stars - Sweet woodland creatureas to decorate your tree (or your house all year round).
Going Buggy - What a lovely needlebook this is!! In fact, I might just make it into a small pillow!
Bookies - This was obviously designed JUST FOR ME!! I love each & every one of them & will have to stitch them all!

Tinka does some GORGEOUS reproduction samplers! She was Molly's favorite new designer last year.
Frances Pink Sampler - Love love love the border! Also, the detail in the fence is very cool!!
Sarah Fealton, Queen's Palace Sampler - This piece is so elegant! All my favorite sampler elements ~ a fabulous border, a house (or castle!) & a lawn or fence (not sure, but who cares?). I also like the floral motifs in this.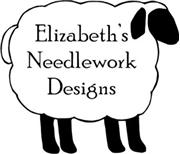 Elizabeth's designs are always enchanting ~ whether they're cottages or flowers or samplers, we always love them!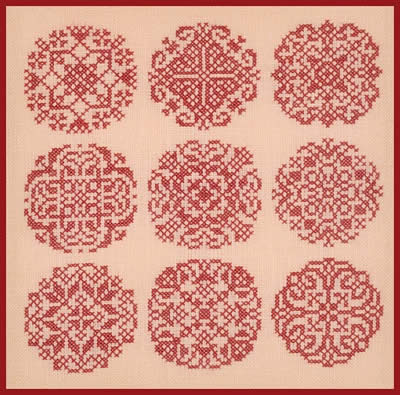 Old Fashioned Ornaments II - Love these ~ can't wait to stitch more of them up as ornaments. Wouldn't they be pretty stitched in jewel tones?
Fairy Tale Sampler - This would be so fun to stitch for a little girl's room!
Antique Violets Sampler - This is gorgeous!! The verse is lovely, but I love the florals even more!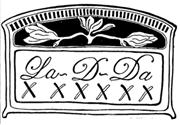 Lori's room is ALWAYS one of our first stops ~ yes, we adore her designs, but she is from Racine, WI, so she always has KRINGLE!!!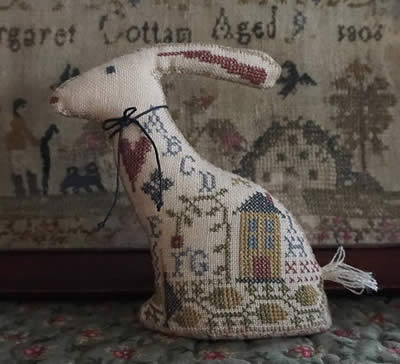 Sampler Hare kit - LOVE LOVE LOVE this!! We don't know if these are limited, but we think they are, so let us know ASAP if you want one!
Fraktur Flowers - This is one of my favorite designs so far!! I love the PA Dutch colors!
Cherry Picker - Love the texturing in the basket on this one! I also really like the alphabet in this one for some reason....
Your Treasure - Awesome border!! Love this.
Lovely Letters - Molly is stitching Soul Birds from last year's market & they are somewhat reminiscent of this! There are somany ways you could use these!

I think her things are cool! They're usually quite contemporary with gorgeous bright colors!
With Kindness kit - This kit comes with all the supplies you need, except the hoop ~ so you can finish it any way you like!
Little Things kit - Another lovely!
Every Moment - Love this one!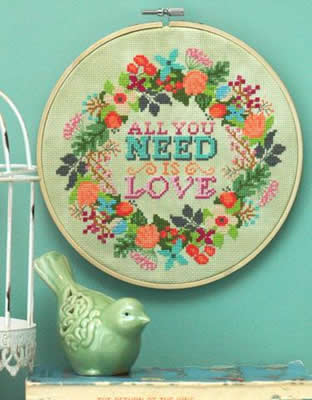 All You Need is Love - I love the colors in this wreath! YUM!!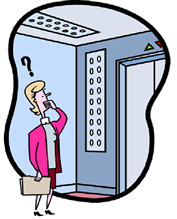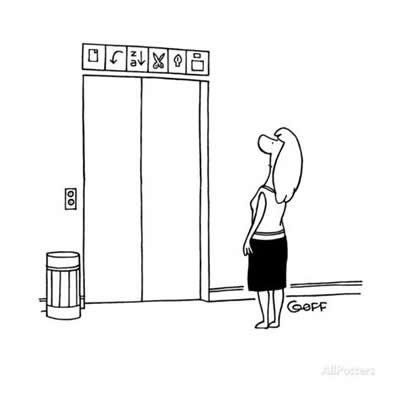 Yep. This is what we feel like by the end of the day at the Market.
Sometimes we just get on the elevator & ride up & down until we get to the ground floor (sometimes by accident...). Occasionally, we get on & start talking to friends & forget what floor we're headed to...and just keep riding up & down! And then other times, we get on & we're trapped with nasty people & we will then get off at the next floor where they AREN'T! Not too proud to admit that!
Today, we're going to the 4th floor! I was gonna skip up to 6, but I was lobbied by someone who's on the 4th floor (!), so we're going there!

First up, we have Sandie from Sweetheart Tree & her new company, The Bee Cottage! Her distinctive style is lovely & we are of course loving the new bee motifs!
Let It Bee Chart & Charms - Love the honeycomb background on this!
Itsy Bitsy Bees Chart & Charms - I love the hive in this one. The alphabet is stitched "over 1".
I'd Rather Bee Stitching Chart & Charms - This delicate little needlebook is small enough to sit in the palm of your hand!
Bumble Bee Needleroll - LOVE LOVE LOVE needlerolls & this one is BEAUTIFUL!
Biggie Bee - He really should be the mascot for a spelling bee, don't you think?
Black-Eyed Susan - I like how the border seems off-kilter...but really it's not....!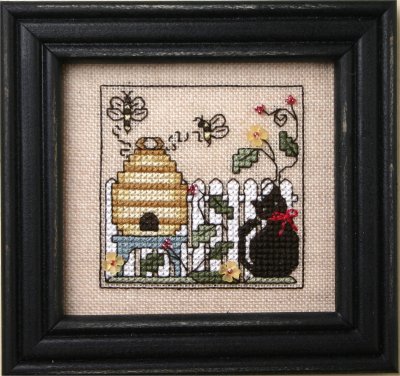 Itty Bitty Kitty & the Honey Bees - LOVE this! Just looks like summer to me!
Blackwork Heart - Don't be scared off...blackwork is just a fancy way of doing backstitching! This is very cool!
Tiny Shamrock Pincushion - Such a lovely little pincushion! These are very easy to put together ~ she gives you good directions!
Lavendar Carnation Sampler - OH MY! How elegant is this?? This is a complete kit.
Parisian Persuasion - Another purple beauty! Will you frame it? Make a pinpillow? Hmmm....

Marie's designs are so intricately done, it's amazing how much detail she gets in her pieces!
Naughty or Nice - There is so much in this tiny ornament! I've seen huge pictures with less detail! This is an heirloom.
Jingle All the Way - How fun is this? I'd have to hang it high on my tree so none of my furry friends can reach it!
Teresa's talent is amazing! What a wonderful treat that she has these charted for cross stitch & done as punchneedle!
Pray - The shading & detail in this is stunning! This is one of my faves!!
Let Freedom Ring - Love this primitive patriotic angel!
Mr Freeze - LOVE this! Yep, here I am again, loving the winter stitching! Isn't he cute??
For Ewe - This is really neat ~ I love how it's off-center...and I usually don't like that! But it's perfect here.
Prim Santa - Oh Santa! Is that for me??
Bucket Head - There are so many darling things about this design! The basket of "joy", the little "baton", his bucket hat...too cute!
Beeutiful Garden Punchneedle - This is gorgeous! My Mamaw would love it.
Primitive Spring Rabbit Punchneedle - Somehow, I think this rabbit is only planting 1 crop....
For Ewe Punchneedle - There's my favorite sheepie again!!
Goat Punchneedle - Goat cheese, anyone??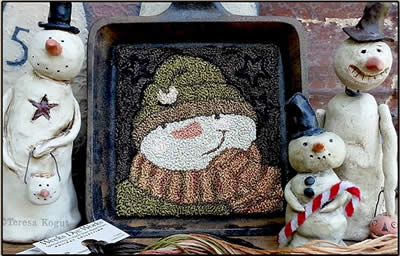 Sam Snowman Punchneedle - One of our favorite cross stitch designs is now in punchneedle! Love that smile!
Sleepy Hallow Punchneedle - Mmm, I don't know...that doesn't look like such a comfy resting spot...
Halloween Duos Punchneedle - Looks like a party!!!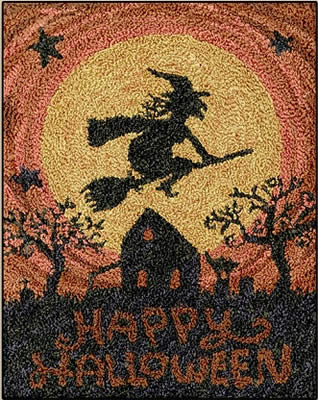 Happy Halloween Punchneedle - LOVE this! It would make a great companion to last year's Moondance!
Two Lambs Tails Punchneedle - Aaawww....they're darling!
Tophat Sheep Punchneedle - This sheep needs a HAIRCUT!!
Tiger Cat Punchneedle - I love how her legs look like she's wearing striped socks!
Two Meows Punchneedle - Love their whiskers!!!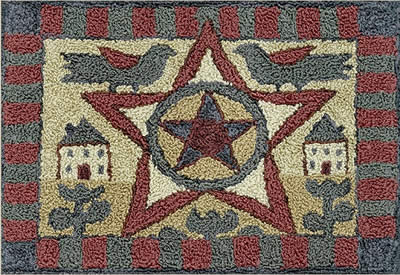 My Nation Punchneedle - Love this patriotic design.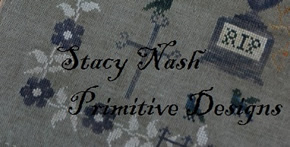 Stacy is always one of our most anticipated stops at the show! She never fails to delight us with her creations!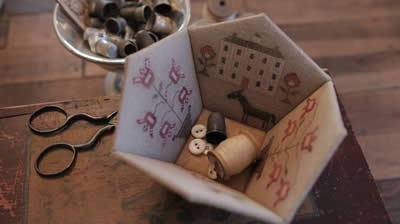 Rose Garden Sewing Basket - this sweet little kit is just too fun! this is a limited edition, so be quick!
Animal Crackers: Theodore - OMG! How cute is this little guy?? He'll hold your scissors & more!
Animal Crackers: Clementine - Aaaww, I think she's sweet on lil' Theo! They're a cute pair!
Elizabeth Thomas Pinkeep - This is one of my favorites! Such soft faded colors!
Love Pinkeep & Heart - A reminiscence of an earlier time!
Spring Gardener Sewing Roll - she's SO pretty! I love the colors!
Queen of Spring Sewing Roll - Bees & bunnies & birds...definitely the queen of spring!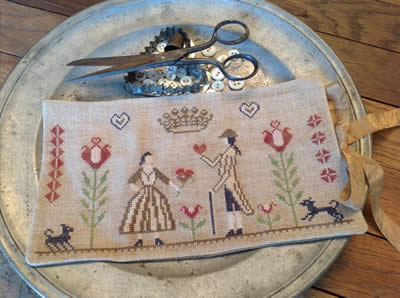 From Me to Thee Sewing Roll - This is beyond lovely! The pups are dear!
Dogwood Farms Needlebook - Okay, let me just say, horses are NOT EASY to make look like, well, horses! This is so pretty! And of course blue flowers are always a winner with me!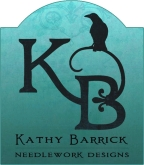 A perennial favorite!!! We always love Kathy's gorgeous designs!
Cooper - Could this be more beautiful? The detail is stunning!
Swan Garden - This stunner is adapted from an antique needlepoint purse. Amazing!
Bowlful of Bunnies - LOVE LOVE LOVE! Even above & beyond the designs, look how she finished them in an old opening box.
French Samplers - Kathy has charted these snippets from old french samplers!
Up On the Housetop - But where is St Nick??
Twelve of the Clock - I LOVE this house!! Not only that, check out the border...love how the lawn fills in the bottom part of the border!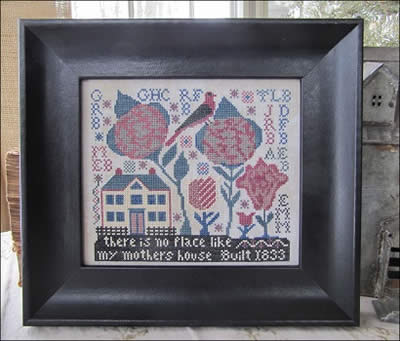 My Mother's House - MOLLY'S FAVE! I only wish I could get my flowers to grow this big!!!
Samplers Not Forgotten
We certainly miss having Kimberly around to drop by & delight us with her latest creation! And even more, getting to see the work in progess! But mostly we just miss BS-ing with her!! We KNOW she misses the abuse too!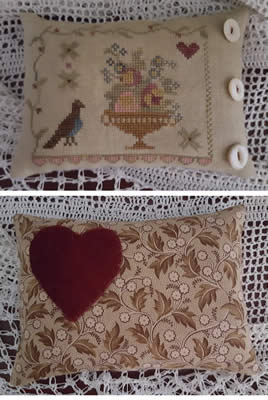 Garden Urn Limited Edition Kit - How beautiful is this treasure? Everything you need except the filling! It looks just like an antique. This is VERY LIMITED!! Don't dilly-dally!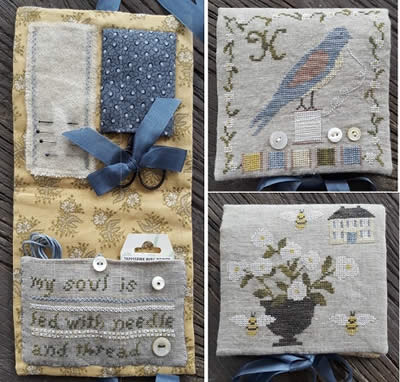 With Needle and Thread Needlebook - Love this adaptation of her sampler from last year! My favorite parts are the spools of thread & the bluebird!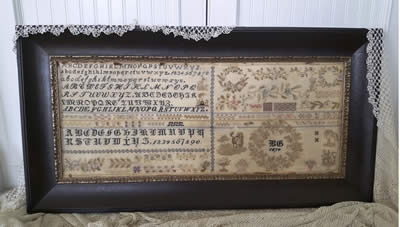 BG 1874 Sampler - MY ABSOLUTE FAVORITE! I cannot wait to stitch this!! So many wonderful sampler motifs, borders, alphabets...I LOVE IT ALL!!
Fleurs 1805 - A sweet miniature. Molly will be lovin' all over this FAT FRAME too!
Royal Garden Sampler - Love this sweet, yet regal, little sampler!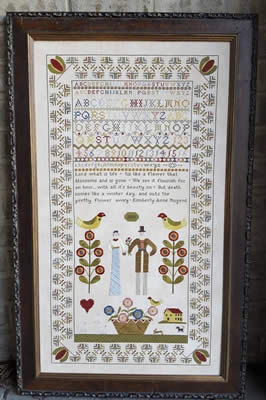 Love in the Garden - this is a very cool sampler ~ of course I love the border, but I also VERY MUCH like the style of this. It has a very folk art flair to it!

Barbara is just down the pike from us in Maryland & many of her designs are reproductions are from the neighboring area! That's always such a fun thing!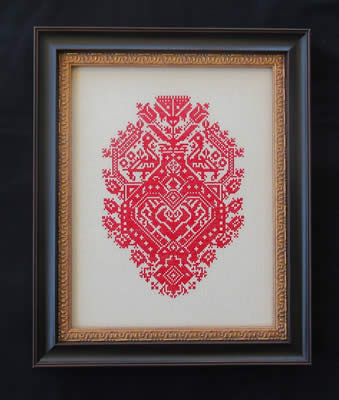 Red Peacock Folk Heart - This is my favorite. It is a reproduction of a Scandinavian design & that always captures my heart!
These two samplers were stitched by 2 sisters from the Baltimore. You can see the similarities, but the fun part is seeing where they chose to go different ways!
Ann Jordan Sampler - Ann chose "Honor thy Father & thy Mother" for her verse ~ you KNOW she was the favorite, right? Love the flowers in her border.
Elizabeth Jordan Sampler - I have to say, this is my choice ~ I like the house, I like the verse, I like the fence...and I like the NAME!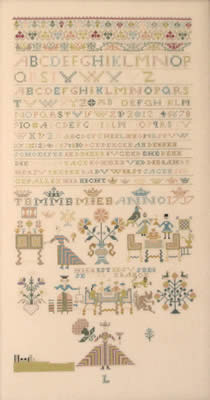 German Saxon Sampler - I love this! Gorgeous colors, & wonderful motifs & borders!
Mary Ann Pearson - I love Mary Ann's bold colors in this piece!
Phebe Nichols Sampler - How cool are the flowers with the polka dots??? And you know I love the house!
Hands Across the Sea Samplers
We love these gorgeous BIG samplers! Each time we see a new one, there is a whole lot of squealing!! We can't wait to see them "in real life"! Also, if you haven't picked up & followed their blog & Facebook page yet, OH MY GOODNESS you have to! The detailed information about the beauty of needlework is breath-taking!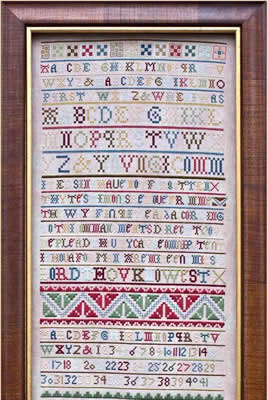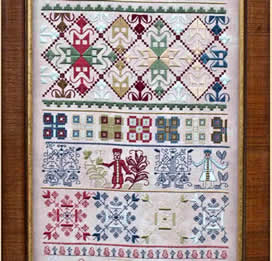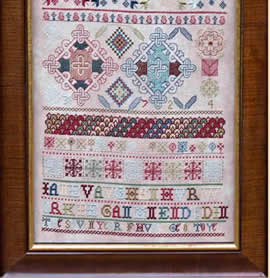 Jane Vaughan 1724 Sampler - WOWSER! This baby is so big you really need 3 parts to do justice to it! Can you even imagine?? Below, I BELIEVE you see the original on the right & the reproduction on the left (don't hold me to that...I can't find the spot where I thought I read that...).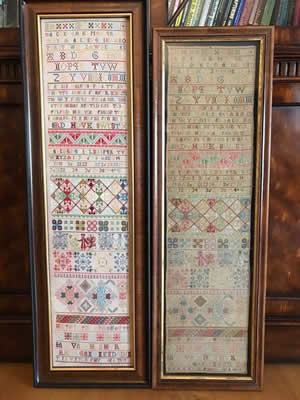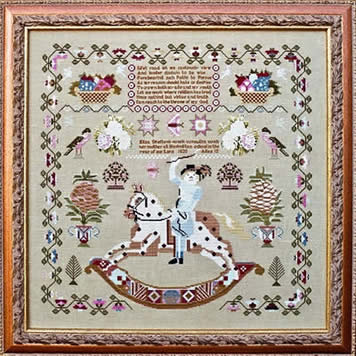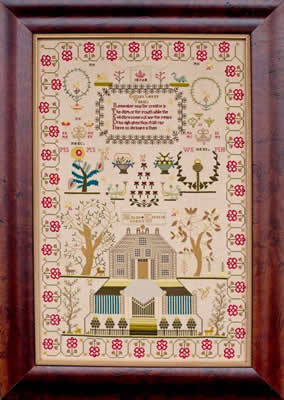 Eliza Skelton - Oh my goodness! The amount of work that went into planning & creating this rocking horse sampler is mind-boggling! And the fact that it was done by a child is even more amazing.
Helen Kedslie 1815 - This beautiful Scottish sampler is a biggie! I love the house & the border!!!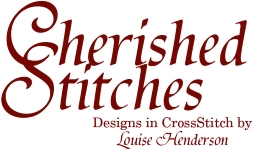 Louise always has such a sweet touch, whether it is in her original designs or her reproductions.
Berry Basket Limited Edition kit - This is my favorite! Love the berries, obviously, and check out that awesome basket!!
Virtue and Love - What a nice pinpillow! I love the colors!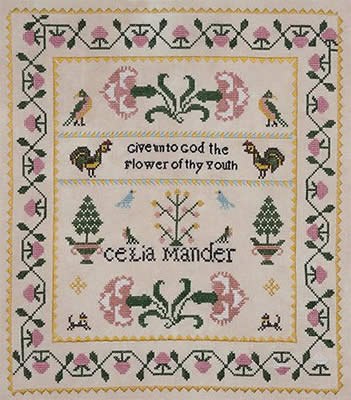 Celia Mander Sampler - Just in time for the Year of the Rooster (but I like the doggies at the bottom...).
Robin is Louise's daughter & has obviously picked up the same talent! I love that she really uses the original colors ~ not necessarily the faded bleached-out colors.
Fanny Hodges Sampler - There are so many wonderful things in this sampler, you barely know where to begin!
Hannah Allinson - A lovely Adam & Eve sampler ~ I love how she made 4 totally different borders.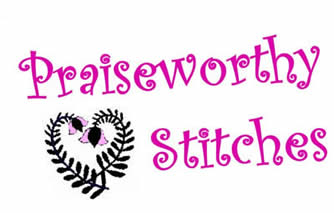 These gals will always have a special place in my heart ~ they were customers of mine when I had my shop in Charlotte! Their designs ALWAYS make me smile! So much fun!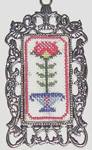 M'Lady's Posey Necklace Limited Edition - this delicate design is a very limited edition ~ you'll want yours!
Bewitched Limited Edition kit - Whoo is this cute little owl?? Get yours quickly!
Hooray for the Red White & Blue - LOVE LOVE LOVE this!!! And, I could probably finish this!
Rook's Fall Feast - This is the perfect design for Fall!
Sale at the Bubbling Cauldron - These are some of my most favorite Halloween creations! This year there's a big sale at the Bubbling Cauldron ~ get there quick...I hear there's a big run on Love Potions!
December Snow - Just another example of "I hate winter, but I love stitching winter"! Oh my goodness, there are so many wonderful things in this design! You won't want to take it down!
"6th floor! End of the line"
Not really ~ we've got lots of "go backs"!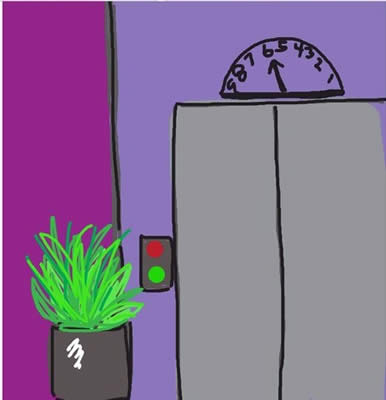 Well, it was a tough workday around here on Saturday ~ fabulously gorgeous weather, sunny & in the 70's! Hard to stay inside & work. "Fortunately", we got a huge thunderstorm about 4PM & the temps dropped down to the 40's (happy Nancy T?).
I gotta tell ya, the 6th floor is stacked! It's gonna be grueling getting that floor covered next week. And yes, it is super fun to see all the new things, & chat with friends, but I saw on a friend's newsletter that taking the number of exhibitors & dividing it by the total time open for shopping gives us approximately 8 minutes per exhibitor!!!!! We are very grateful that there are 2 of us so we can split up when we have to, but we work much better as a team (harder to work with only half a brain!).
So let's get to it!!
The Nebby Needle
Bonnie's designs are a lovely combination of inspiring & warm! I know you'll find 1 (or 3!) that you need!
Don't Quit your DayDream - LOVE LOVE LOVE this. We all WORK so hard all the time, sometimes we forget to dream...
Life is Fragile - this is part of Bonnie's "Ripple Effect" ~ she donates proceeds to charity & creates a ripple effect! And this design couldn't be more on point!
Humble and Kind - I love this ~ the simplicity is perfect & totally speaks to the verse. Something to remember.
Love thy Neighbor - And remember, your neighbor doesn't JUST mean the people next door or the people like you. We are all citizens of this world ~ that means EVERYONE is our neighbor.
Barn Quilt Sampler - This is a great tribute to "barn quilt trails" across the country. We definitely see them here in PA. Hmmm...maybe Ruthie & I need to paint a quilt on the side of our barn...
Barn Quilt Sewing Accessories - LOVE this! There are 3 designs included: one on the top of the Shaker box, another on top of a shaker pincushion & the last is a fun biscornu!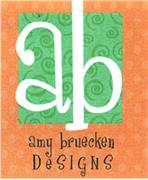 Amy has the most wonderfully quirky flair! Her designs are distinctly her own & this year she has more fun than ever!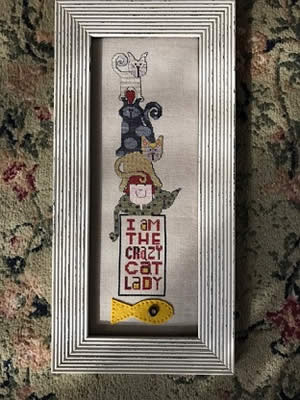 Crazy Cat Lady - Almost as cute as the Crazy dog lady she just released!!
Now and Forever - What a wonderful wedding chartpak! A nice sampler & I really like the pillows too!!
Oh Baby - Darling! The cutest little baby sampler I've seen in a while!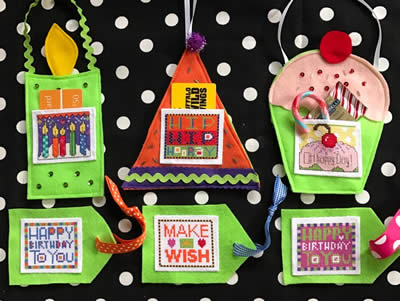 Okay. I wasn't sure about these at first. And I really held off until I got a better fix on exactly what you get. But now that I've figured it out, I am all on board & loving these!!! They're called Pocket Cards and they come ready to stitch. Each card is finished! You get the felt card, prehemmed fabric ready to stitch, bag of bedazzles, 2 cross stitch patterns, hang tag pattern and envelope to mail your card!!!! The cross stitch makes a pocket to include a gift card, lottery ticket or kind note. See below for an example of what you receive in a kit!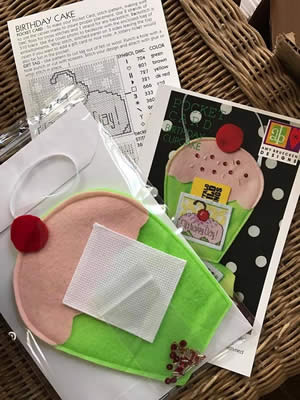 Happy Birthday ~ Make a Wish ~ Cupcake
Baby Boy ~ Love U2 the Moon ~ Baby Girl

Needle Work Press has been bringing us fabulous sampler reproductions for several years now! We always look forward to their goodies & we have beome addicted to their "time" designs ~ you know, the ones that are clocks...and fit in clock fitting (thanks for finding that awesome idea, Carol M!). You're going to love thir new things too!
Elena Galvez Sampler - I love these reproduction samplers ~ particularly ones from more diverse countries where we have thus far seen fewer examples. It's more of a Spanish or Latin-American sampler. Several gorgeous alphabets ~ more fancy than many we see. And I love her motifs ~ I see sheep shears, a wine bottle & glass, a bicycle & more!
Lucy V. Moore Sampler - Very Americana! Love how she alternated the red & white in the letters. Very regimented, until she got to the lower right section ~ where she obviously got to add in her favored motifs!
Six Red Alphabets - I love this!! I have always had a fondness for designs that are of a different shape ~ like this one where it is very wide! And I always love samplers anyway!!
Quaker-Inspired Medallions II - LOVE this! I do have an affinity for Quaker motifs (although I'm much too antsy to ever be an effective Quaker...), And I think the center motif in this one is fun ~ look at all the hearts!!
Out on a Limb - Molly is in love with these birds! Has a bit of a folk-art feel to it!
Illustrated ABC - This fun book has been reproduced with the work and tattered pages "as is" and added charts! Included in this full color 16-page booklet are random motifs, a complete upper and lower case alphabet, numerals and a cross stitch rendering of the illustrated girl and her kitten.
Spring Time - The cutest addition to "time"! On the right, see the complete collection so far!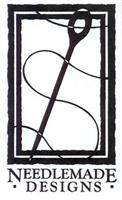 Linda has a wonderful touch with reproducing her samplers!
Ann Townsend Sampler - Oh my gosh! How cute is this boy playing marbles?? I can't say I've ever seen that in a sampler! I love that she put her pups in it too!!!
Pin Posy pinkeep - I love this frilly, beaded scalloped edge!
Keziah Campbell Sampler - A very Scottish sampler ~ love the thistle-colored honeysuckle border ~ from the sheep to the language! Love this sampler VERY MUCH!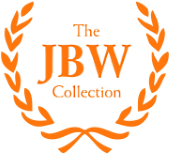 Judy has long been one of our favorite designers! We've watched her designs delight so many over the years & she continues to do this with her Country French designs & her creative finishes.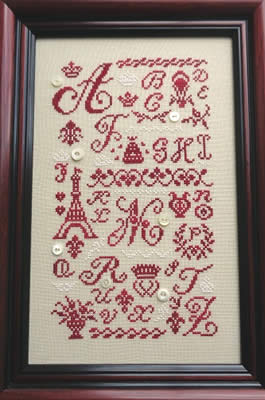 Alphabetique - love this lovely, elegant sampler ~ filled with french motifs!
French Flower Cart - Oh so pretty!
With This Ring - This is already one of the favorite designs with stitchers! And why not ~ it's a fabulous wedding sampler that's not HUGE ~ it's exactly what stitchers are looking for!
Seaside Series - All 3 designs are in this chartpak & we love it! Perfect for your beach house (or your bedroom!).
Baby Memories - this is a darling pair of designs. On the right, she shows them stitched & finished as little blocks, adorned with the baby's name. On the right, she's stitched them on perf paper & included them as part of a dear little shadowbox keepsake. Those of you who love to scrapbook will see the appeal here!
Ooh La La - This scissor pocket & fob were part of last year's limited edition kit! If you missed out on the kit, don't miss your second chance at these fun designs!
A Little French Pinkeep - This year's limited edition kit, you'll love this sweet little french keepsake!

Val's humorous designs never fail to put a smile on your face!
Book of Halloween - This is a limited edition kit that includes a whopping EIGHT (!) designs of Halloween ornaments with all of the buttons, paper, felt, wool, and other doodads to complete them all. If you want this, order quickly!
Bat Crazy Ornament - This is too stinkin' cute! This is a 3 dimensional Halloween ornament. It has everything in the kit except for the floss and no sewing except for the 4 buttons. It includes wool balls, wool backing, paper, and buttons, with thread for hanging.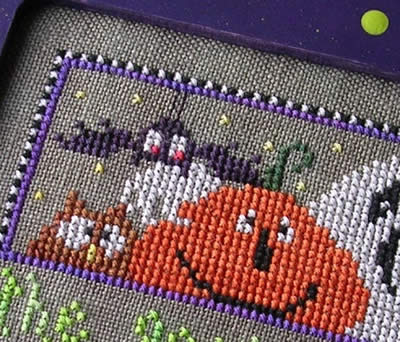 The Gang's All Here - Another fun kit from Val (but this will be available as a chartpak after Nashville). This kit will include the chart, frame, and button.

Linda's designs are always a treasure. Lots of times there are houses (& you know how I love those!). They are often patriotic & they never fail to be a treat to stitch.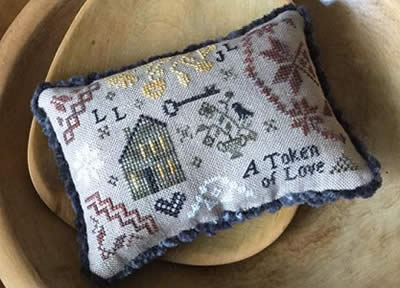 Quaker House Token kit - What a wonderful design! I love everything about this. It comes complete with linen, silk threads, chart & a needle.
1864 House Sampler - A bit more of a primitive sampler ~ love the horse motif in the top corner.
Think of Me Sampler - This is such a pretty sampler ~ love the texture in the lawn part. The only question is ~ do you give it to a friend or keep it??
Garden House - This is such a pretty design ~ I think I would finish it as a long pinpillow!
Forget Me Not Treasure Box - 2 charming little designs to finish in a small box if you like or as a fob or pinpillow. Also, I can see Molly stitching one of these little cuties & framing it in a big fat frame!
Home Safe to Me - This is my FAVORITE from Linda! There is nothing I don't love about this!! A great house, but the sea, with a ship & a flag...and the little fob & pinpillow are adorable!
Strawberry Alphabet Sampler - LOVE LOVE LOVE this! Can you imagine why? I do especially like the little strawberry border.

Brenda Gervais is certainly one of our favorite designers du jour! She never disappoints with her distinctive style.
Essamplaire Petite I - A group of charming little motifs lifted from samplers & featured all on their own!
Essamplaire Petite II - A second collection of petite sampler motifs, including a cute little an Adam & Eve.
Quaker Handework - LOVE this one! I have always loved Quaker motifs & this will go straight into my stash!
Heart & Hand - This is a great sampler ~ I love the separate little vignettes!
Bloom Where You're Planted - A perfect verse, & I love the hummingbird!
Easter Peep Parade - Now THIS looks like a fun parade!! I love the strawberry plant growing out of the egg!
Berry Days at Thistle Down Farm - LOVE this! Obviously I love the strawberries, but I really love the flowers to each side of the house ~ thistles, of course!
Faith of the Heart - this is not a verse I've heard before, but I LOVE it. This one goes on my wall.
Mice in the Sewing Room - Those cute little mice are back & now they'e learned how to sew! Too cute!
Tulip Festival - Her basket looks full ~ hopefully she'll leave the rest for everyone else to enjoy!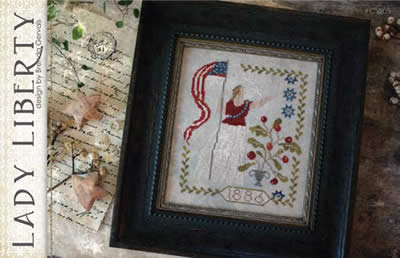 Lady Liberty - Wow! This is a gorgeous Americana design! Really like this one!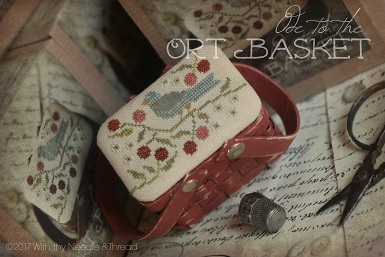 Ode to the Ort Basket Limited Edition kit - OKAY, right up front, Brenda has limited shops to 12 INITIALLY. And we already have orders for 20. We are still taking names because Brenda has said she will be releasing any that are still remaining on Sunday. So, while we'll be happy to take your name & we'll do our very best to get enough, we can't guarantee we can get them. It is, however, darling! Fingers crossed!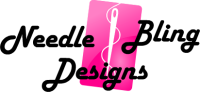 Wow! There are so many great ideas coming from this company! There are 2 series you can sign up for, and other fun & cute things too!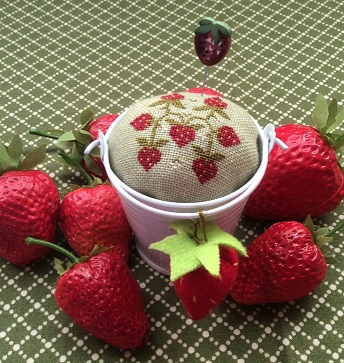 Berry Pail kit - LIMITED EDITION KIT. This darling little strawberry design is adorable in this bucket!
Bless our Farm - Perfect for all the farmers out there (or those who live in a barn...or have a tractor...).
Bless Our Camper - I know lots of folks who would appreciate this one!
Bless our House - This is a great idea for a housewarming gift. AND, She gives you a doggy & a kitty that you can put in place of the flowers in the top left corner.

Home Decor Series - How fun is this? The first chartpak comes with the letters H, M, E & the house design. The monthly charts will be individual charts that coincide nicely with that month! If you choose to sign up for the full year, you'll get our Stitchers' Dozen discount ~ pay for 10 & get 2 free.
May Ladybug ~ June Watermelon ~ July Uncle Sam
Wee Welcome series ~ another darling series! These little pillows would be cute on a grapevine wreath, or in a charming wooden breadbowl with other little snippets of seasonal items! Again, if you sign up for the entire year, you'll get the Stitchers' Discount ~ pay for 10, get 2 free.
Wee Welcome April ~ Wee Welcome May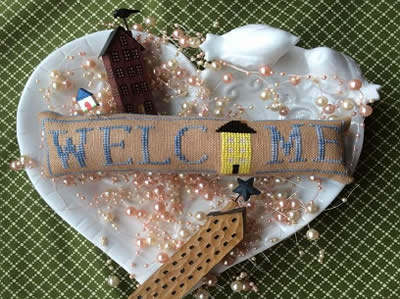 Wee Welcome June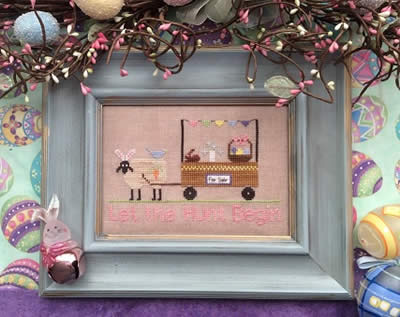 Sheep Peddler ~ Let the Hunt Begin - I LOVE the sheep with the bunny ears!!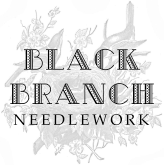 LaDonna always has beautiful samplers that always capture our attention!
Eliza's Sampler Bag - just love this primitive little reproduction finished as a hanging bag.
Victorian Bird - this design was based on an antique needlepoing pillow!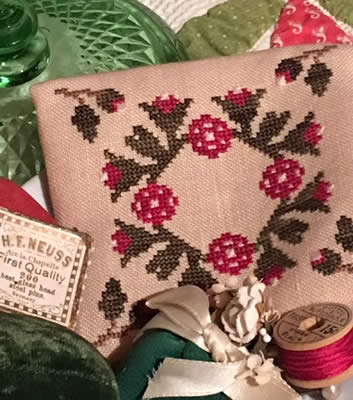 Vintage Quilt Series: Floral Wreath - there will be 12 of these vintage quilt blocks! Hey! A quilt that we stitchers can make!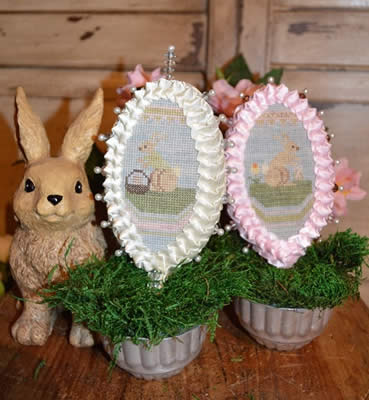 Keepsake Bunny Ornaments - 2 cute little bunny designs! Just perfect for your Easter basket.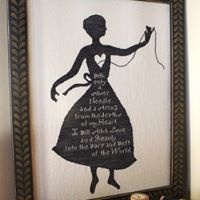 Heartstring Samplery
Beth has some of our favorite designs! She has reproduced samplers & created some of her very own. This market, she's bringing us another sampler that, on first glance, appears to be either a reproduction or at the very least, a "serious" sampler. And yet, when you get closer, you can't keep the smile from your face!!
Alphabet Series: P is for Pomegranate - I think this is really pretty! I'm really enjoying this series (this is #4) & this might be my fave...
Let It Begin With Me - A darling little sampler ~ and a great reminder.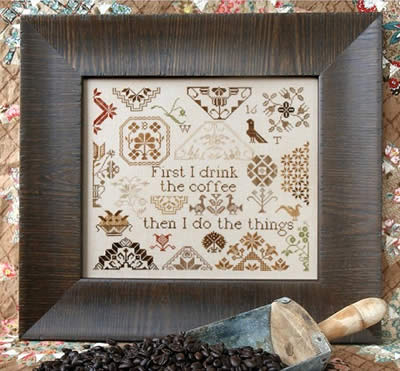 Coffee Quaker, The Magical Elixir Series #2 - This is such a fun design! First you think it's a lovely quaker sampler, then you read it & it's hard to keep from laughing!!
Red-headed Dog Sampler - This chartpak includes the reproduction of the original sampler (seen here) and then 3 charts using bits & pieces to stitch some smalls!
Bird Collection, part IV ~ Song Sparrow, Tree Swallow, American Robin - Molly's favorite!! These 3 are so pretty!

Woohoo! New beaded fobs & sewing books! So creative & fun!
Bunny Bands Sewing Book - This is darling! The kit includes all the supplies & goodies you need to make this: from linen for stitching to quilt fabric for lining. fibers, embellishments, bunny pin & scissors!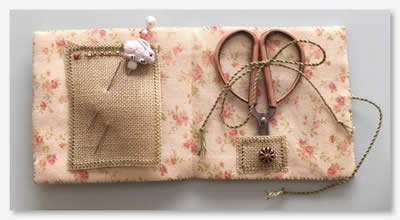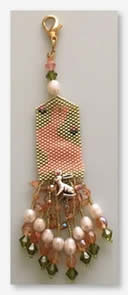 Bunny Bands Beaded Fob - Love this bunny!!
Herman Hedgehog Sewing Book - WOW! The little hedgehog is adorable, but what I love are all the goodies inside! The kit includes linen & fibers for stitching, the quilt fabric for lining, all the embellishments, the wooden ruler & threadwinder & a hedgehog waxer!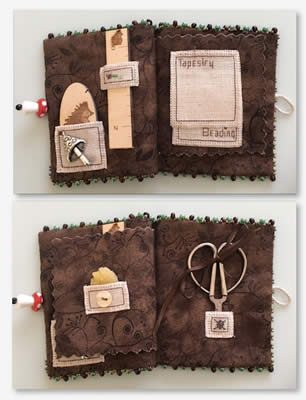 Hedgehog Counting Pin - who wouldn't want help counting with this cutie?
Herman Hedgehog beaded fob - Oh my goodness!!! I love the "quills" on this guy!
Old Dark Road Sewing book - Now, this looks like a spooky road! This kit includes everything you need to create this eerie design, including the fabric & fibers for stitching, fabric for lining, a ruler & threadwinder, and a owl waxer.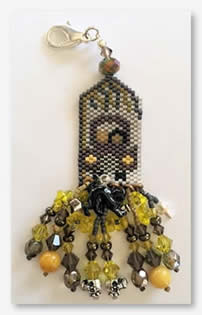 Old Dark Road beaded fob - even the fob is spooky!!!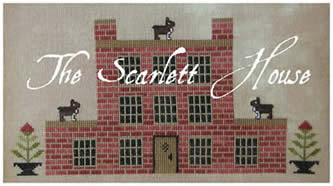 I have to say, I love just about every design that Tanya creates! I've stitched (& finished!) several! We share a love of doggies & her samplers are just awesome!
SAMPLERS - LOVE LOVE LOVE this!!! Her colors are fantastic & look at the 3 little pups over in the left corner! For those stitchers who don't have woofers, she has also charted out 3 sheep to stitch in their place.
American Homestead Sewing Set - These 4 little "smalls" designs are awesome! And you don't have to finish them as "smalls" if you don't want to! We are planning on getting some of these Shaker trays & hornbooks as well!
Martha Pudsey Sampler - I'm not a huge A&E fan, but I do like this sampler ~ cool border & lots of great motifs. I particularly love the tree on the left! Maybe I'll just leave the people off (& that nasty snake!).
Smith Sampler - This is my favorite reproduction sampler of the show, I think (now I'm gonna have to look back...oooh wait, I rememer another I love from Samplers Not Forgotten...well, I have more than one ~ no rules around here). This has a fantastic border & I love all of the bands in this, particularly the house!
On Redware Road - This is a very cool little pillow! It's based on the popular redware pottery & definitely captures the essence of that.
Coverlet Christmas - Another one that goes directly to my stash! I love the quilt pattern stars, the bottom border & the house!!! Very cool!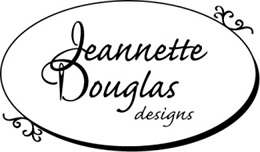 Jeannette does some of the more technically detailed creations these days. All the different stitches create so much texture & depth. And the great thing that she does is to create the fiber & embellishment paks for the designs, giving you enough of those goodies to create the design, but not having to buy complete skeins of everything!
And most importantly, her designs are gorgeous! I'm doing her "Seasons By the Sea" right now & I just love them all. Check out these snippets & sneak peeks, & check back when she gives us the full images!
Potpourri of Stitches - Oooooohh, I can tell I'm gonna like this!! I think you can frame this or make it into a cube of some sort ~ I already love the stitches around the border!!
Vintage Birds - This is gonna be a great compnanion to Vintage Alphabets (which we have stitched at the shop!).
Cape Cod Vignettes - Woohoo! Anything with ships & anchors I love!! Plus, I love the Cape.
Dutch Pincushions - These are gonna be lovely! Can't wait to see them complete.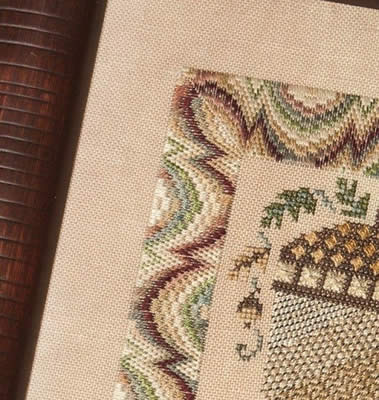 The Mighty Acorn - Love this border ~ I'm gonna guess the rest of it is just as wonderful!
Just Stitch - Holy smokes, isn't that the truth?
Friendships No Borders - love this collaboration between Jeannette (who is Canadian) & Pam from Olde Colonial (who is American). There's so much that unites us & stitching is one of them!
Quilt Box - Very pretty! This comes in 2 different colorways so you can pick the one you like best.
Roses and Acorns Sampler - If the rest of the sampler is as lovely as the top, this is sure to be a winner.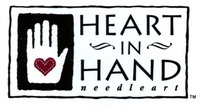 We are loving the resurgence of all things HIH! Cecilia will have these new goodies & more with her, so stay tuned!
Bee My Honey - Aaaaww, that's so sweet!!!
You + Me - Now, this is a fun wedding or anniversary sampler to make for your sweetie!
Glad and Sincere Hearts - this is a 3-part series ~ the first installment will have the center picture & the cute little pillow you see on the right as a bonus chart! The 2nd installment will have the 2 end motifs & another bonus chart; the 3rd will have the verse & a 3rd bonus chart!
Gratitude Limited Edition kit - I know I showed y'all this in the LTD ED newsletter, but wanted to put it here too! It's so pretty!
Try a Little Kindness - Another limited edition, this chartpak includes the chart & the purple heart button.

Patti's creativity never ceases to charm me! I adore her use of color!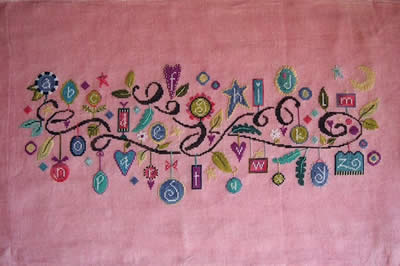 Heard it thru the Grapevine - LOVE LOVE LOVE this!!!! This is a 3-part series & at this point she is presenting it without embellishments, although that could change. I personally don't think it needs a thing! I LOVE this!!!
Rorschach - Patti had originally titled this Love You, Old Crow, but as she was stitching the crows sitting on the flowers, she began to see owl's eyes! So. What do you see??
Out of the Woods - This is another cute 3-part series! The first one will be the funny little raccoon! And I love that the pieces of the animals are filled with woodland motifs! Darling!!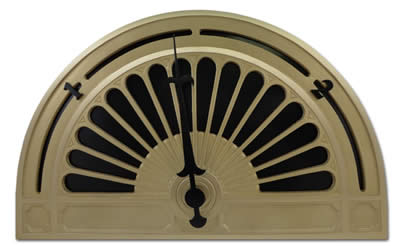 It's "go-back" time!! Time to go back to all the places that have just posted their goodies...or posted more goodies...or I somehow missed the first time around...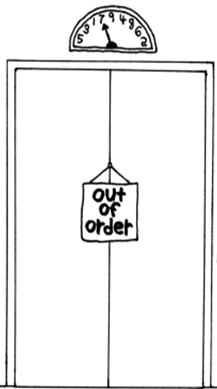 And just as if we were there, this will end up being a big fat mess of up & down, which floor first, who's on second, you got who, I'll get them, oh my gosh we missed something...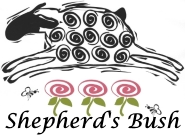 Hooray!! We've got pictures & a few sneak peeks, but certainly enough to get us inspired!
Ewe are My Sunshine - This is the new "ewe" kit! How darling is this?? You can either order the kit (which will include the 19ct linen, all fibers & embellishments & ribbon, or you can order the button with the chart & either use your own fabric & floss, or change the fabric (we have lots of folks who have been stitching these on 10ct Tula!). If you want the kit, click on the full picture above on the left; if you would prefer the button & chart, click above on the sun button on the right.
Heart of My Heart kit - Love this sweet basket of hearts!
Sage Snowman kit - YAY! The new snowman! Molly's gonna be first in line for this one!
Luck Notes chart - This will be so fun to see...we really like Love Notes! Wonder what the next one will be??
Easter Trifles chart - These look darling!!! LOVE the colors!
Bloom Where You Are kit - This kit, like the Friend one we have stitched, is on 10ct Tula. Perfect for beginners (or those of us who want to give their eyes a break)!
Pink House Pincushion tin kit - this already looks darling! It's just the right size for a pincushion & the kit includes the supplies including the tin.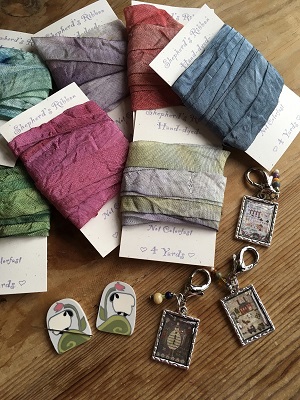 These gals are so creative! Ribbons & magnets & fobs...oh my! The magnets are all alike (you see them in the lower left corner of the picture); the hand-dyed ribbon will come in assorted shades (we won't get to select them...so we'll send you what we get); and the fobs are the same way ~ assorted, each one cuter than the last! Click below for whatever you would like to order: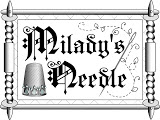 More new goodies from Gloria!! Love these spool kits!
Quaker Christmas Spools kit - Oh my gosh! Perfect for Christmas ornaments, to give or to keep! Each kit includes enough materials to do both spools, including 2 spools! Also, spools will be available separately, so you can make more!
Joyful Yuletide Spools kit - Love these 2 designs! Again, fabulous little ornaments! And enough in the kit to stitch & finish both.
Milady's Manor Sampler - this sampler won't be coming home with us from the show, but we will be ordering them. I love the house & the motifs; needless to say, Molly loves the deer!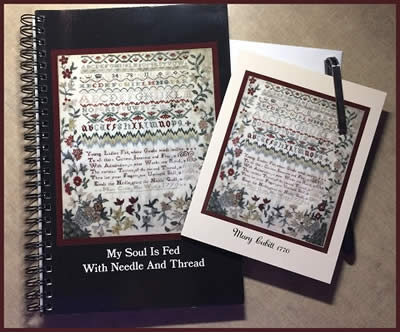 Mary Cubitt Notebook & Notecards - Gloria is planning on reproducing this antique sampler in the future, but until then she has made some lovely notebooks & notecards! How lovely are these?
As always, Linda is bringing more beautiful creations! Some of them are on silk gauze (you really have to try this ~ it's not nearly as difficult as you might think), but you can also stitch them on your choice of fabrics.
By the Sea Needlebook & Berry Pincushion - HOLY SEASHELLS!! This is now my most favorite thing (& yes, I know, I'm now up to about 40 "most favorite things". Sorry. Not sorry). Look how darling this is!! I love the outside of the sewing case (& the inside), LOVE the mermaid berry, LOVE LOVE LOVE the little mermaid in the watch fob!! What to stitch first......
Eden Berry Linen or Silk - This one's for all the Adam & Eve fans out there! The one on the left is the linen chartpak, the one on the right is on silk.
Peace like a River - Love this hymn, and the colors she used in this are just perfect (for me, anyway!).
Owe Them All - Oh my goodness. Love this one. This is another of her designs where the proceeds go to TADSAW (Train a Dog, Save a Warrior). So lovely & meaninful.
Mary Havens Sampler - What a gorgeous reproduction! Love the square flowers in the border!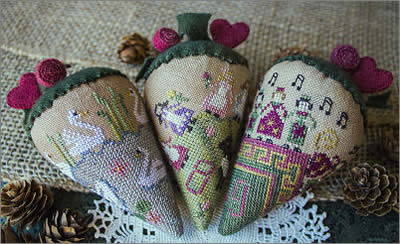 12 Berries of Christmas: 7-9 - I love the water, the lawn & the "dance floor" on these!! Love the colors!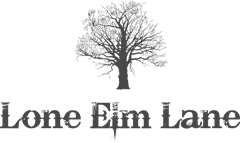 Can't wait to see what new wooden creations Stephanie has in store for us this year! Love these 3 new designs.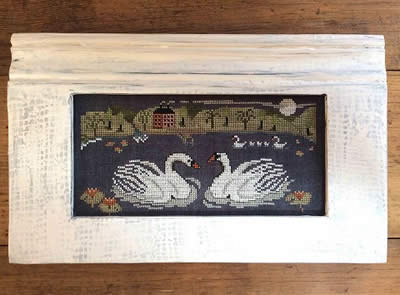 Swan Lake - I love this! So pretty ~ and I think this frame is one of her new wooden creations!
Ivy's Sampler - A birth sampler for her granddaughter, we love this because it's not too cutesy bunnies & teddy bears pink & blue. It will last forever! This is finished in an 8x10 Prince box.
Sweet Bird - Isn't this lovely? I love this verse. And I like how she did the bird & branch in full color & the rest is shades of neutrals. This is finshed in her Cabin box.

Woohoo! Tracy just posted 3 more pictures!!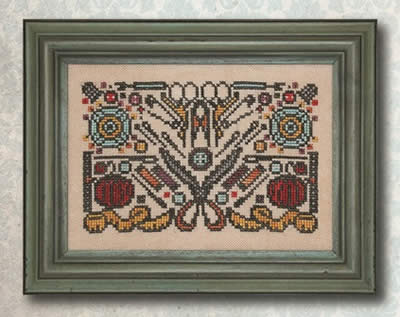 Arranging the Sewing Kit - Look at all the great stitching necessaries in here!
Dark Shards - LOVE this! All in my colors of blues & purples!
Chalkboard Mandala - How cool is this? I love the white on slate look & I am so addicted to these mandalas.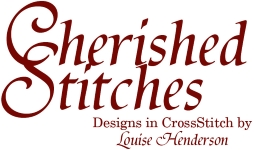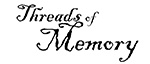 A couple more photos from Louise & Robin.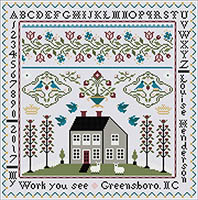 Inspiration Hill - this is an original sampler, "inspired" by some of Louise's favorite colors & sampler motifs!
Asheborough Academy - A sweet little schoolgirl creation, based on work from a real school.
Flower Frenzy #3 - Love the dark flowers on this one!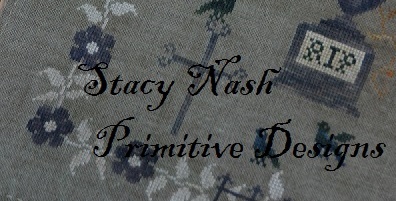 Animal Crackers ~ Monroe - a third cutie to join the others! I think he's my fave!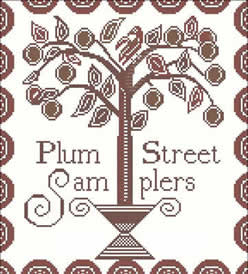 We are COMPLETELY BUMMED that Paulette won't be in Nashville this year ~ we have so much fun with her & we'll miss her terribly! She has 4 new designs coming out & we're already on automatic for them, but it's just not the same! Here are her goodies!
Hare's Hunt - ADORABLE! Love the egg hunt!! There are quite a few that are gonna be out of reach, unless mom helps out!
Hello Spring - So soft & pretty! And aren't we all ready for some Springtime??
Sew Sisters - This one makes me laugh! I love it! I love the bowl full of tomato pincushions!
Teenie Weenie - OMG! I didn't get it at first...look at the little baby puppa on top of the dog on the right!! And the little miniature hydrant!! LOVE!!!!!

The gals from Cricket won't be at the show either, but they also have 2 new charts out. Again, we'll get them on automatic, but it's so much more fun to see them stitched!
Free Range - These chickens are definitely on the loose! And check out the buzzy bee carrot!
Vintage Eggs - Love the soft colors of these eggs ~ they definitely look vintage!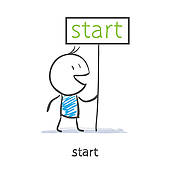 Yes, Friday was the start! We headed to the Market to register, got our badges (which Molly proceeded to lose...which was found by one of the designers), thought we'd scope out the halls & try & ascertain who would be open for Early Bird shopping, instead we immediately ran into friends & spent a half hour just talking, finally went walkabout & figured out NOTHING! So we headed to our favorite Franklin store: Philanthropy! Did some damage there, and a few other places! Came "home" & reconnoitered (& picked out outfits!) & headed back to work! Got there & we were immediately flagged down by one of our online friends who is working this weekend ~ she had Molly's badge! Thank you Ellen!!! I then proceeded to lose my Market book (& these suckers are like GOLD!). Haven't found that, so Molly figures she's up 1 because she got her lost item back! Hmmmm..... Anyway! We had a great evening & we're already planning our attack for Saturday!
I've added more goodies here (& obviously, on the website) & we'll have more to show you tomorrow! Have fun!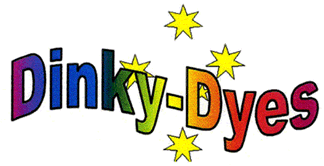 The gals at Dinky Dyes will have new colors of silks for us to oooohh & aaaaaahh over & they also distribute lots of companies' charts!
SCISSORS ~ SCISSORS ~ SCISSORS
Pick your favorite, or get a couple!!
Ladybugs ~ Pumpkins ~ Shamrocks ~ Holly
Reach for the Stars - from Tempting Tangles. Love love love this giraffe!
Mister Blueberry Blue - from Tempting Tangles. At first, I was worried about the "help" being offered...until I remembered that it was the MICE who sewed Cinderella's dress for the ball!
Summer Sweetness - from Tempting Tangles. This is for all those who KNOW that iced tea is SWEET TEA.

Three new colors from Classic Colorworks! Order all 3 & get a free graph!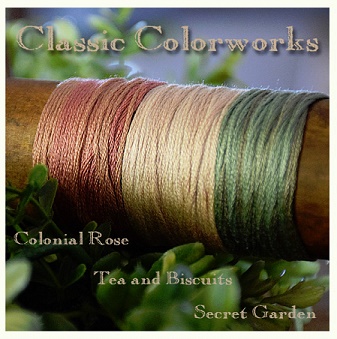 Colonial Rose ~ Tea and Biscuits ~ Secret Garden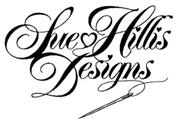 Sue's designs just make you smile!! She can always be counted on for fun, new things!
Quick to Stitch Sports ~ Baseball - FAVORITE!!!! Obviously, I LOVE this one!! And it's so true....
Quick to Stitch Sports ~ Basketball - Great for the basketball player you love!
Quick to Stitch Sports ~ Football - Too true!!
Quick to Stitch Sports ~ Soccer - I know several kids who think this way!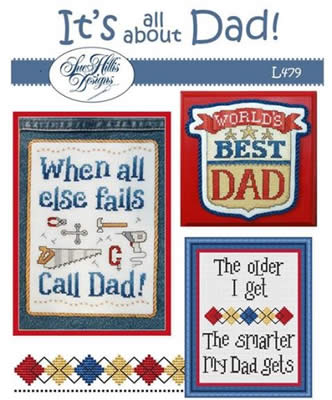 It's All About Dad - What a great leaflet full of "dad things"!
Broderie a Paris - How gorgeous is this?? I love this design ~ the sampler & the needlebook!
Christmas in Red - Another great group of sled designs.! I love these done in all red!
Christmas Friends - How fun are these frosty little folks??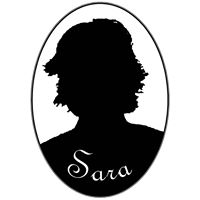 Sara is one of our favorite European designers & we are so excited about these 2 new designs!
Favole (Fairy Tale) - Oh my goodness! There are so many fairy tales in here!! Kim R. & Danielle M., you're gonna want this!!!
Spring Sampler - I love the bower of flowers underneath SPRING! So many pretty things in this one ~ I also love the morning glories trailing on the right side and the stack of critters too!
GP Glendon Place
Cheryl's designs are always lovely! And her Halloween creations are fantastic!
Desert Rose - How gorgeous is this? I love the colors!
Love You Still - Who are you gonna stitch this for?
Formidable Frank - YIKES! He looks like he's gonna walk off the fabric!
Rub-A-Dub-Dub - Another favorite childhood verse!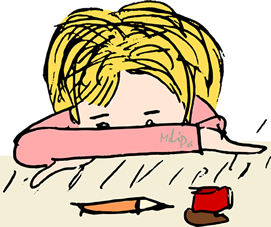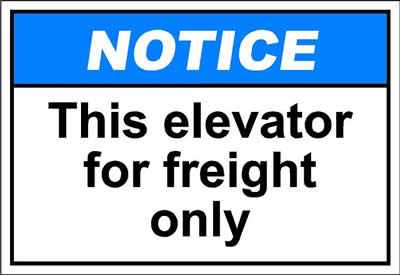 Yep! Today was all about haulin' the freight! We hit the Market ready to roll! Friday night, Molly & I planned our path thru the floors today, taking into account where the bottlenecks would be, who has limited edition goodies and where best to get the most amount of things accomplished! We knew that there were very few exhibitors on the 6th floor who were open Friday night & therefore they would be mobbed Saturday morning.
Some of y'all have already read this on my Facebook page, but I know many of you aren't on FB, so I wanted to give everyone this information & explanation. Brenda Gervais, from With thy Needle & Thread, announced last week that she would have a darling limited edition kit! She let us know that she was limiting shops to 12 kits, until noon on Sunday & then we could get more. Also, we couldn't give her any pre-orders. Okay. That's fine. Good to know what the rules are. And as soon as we had 12 orders, I made sure to go on our website & post a warning that we had reached 12 & we couldn't guarantee that we would get more. All this based on the info we received that shops would be limited to 12 kits. Unfortunately, what she neglected to let us know was that not only were shops limited to 12 each, but she would only have enough for 30-35 shops, assuming everyone got 12. As point of reference, there were over 150 shops who had pre-registered to attend the Market. Perhaps you can imagine what happened. Shopowners began lining up outside her room at 0' dark thirty! The last shopowner to get kits had gotten in line at 7:45. She waited in line for 2.5 hours before she even got in the room. And she was the lucky one. The gal behind her waited in line for 2.5 hours and got....nothing. Also, she lost 2.5 hours of working time that she won't get back. I know I always say this is not brain surgery, we're not ending hunger here. But we ARE working hard ~ yes it's fun to see friends & it's AMAZING to see so very many treasures stitched ~ but it is exhausting work.
We had already determined that we couldn't get in a huge long line. We headed up to 6 around noon & Molly got in the room relatively quickly (maybe 15-20 minutes). Unbeknownst to us at that point, there wasn't the slightest chance on the face of God's green earth for us to get any kits. We are tremendously disappointed that we couldn't get these for you all ~ we are tremendously disappointed that it wasn't clearer about exactly how many would be available. Believe me, had I known that, NO I wouldn't have gotten in line at 6 AM! But I also wouldn't have posted it & taken your orders either. I would have much preferred to tell you that we just wouldn't be able to get them. At this point, there is "a possibility" that we will get the 24 we need to fill our orders. In my opinion, there's the same possibility that I will win the next big Power Ball drawing. I can't apologize enough about disappointing you. What I can tell you is that this is the 2nd year in a row we have had this exact same situation. Because of that, we will no longer be offering any limited edition designs from With Thy Needle & Thread unless there are drastic changes. It's just not fair to you, our stitching family. Now her regular charts, we have no problem getting & we will absolutely, positively continue to offer them all! They're just fantastic & we love them as much as you do!!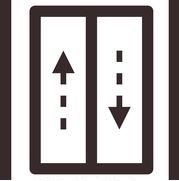 OKAY! Time to move on to the good stuff!! Many of the things we got today, y'all have already seen. But some of them you've only seen snippets! So tonight I'll give ya full pictures (HOORAY!!) & new things we just got!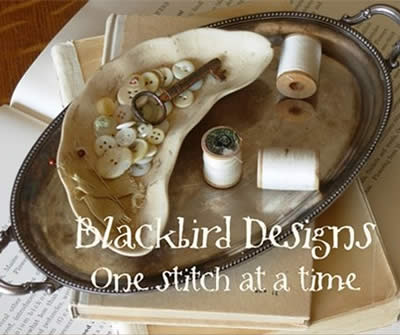 Barb & Alma never let us down! This is always one of the highlights of Market! Lots of BLUE & lots of hearts this year. Molly went there while I was...I don't know where ~ maybe doing my tour of Italy! Anyway! Here are our pictures (certainly not professional caliber ~ remember, hotel lighting is horrible). I'm sure within the next few days we'll be able to post "real" photos!
The Winter is Past - This is a lovely, traditional sampler & of course I love the colors!
It's Spring Fever - LOVE this border! And it definitely looks like Spring!
My Dearest Hearts - This sampler is simply beautiful! This picture doesn't do it justice. And the heart pin pillow is just darling! LOVE them both!
Feliz Navidad - This lovely Christmas sampler is the 2nd in a new series! The colors are lucious!!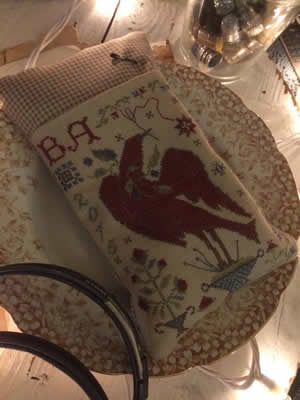 Sewing Bird Scissor Pocket - What a pretty little scissor pocket pillow! Really nice!
Lady Liberty - This was originally released as part of a club, but now it's available for everyone! It's so pretty!
Hats Off to Uncle Sam - Another lovely pin drum! Love the motif on the top of this one!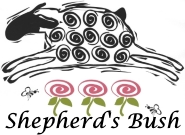 Easter Trifles - The soft colors in these trifles are perfect for your Easter basket!
Lucky Notes - FUN FUN FUN!! I am loving this new series! This is a really cute design!
Sage Snowman - LOVE this! I like how he's striped! Never made a striped snowman before!
Heart of My Heart - A classic SB creation!
Pink House Pincushion Tin - I think this is so sweet! This little tin makes the perfect size or a little pincushion.
Bloom Where you are - Quick to stitch, no matter your level of "expertise"!


2 cute reveals today!!
Here's My Heart - These are the 3 new colors from Classic Colorworks, & in the background you see a snippet of the free chart you'll get if you purchase the 3 new colors together!
Needlework ABC's - this is a kit from Little House & it is SO FUN! I love that it's tall & skinny!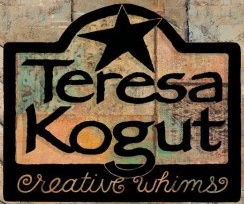 We were so excited to see Teresa's goodies "IRL" (as the kids say ~ translation: In real life). Even better, she had more new goodies!
Angelic Vision - Another beautiful angel! Now I can't decide which one I want to do first...
Beeutiful Garden - we had already posted this one in punchneedle, but when we got to her room she had it in cross stitch too! The border is AMAZING!
Goat - another cutie that we had posted in punchneedle & found today in cross stitch!
Primitive Spring Rabbit - She is just too cute!
Ghoulfriends - LOVE this! It just makes me laugh!
Midnight Tango ~ punchneedle - This is GORGEOUS and adorable!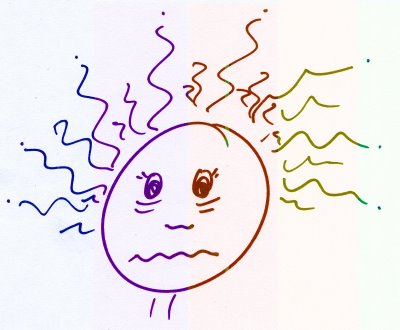 This is what I look like right now!!! Okay, my hair will never look like that (it is straight & flat & lifeless as a board), but everything else? Yep, that's me! Molly had a mega coughing fit tonite at dinner (she's still recovering from laryngitis), my eyes are gonna be all Freaky Red Eye Thing tomorrow...we are a pair! As Molly said, "getting old sucks!" So we're winding it down tonight before we fall completely off the ledge!
The "party" is over ... but the fun is just beginning!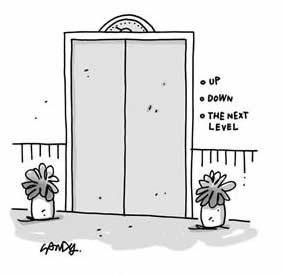 Today was our "pick up" day & "what did we forget" day! We started off on the right(?) foot by forgetting our rolling cart when we left the hotel! Fortunately, we remembered as soon as we got to the car. BTW, after all these years, we've named our cart: he is now Kirk (as in, "beam me up, Scotty!"). We did this hoping that if we gave him a personality, we might not continually to walk off & leave him in the hall!
Today was a fun day ~ fortunately, thanks to all the exhibitors who encouraged us to pre-order, and all the exhibitors who were open on Friday night, we were able to get things done so much more efficiently that we actually had time to visit with people today. We traded dog stories with Pam & Susan at Praiseworthy Stitches, dog pictures with Jeannette Douglas, traded "how did our boys get so big?" stories with Tina at Shepherd's Bush, visited with Wayne Huneycutt (aka, "the Silent Salesman" ~ nickname courtesy of Abby) of Huneywood frames ~ we learned that Wayne now has groupies, we talked a little smack with our buddy Kimberly from Samplers Not Forgotten (we KNOW she misses us ALMOST as much as we miss her ~ at the very least, she misses Molly! And we WANT to know how she got someone as nice as Brenda to agree to work with her...JK!), talked a little hockey with Logan (Katy's son from Norden ~ he's a goalie), had KRINGLE at La D Da, had THE BEST time meeting Nicola from Hands Across the Sea, traded gossip with Linda at Chessie & Me, were deemed to be "young & hip" by the cute girls at Zappy Dots (needless to say, they're our favorites now ~ even though they OBVIOUSLY need to visit the eye doctor!!), were thrilled to see our friend Connie at JBW Designs (she wasn't planning on coming, so when we saw her we were SO EXCITED! Mary W., she sends her love!), the gals at Zappy Stitch Dots considered us "young & hip" (poor, misguided souls!), gave Beth Twist at Heartstring Samplery some ideas for new designs (be on the lookout for a fast-food sampler, roughly the size of "His Eye is on the Sparrow"), learned that Boston Terrier doorstops that face left are RARE (do you see a dog trend here?) from Tanya at Scarlett House (also a major dog lover), and last but not least ~ we were the head cheerleaders for Diane at Silver Creek!!!!
We also talked to fellow shopowners that we don't see nearly enough of ~ Jean Lea from The Attic in AZ, Deb from Stitches N Things in MI, Pat from Stitching Post here in Nashville, Jeannine from Acorns & Threads in OR, Melinda from Stitching Post in Baltimore, Deb from Stitch N Stuff in Reading, Jeanne from Country Sampler in WI, Drema from Needlecraft Corner in Baltimore, Janice from Traditional Stitches in Calgary and more whose names escape me, but our shared stories bind us together.
In the words of Beth from Heartstring Samplery, "this is my tribe. we speak the same language."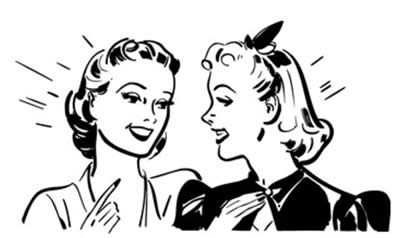 So, by now you're wondering, "Can't she just shut up & show us some stuff already?" Why yes. Yes I can!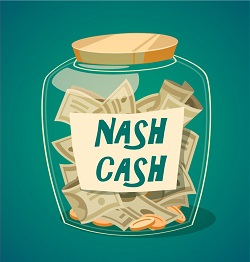 But first, a word from our sponsors. Oh wait, we don't have sponsors...
Okay, just a note then.
Just like last year, there are way too many things for y'all to be able to see everything & decide on the spot what you need. So our Nash Cash promotion will carry on thru Tuesday! Nothing will be in the shop until later in the week (we fly home on Tuesday & will begin sorting orders on Wednesday), so if you see things you want (even if you're going to pick them up!), order them by Tuesday, & that way you'll be assured of earning Nash Cash, no matter how you want to use it! If you don't remember how Nash Cash works, click on the jar above for info.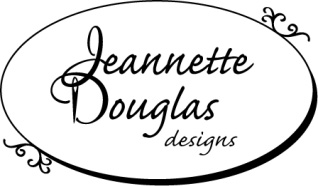 It's always lovely to see Jeannette. We only see her once a year or so, but it feels like we've been friends forever! Here are the full images of her awesome new designs!
Cape Cod Vignettes - LOVE LOVE LOVE this! You can't really tell from this picture (which, as you can imagine, is WAY BETTER than the photo I took today...), but the colors are so lovely!! The Spring vignette (far right) is stitched on a pale pink & has that eponymous Cape cottage & beautiful flowers; the Summer vignette has a sailing ship & OF COURSE, a whale; and the Fall vingette has stunning autumnal color! Anybody else notice that there's a season avoided????
Potpourri of Stitches - Possibly my favorite (although it's hard to pick just one...), I love not only the colors, but oh my goodness, all the different stitches!!!! YAY!!
Vintage Birds - How amazing is this?? We have Vintage Alphabets stitched at the shop, and I think this will need to go with it!
Quilt Box - another fave! Of course, I love quilts, so this jumped right out at me! I knew going in there were 2 colorways ~ taupe & rust and blue & green ~ and of course I assumed that I would want the blue & green. WRONG! I love the taupe & rust!! LOVE!
Roses and Acorns - Look at this gorgeous band sampler! Again, you can't tell from the photo, but there are so many awesome stitches in this! And remember, Jeannette gives you fantastic directions & diagrams, so go ahead & try it!!
The Mighty Acorn - Jeannette said she just fell in love with the acorn on her Roses & Acorns sampler, so she had to give it its own creation! Greenery is added & check out how she actually got that bargello border to work in the corners ~ never an easy feat!
Dutch Pincushions - All the little motifs on these pincushions are taken from old Dutch samplers ~ and you can tell if you've seen many Dutch samplers!
Just Stitch - really? Need I say more? A fun little chartpak that you can do in different colorways. The buttons are included in the chartpak!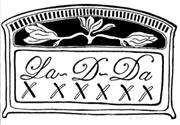 Oops! I left this out somehow!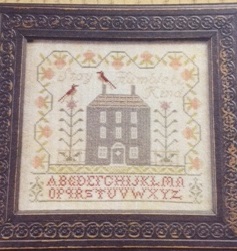 Humble and Kind - This was one of our favorites, and I have NO IDEA how I left it out of the newsletter!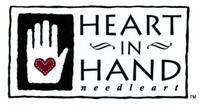 Cecilia is one of our long-time friends & we are so glad she's been coming to Market again! Her new designs are just as great as all the ones from before. Most of her Market releases you've already seen, but she had 2 newbies! One of them is so long it needs 2 photos!!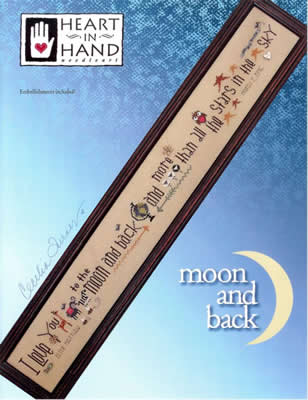 Moon and Back - How adorable is this? Cecilia designed this & made it into a baby sampler for her grandson ~ who shares a birthday with Jimmy B!!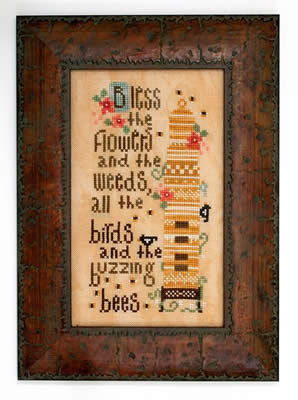 Birds and the Bees - LOVE this giant beeskep! My Mamaw would have loved this!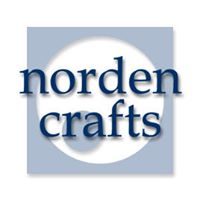 Aside from the awesome things they brought to the show, it was awesome to see Katy & her dad Dave & Logan (the hockey goalie!)! I wish we lived closer & could see each other more.
Love Heart (Blue) - This is sooooo sweet! And not too much stitching! We have a couple of these done at the shop & we love them!
Eggs (Orange , Cream & Blue) - Love these ~ wouldn't they be cute decorating your Easter basket?
Quaker Peace - Oh my goodness! Love this ~ look at the sweet shepherds & they little sheep!
Betsy Croome Sampler - this photo is of the original sampler from 1789 ~ I'm sorry, but that just blows me away! If someone is looking at something I stitched 25o years from now, won't that be cool?? Oh wait....I'd actually have to finish it....
Lady Dot has new trims!!! New Eyelash trim, new twill tape & new colors in rickrack!
Eyelash Algae ~ Eyelash Sizzle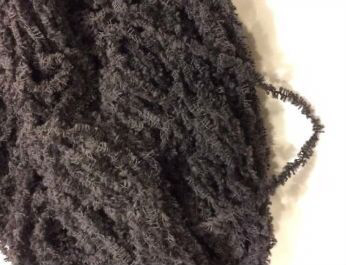 Eyelash Licorice
Eyelash Vanilla ~ Eyelash Vintage
Twill Tape Vintage ~ Twill Tape Vanilla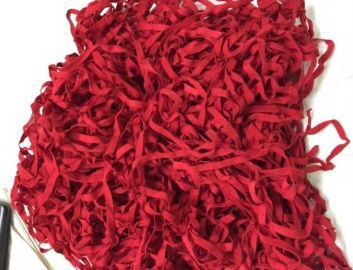 Twill Tape Sizzle
Twill Tape Licorice ~ Twill Tape Snow
RickRack Algae ~ RickRack MotherLode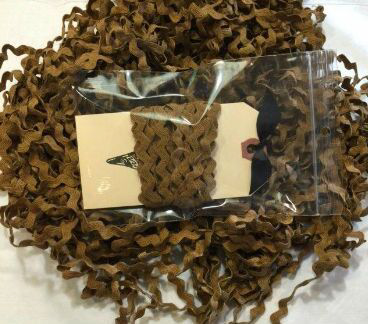 RickRack Bear
RickRack Anemone ~ RickRack Peony

Windy Punchneedle - Okay, this is darling all on its own, but the fact that they finished on a ROLLING PIN? I love it even more!
Crazy Love: Primitive -so pretty ~ Molly loves it in these soft primitive shades!
Crazy Love: Bold - Yep! This is my choice! Again, look at the cool finishing on this!
Ruby Jean Punchneedle - Just love her! Love the little swirls in her coat!
Hattie Mae Punchneedle - She's just adorable! She's Molly's choice!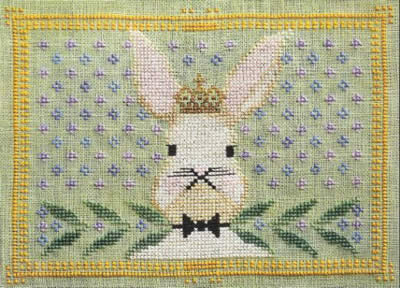 Regal Rabbit - So very, very regal, don't ya know? You just wanna make him laugh, don't you??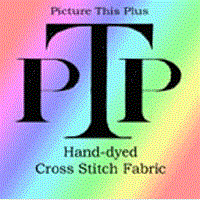 Okay, this is like HEAVEN for us! We go in their booth & it's wall to wall fabric! YES PLEASE!!
Here are their new colors ~
Alchemy - This is a great color: darker than pewter but not as dark as slate
Oaken - This may be the new "go-to" color for reproductions. It's a wonderful tan/brown overdye.
Vespers - this green is wonderful !

Yarn Tree is another of our FABULOUS distributors & in fact they are the ones who do all the "behind the scenes" work to put on this Market! We cannot thank them enough for all they do for us, for the Market & all year long!
Some of the designers they represent created darling charts that are exclusively available from Yarn Tree for a period of time. You're gonna want them....
ABC of Sheep - This just makes you smile!! It's adorable!
Rose - I love the arbor around here (and her little dog too!).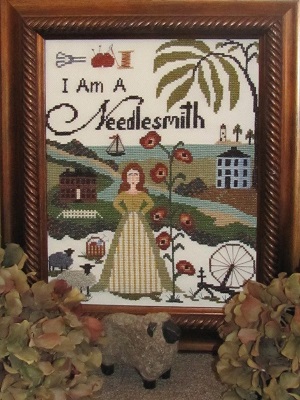 I am a Needlesmith - Yes! Yes I am! Love this. My aunt Marya has a spinning wheel & I've always loved it. Whenever I see one, I think of her (& home!).
Jardin de Bobines - They were sold out of these by the time we arrived, so you're gonna have to take our word about how fun this is!!!!
Goldfinch - Molly, aka bird girl, just loved this one! Again, I only have the snippet, but we'll post the full pic soon!
A Walk in the Garden - OMG! How cute is she with her little strawberry skirt?? But what I really want are her boots!!
A Walk to the Sea - Boy does this make me miss the days that I could walk to the beach...So sweet!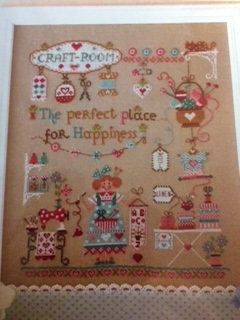 Il Posto della Felicita - The perfect place for happiness! And isn't that the truth??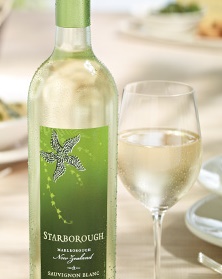 Tonight's newsletter brought to you courtesy of Starborough Sauvingon Blanc, Marlborough New Zealand!
Yes I am partial to my Kiwi wines & I will shamelessly plug all good things New Zealand! And how nice is it to be able to buy a bottle of wine at the grocery store? If you live in a state where this is the norm, I'm jealous!! Not only could we buy wine, we could get GOOD wine! Also, we helped a total stranger find a bottle of Oliver 'Soft Blush Wine' (blech!) for a friend! However, when Molly said she needed to find the "snack bar" at the grocery store, I started to get concerned. It's great to buy wine & beer, but a snack bar at Kroger?? And then I realized she actually said "Snack Bars" ~ like Luna bars or BelVitas! It's always an adventure with us.
Tomorrow we will pack our suitcases with as much as we can get in them, and then the overflow (or our dirty laundry) will go in the boxes we brought. We'll then head to the UPS store & ship the extra stuff back (learned a hard lesson about overweight bags last year ~ but the bag guy was so nice! We LOVE Southwest!). After that, we'll wander around town, have dinner & get ready to head home (NO! NO! Not yet!). To all of our stitching family (& if you're reading this, you're part of the family ~ sorry about your luck...), we thank you that you make it possible for us to do this. While we work like crazy during this time period, we also love the experience. And we realize & appreciate the fact that were it not for you, we wouldn't be necessary. So we thank you. And we hope we've been able, to a small extent, to tuck you in our pocket (or into Kirk the cart) & bring you along for the fun.
And lest you think this is the last Market newsletter, OH NO!!! There will be another tomorrow (although I THINK we've gotten all the images up for you). Tomorrow's newsletter will be about: what surprised us, what enchanted us, what made us smile & laugh & what we're each gonna stitch FIRST! Molly asked me tonight, "What was your favorite thing?" That's a totally unfair question. I have my favorite design, my favorite design from my favorite designer (not always the same), my favorite new idea....you see where I'm going with this. So tomorrow will be a lot more yip yap about what made this weekend special & why you are the best part of everything!!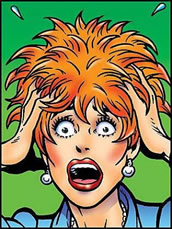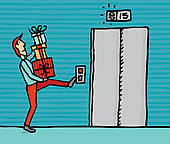 Hugs & Stitches ~
Beth & all the headless chickens at TSS